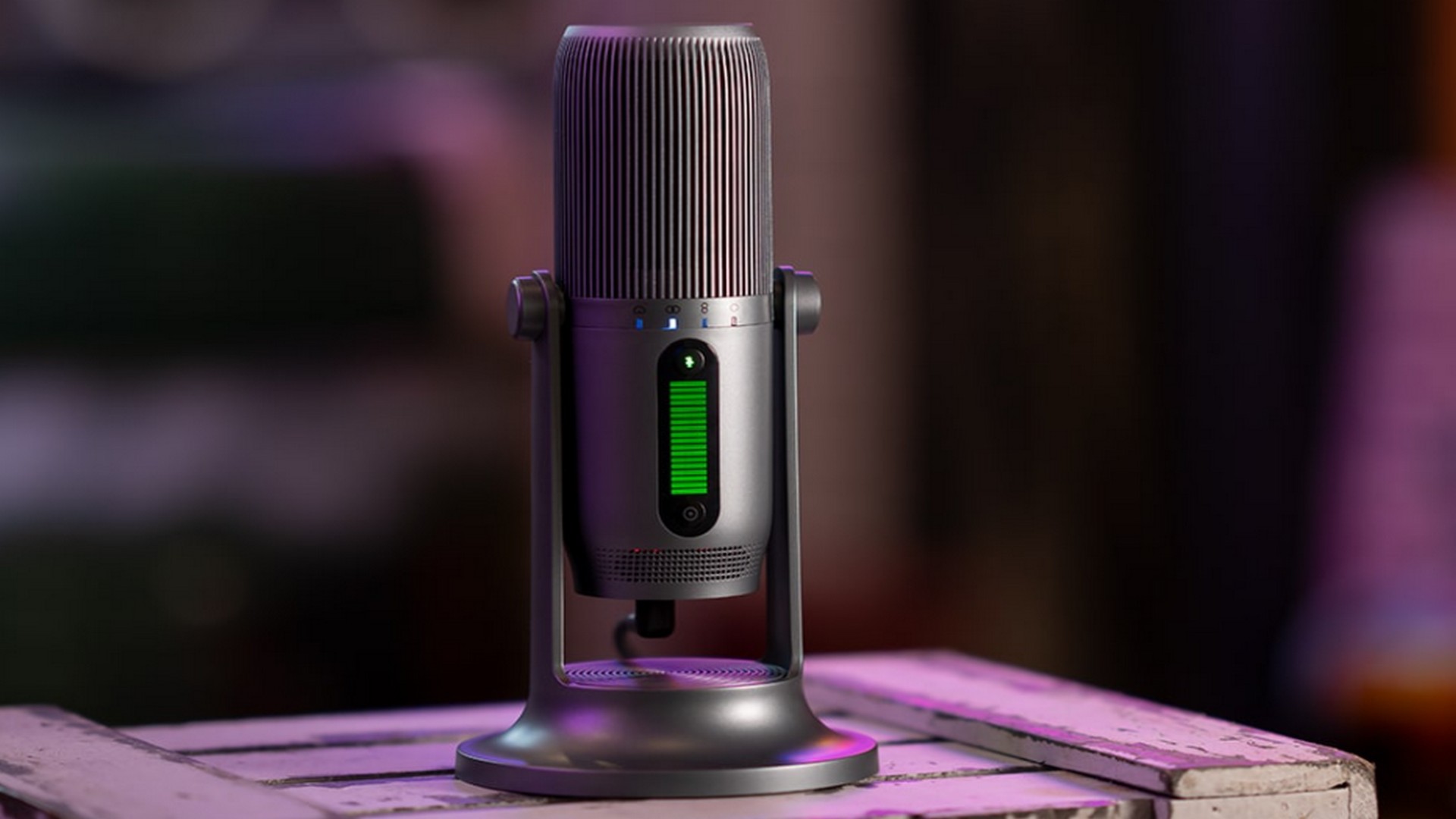 In today's digital world, high-quality audio devices are becoming more and more affordable, and for streamers and content creators alike, high-quality microphones are a basic necessity. As such, there is an abundance of microphones from various companies on the market, and users are spoiled for choice with designs and features. Thronmax is one such company. Opened in 2009, they have a passion for creating studio-quality audio equipment at an affordable price, but does the lower price tag necessarily mean you miss out on some features?
The Thronmax MDrill One Pro USB microphone is designed with studio recording in mind. As suggested by the name, it simply plugs into a USB port on your device, be it PC, Mac or any USB microphone capable games console thanks to its 3m long braided USB-C cable. One of the first things I noticed in regards to this, is that the microphone doesn't actually require any dedicated software, instead, it relies on built-in controls to adjust the gain or change the pick-up modes.
Like most streaming mics, the MDrill One Pro features 4 different recording patterns, being the single direction Cardioid that is more suited to streamers, voice recordings, or any single-point sound. Stereo, which is ideal for recording vocals or musical instruments. Bi-directional, being ideal for interviews, or omnidirectional, which is most suited to recording sounds from all over the room at once. These modes are easily changed using the conveniently located mode button, located directly below the LED sound indicator mounted on the front of the product, and the selected mode will be displayed by a lit LED.
Somewhat inconveniently, the gain adjustment knob is located on the back of the unit, together with the headphone adjustment. While they are clearly marked if you're looking at them, fumbling around at the rear of the microphone mid recording isn't really an ideal situation, and I found that the unit was really sensitive to distance, so near constant adjustment was necessary as I moved about while recording.
As I moved further away from the microphone, my voice developed a bit of an echo effect, assumedly caused by the built-in acoustic chamber as it tried to compensate for the softer sounds it was receiving, but if I moved closer, I noticed a bit of distortion and popping – mostly caused by not using a pop-filter. This is where dedicated mixing software would really help to make a difference and balance things out.
The overall build of the MDrill One Pro is quite interesting. Aside from the aforementioned inconveniently placed dials, the microphone is very simple in its design. It is predominately made of plastic, unlike a lot of other microphones, so it is substantially lighter than I expected, but the materials used are still of high quality and feel like they'll stand up to a bit of punishment. The strangest thing I noticed was the lack of meshing over the microphone itself. Instead, Thronmax has opted to use vertical slits. Dubbing this VERTIGAIN ® technology, they claim that it increases sound quality by up to 10%, and then use science to explain why. To quote them directly,
"As sound waves more in a more vertical direction, the wave reaches the 3 condensers without being scattered by microphone mesh."
To be honest, I can't say that I noticed too much of a difference with my recordings, aside from when I had moved too close, or too far away from the unit. When I was in that sweet spot, I found the pickup and sound quality to be just as good as my day-to-day setup.
While it might not look as flashy as some other microphones on the market, the Thronmax MDrill One Pro USB microphone certainly delivers everything it promises. It has all the standard features we've come to expect from studio microphones, including the headphone jack and mounting screw, and it has the added bonus of not requiring any specific software, though using a mixer of some description would certainly help. At nearly half the price of some of the more well-known brands, Thronmax are throwing themselves into the market and has come out swinging.
The Good
Great sound quality
Easy to setup and use
Simple, stylish design
Four recording patterns
The Bad
Can be a little sensitive to distance, particularly in omnidirectional mode
Control knobs would be better suited to being on the front with the sound level display