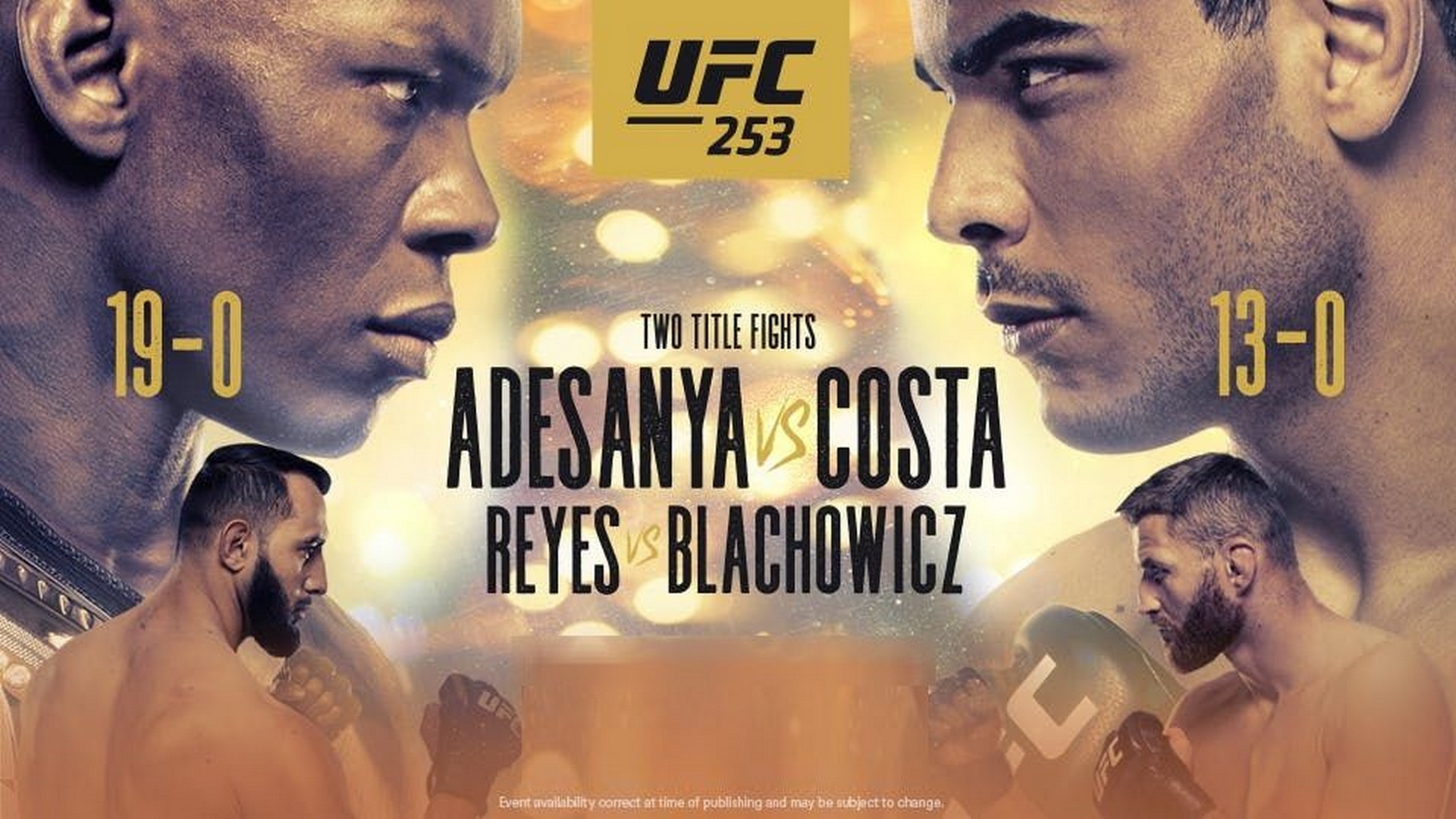 Here we go, UFC 253! This one is a big one, as there's a double championship fight tonight! Plus, in the main event, both competitors are coming in with a no-loss record! Either way, one of these guys are gonna cop an L!
MAIN CARD HIGHLIGHTS
Match 1 – Featherweight bout: Hakeem Dawodu (11w-1L-1D) v Zubaira Tukhugov (19w/4L/1d)
Round 1
Hesitation start, Dawodu with rangefinder kicks, Tukhugov breaks through with strong jabs. Back and forth kickboxing style.
Round 2
Aggressive start, Tukhugov landing more combos with amazing footwork. Dawodu is still relying on kicks to try and break through. Intensity lifts, clinch combos. Tukhugov said something to Dawodu mid combo, maybe to signal a nose injury? Smash into cage, Tukhugov with grounded waist lock. Round time was a saving grace.
Round 3
Tukhugov toying with Dawodu, foot speed being a huge factor. Tukhugov charges with grapple into cage, Dawodu able to stand and hold. Dawodu with a huge left hook. Tukhugov grapples to cage again, trying to wrestle and almost gets a rear naked choke, Dawodu slips out. Dawodu now toys with Tukhugov, taunting. Tukhugov eyebrow/nose injury. Dawodu wants a fight, Tukhugov backing off.
Judges' decision:
Judge 1: 29-28 in favour of Tukhugov
Judge 2: 30-27 in favour of Dawodu
Judge 3: Split decision, Dawodu wins.
Dawodu ups to 5-win streak.
Match 2 – Bantamweight bout: Sijara Eubanks (7w-4L) v Ketlen Vieira (10w/1L)
Eubanks has back to back wins, underdog.
Round 1
Respectful touch glove start, Vieira with immediate grapple into cage. Eubanks breaks out, slight jab combo. Kick from Eubanks almost makes Vieira lose balance. Back and forth combos between both, Vieira goes for grapple again. Eubanks speed is able to counter and wriggle out. Vieira unloads a huge combo, Eubanks switches to body punches. Close quarters combos back and forth between both again. With 20 seconds to go, Vieira unleashes a huge combo with Eubanks countering with body grapple. Round timer forces the break.
Round 2
Vieira with takedown, countered with body grapple by Eubanks. Vieira trying to move, shift weight, Eubanks matches by switching grip / holds. Eubanks trying to attempt kamura lock, Vieira shifts with body punches. Ref forced the break, fighters reset. Both unload with jab combos, wasn't until the final 5 seconds where both landed a few blows.
Round 3
Good respectful touch gloves, more aggressive combos upon start. Huge head kick by Eubanks, countered with massive strikes by Vieira. Flurry strikes and range finders between both. 35 seconds left Eubanks attempts a take down, Vieira counters with an ankle sub attempt, Eubanks flips it with mounted hammer fists. Round end buzzer calls the finish of the match.
Judges' decision:
29-28
All judges, winner unanimous decision, Vieira win.
Match 3 – Flyweight bout: Brandon Royval v Kai Kara-France
Round 1
Kara-France almost took the win early by scoring a powerful right, downing Royval. Royval replied by taking another overhand only to quickly unleash his own spinning back elbow. Royval took it to the ground, utilizing his submission expertise before the bell sounded to end the round.
Round 2
Kara-France fired out of the gate with strikes, but in a rapid counter, Royval managed to lock in a guillotine.
Judges' decision:
Winner, by submission, BR.
UFC Light-Heavyweight championship: Jan Blachowicz (26w-8L) v Dominick Reyes (12w/1L)
Blachowicz comes in with 3 match W streak
Round 1
Reyes with early offence, almost flooring Blachowicz. Slow round, jabs and range finders to start off. Huge body kicks from Blachowicz cut and welted Reyes.
Round 2
Reyes ups aggression, Blachowicz responds with a huge combo flurry. Blachowicz arguably has the better combo hit percentage this Round, ends up flooring Reyes with a huge flurry, busting him open in the process. 4:36.
Judges' decision:
Winner by TKO, Blachowicz.
MAIN EVENT – UFC Middleweight Championship: Paulo Costa (13w/0L) v Israel Adesanya (c) (19w/0L)
Both come undefeated.
Round 1
No touch gloves, intensity is sky high. Adesanya delivers a kick, no effect. Costa taunts, daring him to kick again. Adesanya follows up with two more before spotty sparing jabs between the two. Costa continues to challenge and taunt Adesanya, teasing the champ after each successful hit. With seconds left and the two amp up the fight before the buzzer goes off, ending the round.
Round 2
Adesanya targeted the leg of Costa, scoring multiple open hits on him. Costa still taunts Adesanya, but hits thrown still remain comparatively low. Adesanya delivers a huge head kick to the left eyebrow, busting Costa open. Adesanya stays on Costa, going back to the leg before opening up with a huge flurry, downing and defeating Costa.
Judges' decision:
Winner by TKO, and still champ, Adesanya.
CONCLUSION
Absolutely brilliant card for 253! Fight of the night for me was the Light-heavyweight Championship, with a strong back and forth. Bring on UFC 254 feat. the return of Holly Holm!