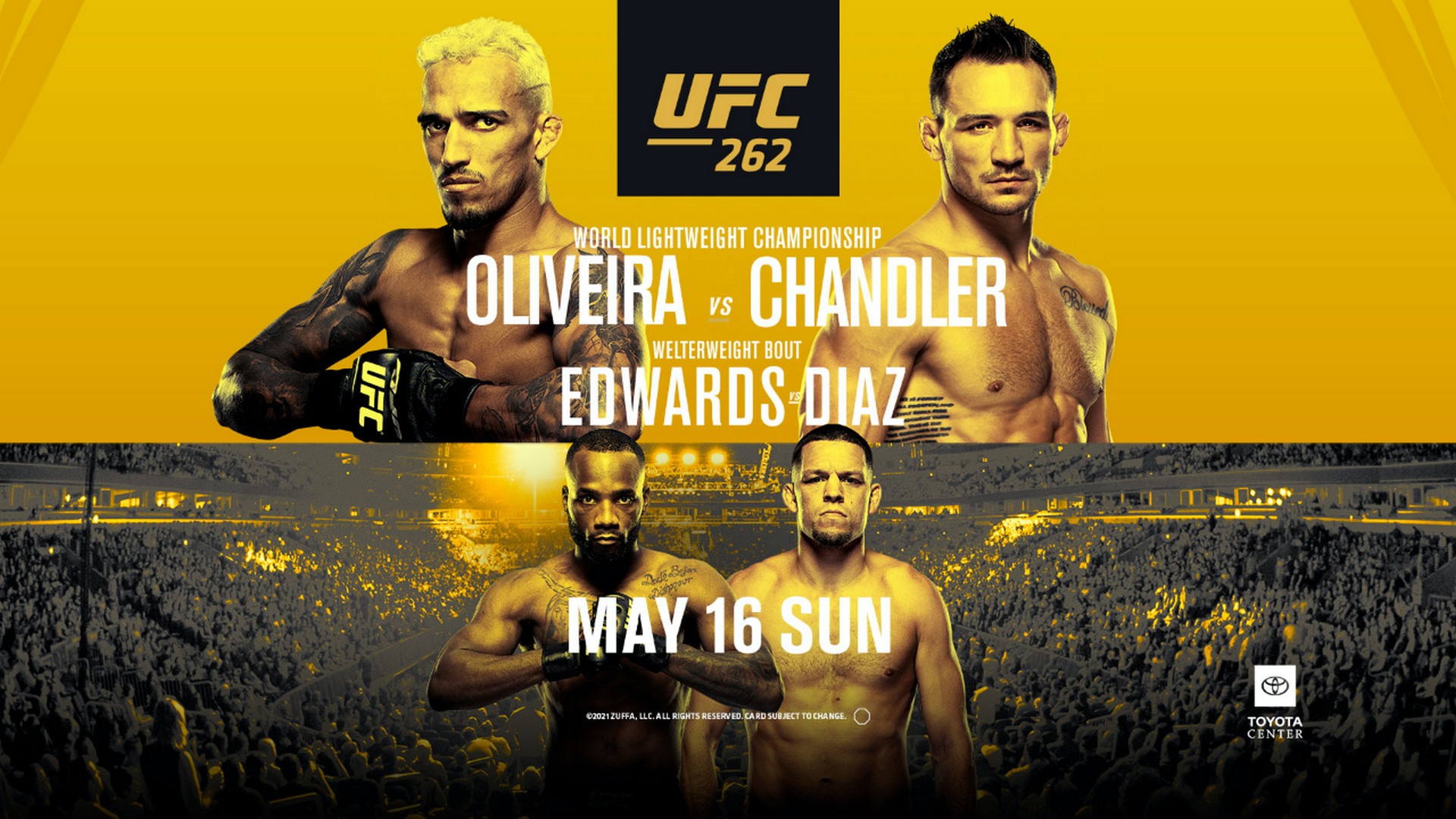 MAIN CARD HIGHLIGHTS
Edson Barboza def. Shane Burgos in Round 3 via TKO (punches)
Round 1 – Barboza kicks off the round, literally, with some low kicks. Burgos returns with some jabs. Barboza continues to low kick but keeps his guard up against Burgos' advances. Burgos keeps up with his jabs and strikes, but Barboza is really starting to hone in on Burgos' leg. Burgos' jab lands hard, damaging Barboza's eye. They clinch-grapple, with Burgos aiming for the body shots now. Barboza answers back with punches of his own. A spinning heel kick attempt from Barboza is blocked but managed to hit a right hand. Burgos fires off a huge left strike as the bell sounds to end the round.
Round 2 – Burgos fires off a right-left combo, but Barboza goes back to attacking the leg, before a spinning kick attempt this time lands successfully. Burgos opens up with strikes, but the kicks have come at a cost for Barboza as his right shin is bleeding. Burgos puts the pressure on hits and lands a right hand and body shot. After some back and forth jabs and kicks from each man, Burgos' left eye begins to show signs of serious damage at the buzzer.
Round 3 – Both guys are fired up as we kick off the third round. Burgo loses his balance during the fight and Barboza jumps on the fault, getting the technical knock-out win.
Katlyn Chookagian def. Viviane Araujo via unanimous decision
Round 1 – Araujo showcases her agility to start the round, rattling Chookagian from the start as the latter starts flying off punches with no successful hit. After some range finders, Araujo lands a shot and manages to stay at range to improve her hit rate. Araujo lands a successful left and right hooks. Chookagian starts to go low via kicks, pushing back Araujo's advances. Chookagian eventually fends off Araujo with some jabs. The two women grapple and head towards the cage, exchanging knees to the midsection. Buzzer sounds, ending the round.
Round 2 – Chookagian hits a massive front kick to start, knocking Araujo to the floor. Chookagian attempts to end the fight here and now by rushing Araujo, but she manages to stand up. Back and forth strikes from the two women, before Chookagian shoots off a kick, but Araujo catches it and trips her opponent, taking the fight to the floor. Chookagian attempts to get to her feet, but Araujo slaps on a guillotine choke hold. Chookagian holds on, recovering to a half-guard position, but Chookagian keeps working. As they get to standing base, Chookagian lands a knee and recovers, immediately on the offensive and lands a strike that damages Araujo's right eye.
Round 3 – Chookagian is once again on the offensive, dancing around with ease on her opponent. Araujo eventually lands a big left punch, but Chookagian shakes it off, responding with combo after combo! Chookagian starts to show off a bit, gloating over the fact that Araujo's right eye is close to closing due to swelling. Araujo can't catch a break, as
Chookagian dances around and unloads damage. Araujo's left eye begins to swell now, as the two keep it in close quarters until the round ends.
Rogerio Bontorin def. Matt Schnell via unanimous decision
Round 1 – Schnell is the first one to land a punch, hitting Bontorins midsection. Bontorin responds with a low kick and tries to get inside the range, but Schnell keeps his distance. Bontorin eventually nails two right-hand blows, but surprisingly Schnell acts unphased and responds with a right of his own. Schnell stumbles after a low kick attempt, recovers, and follows up with a flurry of punches. Strikes exchanged back and forth before the end of the round.
Round 2 – Schnell tries to continue starting off the rounds with being on the offensive, but his high kick is denied. They square up, trading punches and kicks. A lack of early key hits or near knockouts has the crowd heckling. Neither man can gain an advantage in this round as both exchange shots and blows, but no lead for either side. The crowd again starts to heckle and demand some action. Round ends, but the fight now has an awkward feel to it, due to the crowd turning on the action.
Round 3 – Schnell once again starts the round, but his high kick denied yet again. Bontorin decides to fight back, swinging wildly. The crowd still isn't enjoying any of this matchup. Schnell tries to start at range, countering with grapples, but Bontorin counters each attempt, landing a flurry of punches, backing up Schnell towards the cage. Bontorin slams Schnell on the canvas. Schnell knows he's in trouble, so he tries to stand and counter with a roll, but he's unsuccessful.
Beneil Dariush def. Tony Ferguson via unanimous decision
Round 1 – Dariush takes the center, immediately putting the pressure on with punches all the way into a clinch-grapple. He pulls the fight to the canvas, but Ferguson is able to get the left leg up on the shoulder, looking for a triangle choke attempt. Ferguson inverts and turns to the butterfly guard, but he can't lift Dariush for the proper counter.
Round 2 – Ferguson rushes, but Dariush applies the pressure with punches again. Dariush presses the fight to the cage, but Ferguson grabs the neck as he falls. Dariush shifts his weight, twists, and makes the grip weak, forcing Ferguson to let go. Dariush regains composure and starts back on the offensive. Ferguson provides a receipt with a back elbow. A few big punches score for Dariush but Ferguson sees a moment to get to his feet and takes it. Dariush grabs the leg and applies a heel hook, remaining in control until the bell.
Round 3 – The crowd is once again wanting some action, and they are still very restless and heckling. Dariush returns to start the round on the offensive, landing a few successful strikes. He gets a bit too close for comfort and Ferguson grabs his neck as a counter, but Dariush shoots him up, then slams him into the canvas. Ferguson uses the cage as a pressure advantage. The crowd demanded the fight to return to a standing base. Ferguson tries to control the neck, as Dariush tries to punch his way out.
MAIN EVENT: UFC LIGHTWEIGHT TITLE – Charles Oliveira def. Michael Chandler in Round 2 via TKO (punches)
Round 1 – Oliveira opens with a shock kick that sends Chandler crashing to the canvas super early! He gains composure as Oliveira goes for leg control and gets it. Chandler tries to grab the guillotine as they both fall. He tries to roll it over but can't lock it in. Oliveira eventually slips out of the attempt as Chandler looks to get back up. Oliveira has a waist lock applied from the back, battling the countering of Chandler. Chandler tries to take the action back down, but Oliveira counters with a body triangle hold. Oliveira tries to grab the arm, but Chandler pulls free and kicks the legs before Oliveira stands up. Chandler hits a successful strike, as Oliveira looks for the takedown. Chandler moves forward to engage, quickly dodging an upkick attempt.
Round 2 – Both men kick off the round on fire. Finally, some intensity! Oliveira lands an absolute bomb of a left hand that hurts Chandler. Oliveira swoops in, continuing the strikes. Chandler tries to create some space, but to no avail as the ref calls the stoppage.