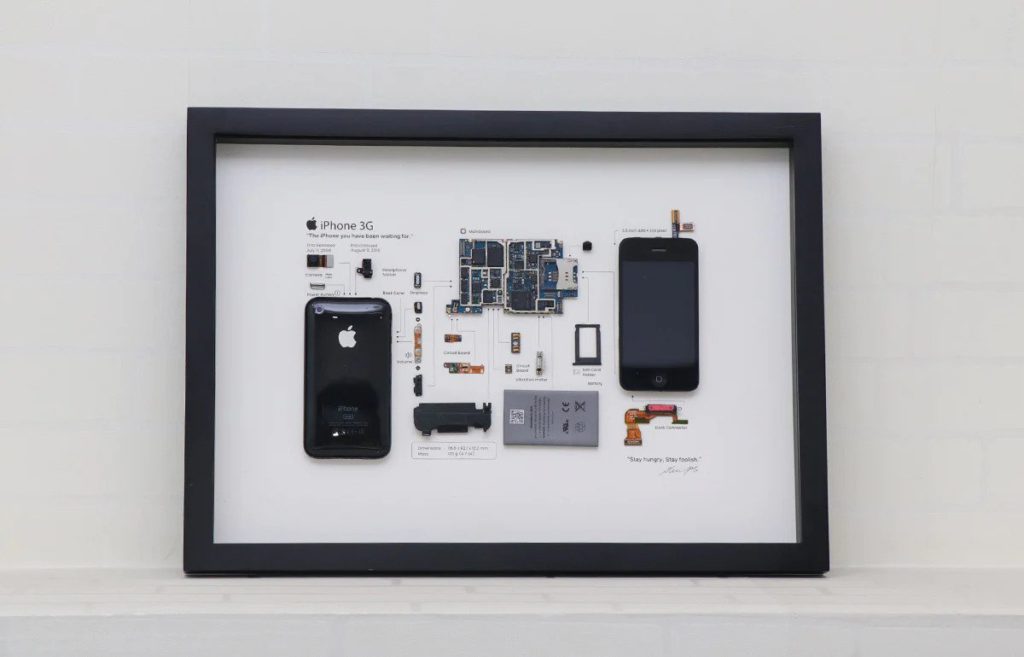 People can be picky about art. I see something and it will be hit or miss. It's so subjective. Thankfully, 'Xreart' has a product right up my alley. Any tech head, gamer, or electronic enthusiast would enjoy a touch of the electronic past mounted on their wall in such a creative way instead of filling up landfill. We present to you some of the best-disassembled art I have seen.
Professionally packed in a gorgeous black cardboard box with silver lettering, you will be blown away by the art that lies before you. In a sleek shadow box frame and with a simplistic white background you will find the tech of your choosing exploded on the canvas. For this review, we found ourselves with a neatly disassembled iPhone 3G, meticulously broken apart and strategically glued to the surface in a hip and stylish modern arrangement. Not only that, for our inner nerds, each part is labelled, with a brief history of the release and discontinued date in the top left corner.
Not a huge fan of iProducts, the website thankfully has a decent variety of other electronics that you can order in the same unique artform. From PSPs to Galaxys, and even Nokia E71s, the crowning jewel in my eyes is the Nintendo Gameboys. Any of the Gameboys; Advances, Colors, or the Classic, I would add to my collection in a heartbeat.
More wholesomely, they even give access to free downloadable templates so you can have a crack at it yourself at home if you have the means to. Even if you don't and like to be hands-on, they also have DIY kits to buy so you can do all the deconstructing and have the frame already available for your discoveries. Art is supposed to be about discovery and Xreart captures that perfectly.
Personally, I would love to see them expand their collection to controllers or even bigger products like actual consoles. Fortunately, with this innovative concept, the world is your oyster, so an extended catalogue would be super cool to see. Plus, I have so many broken controllers they can borrow, just saying…
Not an unreasonable price for art, Xreart provides the perfect gift for any geek or tech guru that wants to display their passions or trades in a really classy way. I highly recommend this product as any statement piece as it's definitely a conversation starter. Certainly, I will be looking into these guys for some Christmas presents, maybe even for myself…
If you'd love to pick up a little something for yourself or a gift, you can score yourself 10% off your order by using code "MKAU" at the checkout.
The Good
Products that are free to $431.53 dollars
Innovative and sleek design
Decent range so fair
Neat modern design
Conversation starter
The Bad
Would love to see a larger selection in the future