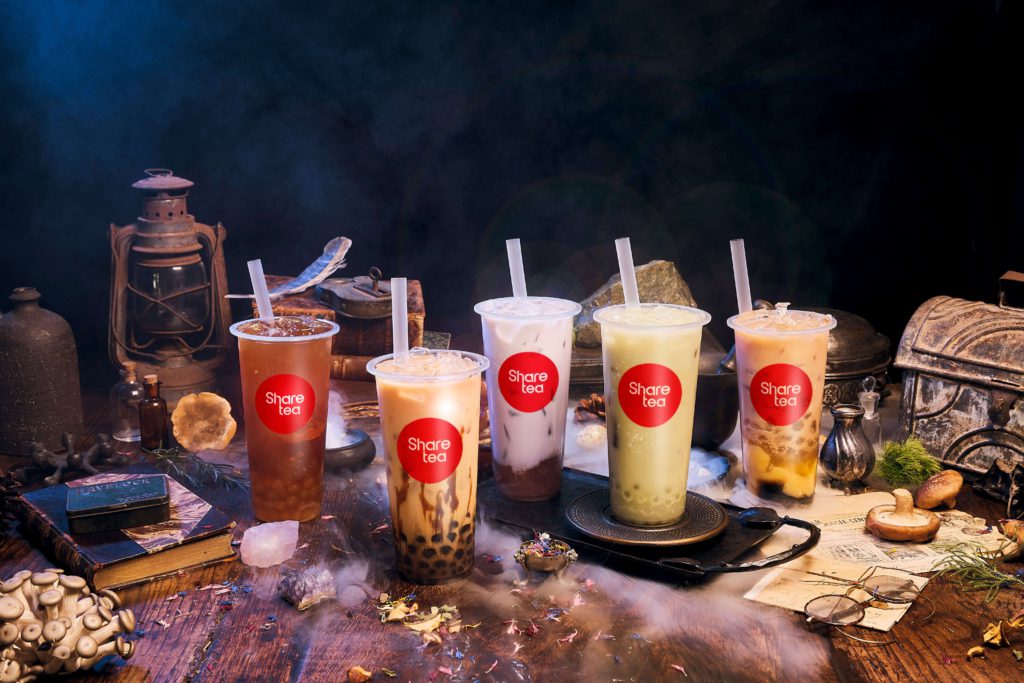 Bethesda ANZ has partnered with Australian food delivery platform Menulog and bubble tea brewers Sharetea to bring The Elder Scrolls Online: Teas of Tamriel to fans across Australia. From August 17 to 29 enthusiasts of enticing flavours and the fantasy world of The Elder Scrolls can experience this limited time collaboration coinciding with The Elder Scrolls Online Free Play event. The Tamriel inspired menu will be available exclusively through Menulog for delivery or pick up from over 50 Sharetea Australia stores in the ACT, NSW, QLD and VIC.
The Teas of Tamriel menu includes five fantastical flavours, each highlighting flourishes from the different cultures and iconic locations that make up The Elder Scrolls Online's continent of Tamriel. Adventurous sippers can experience a variety of otherworldly inspired delicacies and enticing concoctions including:
Cold Khajiit Plum Root Tea: Taro milk tea & red beans
Tigra Lava with Midnight Pearls: brown sugar syrup, tapioca pearls, ice, milk & assam black tea
Assam Mountain Flower Tea with Bursting Passion: Peach Assam black tea & passionfruit popping pearls
Forbidden Garden Tea with Snow Pearls: Honeydew milk tea & yoghurt popping pearls
Three Bro's Mead: Assam black milk tea with white pearls, pudding & herbal jelly
Fans are invited to party up and quest with friends near and far to win a year's supply of Sharetea Australia, a digital copy of The Elder Scrolls Online: High Isle and a yearlong ESO Plus subscription. To enter, visit the competition post on Bethesda ANZ social channels, like the post and comment with a backstory for your favourite Teas of Tamriel flavour. Bonus entries are awarded by sharing a photo of one of the five tea flavours on social media. For more information on the competition, visit Bethesda ANZ on Twitter, Facebook or Instagram.
"Partnering with Menulog and Sharetea Australia is a wonderful opportunity to bring Tamriel to life for fans across Australia in a delicious new way ", said Simon Alty, VP & Managing Director at Bethesda Softworks APAC. "Sharetea Australia's bubble tea is a favourite refreshment of many Australians, and now we can make their next sip a little more magical with a custom selection of drinks inspired by the award-winning online RPG played by over 20 million people worldwide".

"We at Sharetea Australia have an undying thirst for adventure and are always looking for new and innovative ways to make our delectable drinks more accessible to people from the land down under. This time round we decided to go down the winding path of something mysterious and magical by teaming up with Bethesda's game, The Elder Scrolls, enabling gamers and bubble tea aficionados across Australia to explore a gulp of Tamriel inspired drinks in the comfort of their home by having our delivery partner Menulog serve up this magic IRL", said Eva Martin, National Marketing Manager at Sharetea Australia.
Of the partnership and limited time menu items, Menulog Marketing Director Simon Cheng said "We're thrilled to be partnering with Bethesda and Sharetea Australia to create something out of this world for the millions of fans of Elder Scrolls and bubble tea enthusiasts alike. At Menulog we're all about delivering joy and we believe these teas certainly do that! The limited edition flavours are taken right out of the ESO universe and we can't wait for our customers to try them. Best enjoyed of course while playing the Elder Scrolls Online!"
Discover almost everything Tamriel has to offer and begin your year-long adventure during The Elder Scrolls Online Free Play Event. During the free-play period running August 17-29, anybody on PC/Mac, Xbox One, Xbox Series X|S, PlayStation 4, and PlayStation 5 can download and play The Elder Scrolls Online for free. If you'd like to join over 20 million players and explore Tamriel for free, visit the Free Play page and select your platform.
The latest chapter, The Elder Scrolls Online: High Isle, is out now for PC/Mac, Xbox One, Xbox Series X|S, PlayStation 4, and PlayStation 5. For more information on The Elder Scrolls Online and the Free Play Event visit www.elderscrollsonline.com