Welcome to Season Three. Expect an explosive impact as the free content keeps flowing, with four more Multiplayer maps, six new weapons, the next chapter of Zombies in Outbreak, an earth-shattering Warzone update, and much more.
This is Season Three in Black Ops Cold War and Warzone, officially launching on 23 April AEST. The season goes live following updates to Black Ops Cold War on 21 April at 2PM AEST and to Warzone on 22 April at 2PM AEST.
The biggest missing piece of the puzzle involves the chaos currently raging across Verdansk in Warzone. While the latest intel is detailed below, Containment Protocol status reports are still incoming from Armistice Central Command. Operators are advised to clear their schedule for the week and ready themselves for a crescendo of utter chaos within the Warzone. Be certain you're available for Operation Rapid Sunder throughout Thursday, 22 April AEST and beyond.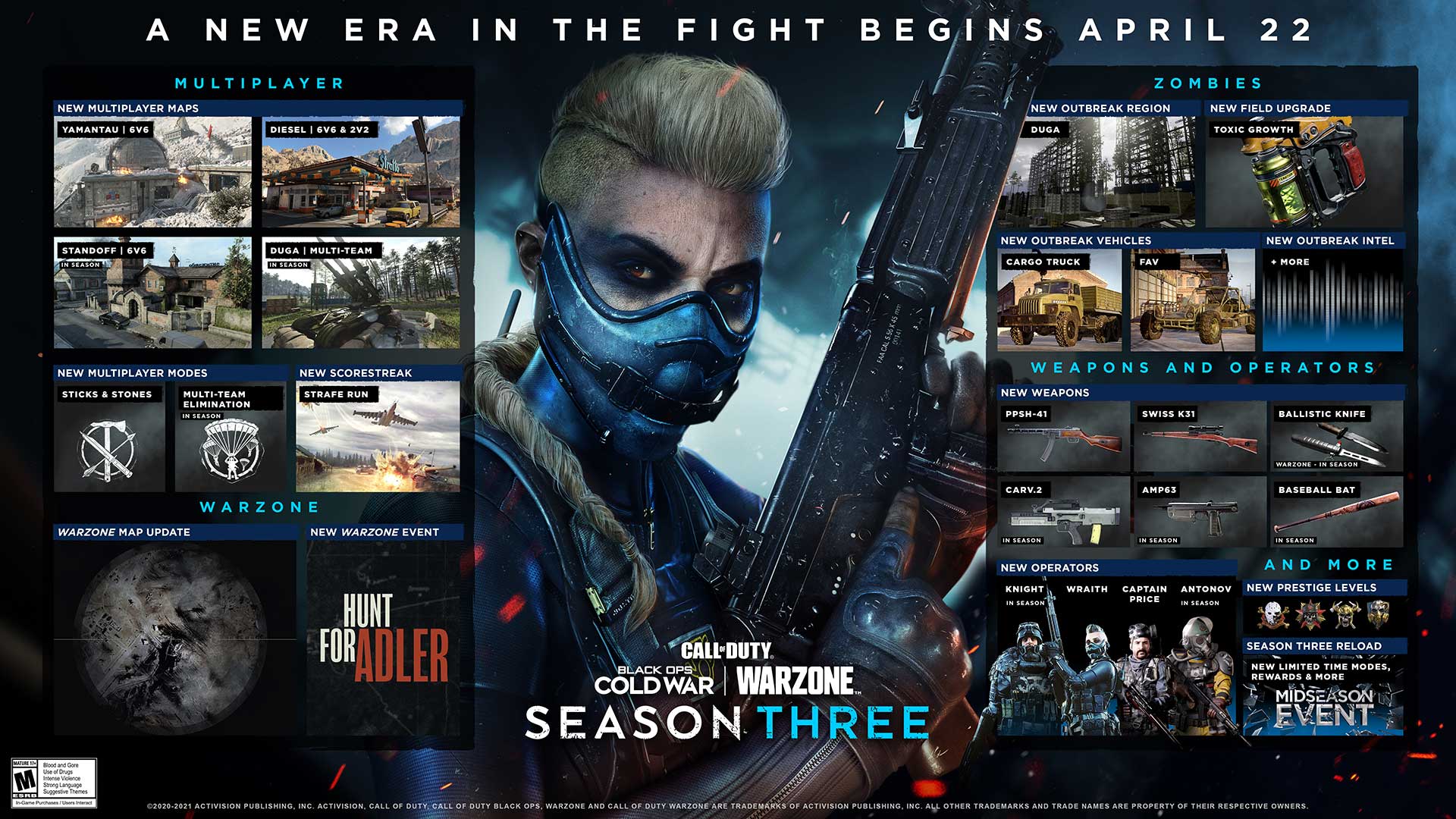 Here is the declassified reconnaissance so far on the upcoming season:
"Hunt for Adler" Event" – Limited-time event that will task Operators with unique in-game challenges in both Black Ops Cold War and Warzone to learn of Adler's whereabouts
Three New Operators, One Old Friend – Wraith (Launch Week), Knight (In-Season), Antonov (In-Season), Price Arrives in Black Ops Cold War
Six New Weapons – PPSh-41: SMG (Launch Week), Swiss K31: Sniper Rifle (Launch Week), Ballistic Knife: Melee (Launch Week), CARV.2: Tactical Rifle (In Season), AMP63: Pistol (In Season), Baseball Bat: Melee (In Season)
Four Multiplayer Maps – Yamantau (6v6, Launch Week), Diesel (6v6/2v2/3v3, Launch Week), Standoff (6v6, In Season), Duga (Multi-Team, In Season)
Classic Multiplayer Mode Returns – Sticks and Stones Returns at Season Launch
New Tools of the Trade – Scorestreak: Strafe Run (Launch Week), Cargo Truck (Launch Week)
For more details as well as information on new Outbreak content and more in Zombies, New Prestige Levels and the story so far on Warzone, visit the blog here.