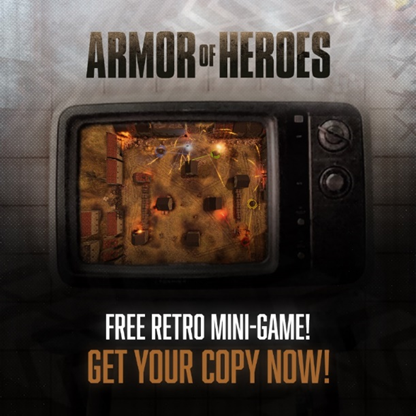 As part of its 25th anniversary celebration, Relic Entertainment has re-released the fan-favourite, free-to-play mini-game Armor of Heroes on Steam, which puts you in control of your very own tank in heated multiplayer firefights. It can be redeemed via https://community.companyofheroes.com/.
Armor of Heroes is a 1-4 player arcade-style game that gives you command over your very own WWII tank, and challenges you to blast your three opponents to smithereens. Armor of Heroes originally debuted in 2020 as part of SEGA's 60th anniversary celebration and was only available for a limited amount of time. The game features nine distinct modes, including king of the hill, last man standing, and classic deathmatch. Four equally distinct maps make sure you'll always have a new fight on your hands. If you download Armor of Heroes during the sale window, it's yours to keep forever.
However, there's much more to come from the Company of Heroes franchise. We're gearing up for Company of Heroes 3, the ultimate package of action, tactics and strategy. Take charge in the heat of real-time battle, then command as a General guiding the overall campaign where every decision matters. ​Overwhelm your opponents with new and familiar factions, units, and international Battlegroups. Command ground, air and naval forces and build supply lines to crush enemy advances on the new Dynamic Campaign Map – no two playthroughs are ever alike!
For more information about Company of Heroes 3 head to www.companyofheroes.com.