Creative has launched the Australian availability of the Sound BlasterX G6 digital audio converter, the latest flagship addition to the Sound BlasterX G-series of Gaming Amps and USB Sound Cards. The G6 builds on the success of its predecessor with significant spec enhancements and a unique Scout Mode setting that gives gamers a tactical advantage, making it unrivalled in its class.
The G6 is capable of significantly improving audio fidelity with 32-bit/384kHz PCM and DoP playback, providing an outstanding upgrade when compared to default audio for PS4, PC, Xbox, and Nintendo Switch. The award-winning and custom-designed Xamp discrete headphone amp utilises bi-amplification to power the left and right channels independently, resulting in superior clarity and accuracy in an unaltered lossless model.
The ultra-low 1 Ohm output impedance perfectly drives everything from performance-grade 16 Ohm in-ear monitors all the way to professional gaming headsets and studio-grade 600 Ohm headphones. It features Dolby Digital decoding, 7.1 virtual surround sound, sidetone-speaker volume control, and Sound Blaster's legacy of impressive sound enhancement technologies.
When connected to a PC or gaming console, the G6's unique Scout Mode can be the difference between hearing an enemy sneaking up or getting the drop on them before they are alerted. Scout Mode enhances important audio cues, such as enemy footsteps and weapon switching, to give gamers a distinct tactical advantage during combat. The included Sound Blaster Connect audio suite provides further customisation with a wide range of settings for optimising specific types of audio, including pre-set profiles developed for games, music and movies.
"We noticed a lot of our fans actually purchased the earlier G5 for PlayStation 4 and other consoles—which was a departure from its traditional usage with PCs. As more and more people discover the value of great audio outside of the world of the PC, we wanted to offer another option with even better performance and components," said Low Long Chye, General Manager of Creative.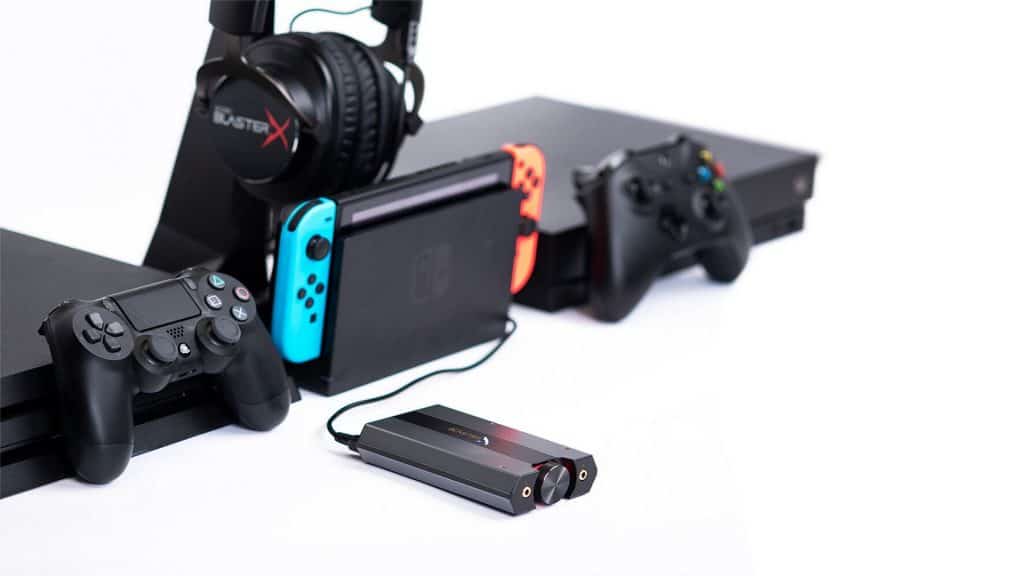 Components and features:
Works with Everything
Designed to work cross-platform, the Sound BlasterX G6 utilizes an optical connection for PS4 and Xbox, USB connection for PC and a line-in for Nintendo Switch.
130dB DNR, 32-bit 384kHz DAC
Ultra-high dynamic range of 130dB. The advanced 32-bit oversampled multi-bit modulator with mismatch shaping technology eliminates distortion, ensuring audio is streamed with the highest level of detail and fidelity.
Award-winning Xamp Discrete Headphone Amplification
The custom-designed Xamp headphone amplifier features discrete components through all stages of amplification in a bi-amp design. Each audio channel is individually amplified to deliver a whole new level of pristine audio fidelity.
Game-Centric Design
The Sound BlasterX G6 is designed with PS4, Nintendo Switch, PC, and Xbox gamers in mind. With gaming-specific features such as Dolby Digital decoding and Sidetone volume control, the Sound BlasterX G6 provides an incredible improvement over default motherboard audio. Adjust headphone/speaker playback volume and sidetone volume to optimize chat and game audio with a touch of a button.
Pricing and Availability:
Manufacturer: Creative Technology Ltd
Product: Sound BlasterX G6
RRP: $229
Website: https://au.creative.com/
Resellers: Mwave, Computer Alliance, Scorptec, PLE Computers, and GameDude Computers.
Availability: Now