iam8bit, in collaboration with Panic Inc. and House House, announced that Untitled Goose Game's first-ever physical boxed edition for Nintendo Switch and PlayStation 4, will release on 29th September 2020. The new boxed version, complete with exclusive collectible physical goodies for players, will be available for pre-order at Australian retailers.
To introduce more players to Untitled Goose Game, iam8bit has forged a strategic partnership with Skybound Games for global distribution of physical editions.
To mark the occasion, iam8bit and Skybound have produced a video showing off the physical editions.
Untitled Goose Game will include:
The game cartridge/disc for either Switch or PlayStation 4
A Spring/Summer edition of the Plaza Catalogue: a 24-page retail catalogue featuring useful items and objects that a goose might enjoy collecting
An 11″ x 17″ Village Map Poster, hand-illustrated by Melbourne-based artist and game developer, Marigold Bartlett
An extra sticky official "No Goose" Sticker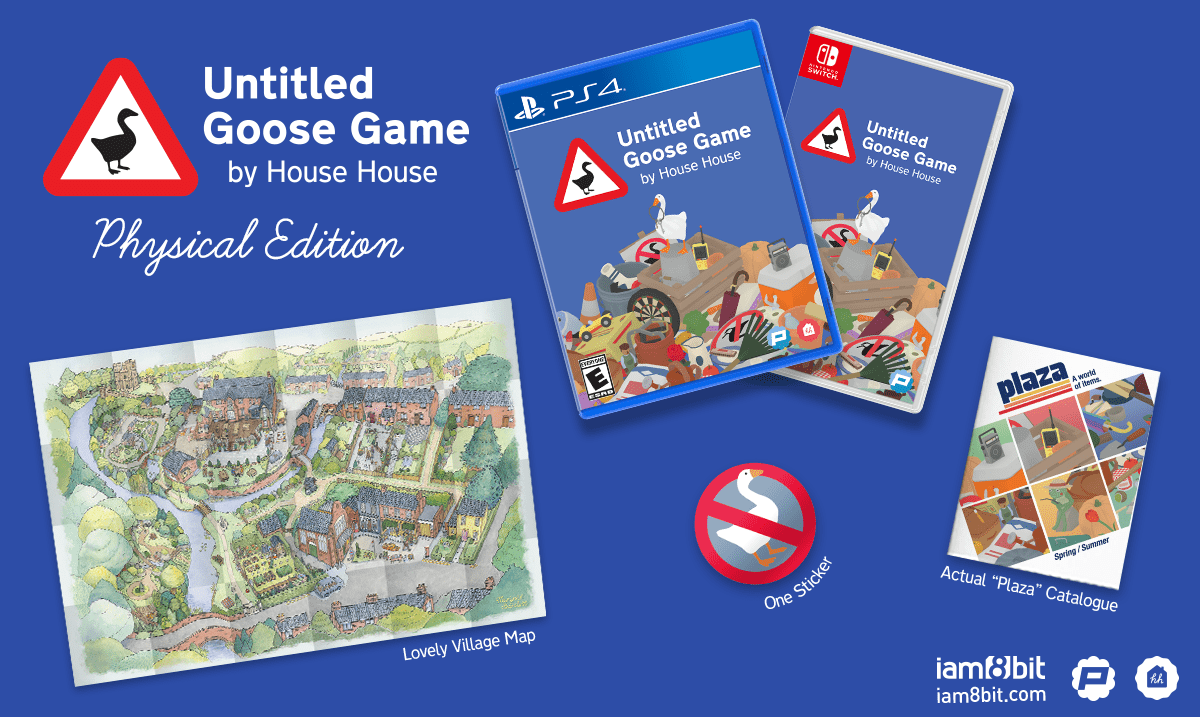 Untitled Goose Game from Australian game developer House House lets players become a goose on the loose in an unsuspecting village. Players make their way around town, from peoples' back gardens to the high street shops to the village green, setting up pranks, stealing hats, honking a lot, and generally ruining everyone's day.
Untitled Goose Game has received multiple awards since 2019 including recognition from BAFTA and the Golden Joystick Awards, as well as "Game of the Year" accolades in the Game Developers Choice Awards and 23rd Annual D.I.C.E. Awards. To date, the digital version of the game, which originally released in September 2019, has sold over one million copies.
For more information about Untitled Goose Game visit – http://goose.game