The gaming accessory brand from Taiwan, Brook, launches the converter "Wingman SNES" compatible to NES/SNES to meet the demand of retro game market. It makes it possible for players fond of retro games to use modern joysticks and fighting sticks onto retro consoles.
Wingman SNES possess powerful cross-platform support function, which enables to support 4 kinds of Nintendo retro consoles with one converter. It supports more than 125 joysticks and fighting sticks with high stability and low latency, which won't influence the operations during games at all. Wingman SNES is a superb accessory customized for retro players to have more fun playing retro games. Wingman SNES is available now with limited quantity of 2,000. The official retail price will be USD $45.
Even though games keep innovating, numerous players are still crazy about many classic games. Although Nintendo NES/SNES has been on the market for more than thirty years, it is still trending among players. How to renovate old consoles or how to fit current existing peripheral has been discussed intensively over the years. Among them, joystick is one of the heated discussion topics. However, due to the diverse specifications of such hardware equipment as ports, modern joysticks are unlikely to be compatible with retro consoles.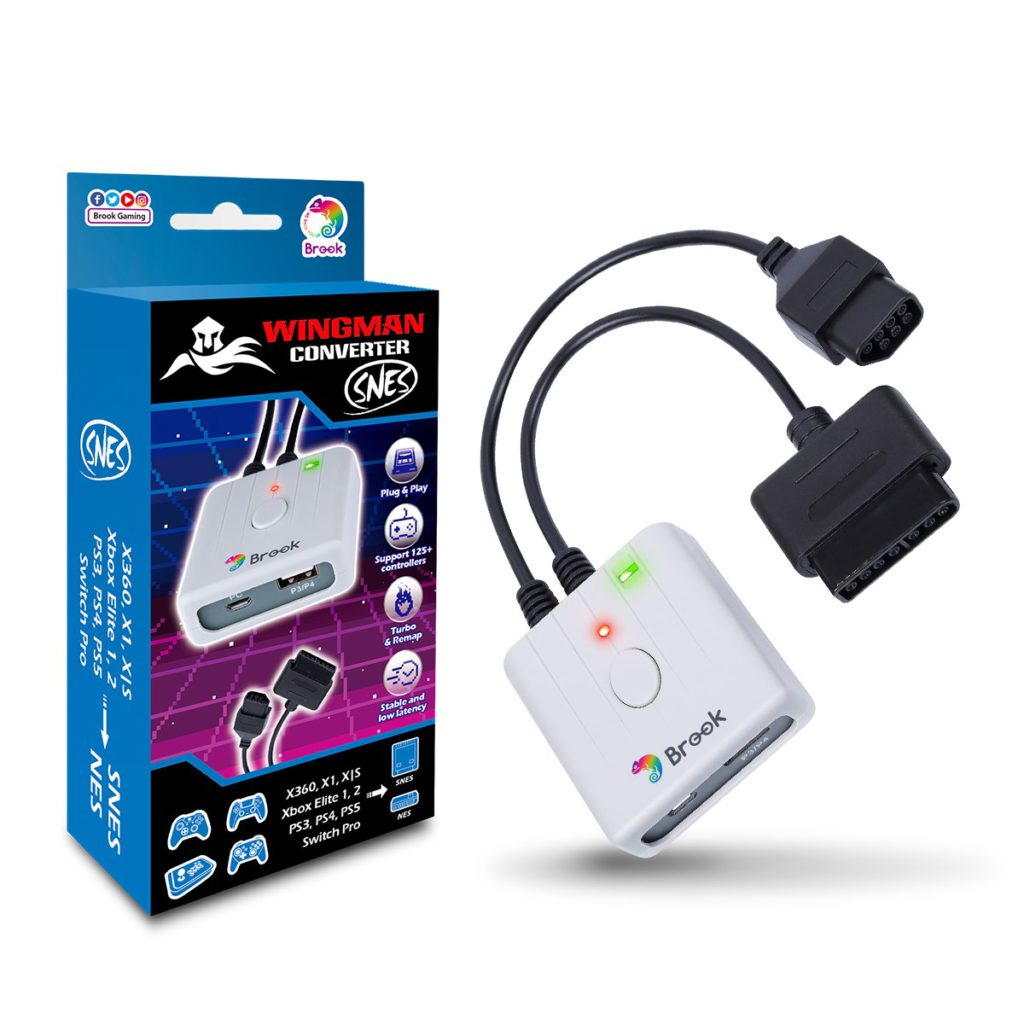 Wingman SNES is created in this context. Adhering to the brand spirit of Brook which is devoted to supporting multi platforms, Wingman SNES not only supports NES/SNES but also supports SFC/New FC of Japanese Edition in terms of retro consoles. As for controllers, it offers more options, capable of supporting more than 125 wired/wireless joysticks and fighting sticks. The feature of diverse and powerful product support of Wingman SNES meets the requirements of various players.
Wingman SNES has Plug & Play design featuring extremely easy and simple installation with stability and low latency during usage. Game operations won't be affected by the additional converter. In addition to the application of supporting diverse joysticks, Brook simultaneously adds Remap and Turbo functions on the converter. Players are able to set the buttons based on their own habits and play shooting games more handily. The upgraded functions of retro games provide players with better gaming experience.
For more information on the spec and images, please visit Brook product page: https://www.brookaccessory.com/products/wingmansnes/index.html