Today, Ubisoft® announced a new content update for Just Dance® 2020, the latest instalment of the #1 Music Video Game Franchise of All Time*, to celebrate the upcoming season. This update offers Just Dance 2020 owners free new content including playlists and online contests, as well as exclusive and iconic songs only accessible via Just Dance Unlimited, the dance-on-demand-streaming-service.
The third season 'Virtual Paradise"' is a vibrant new world, in an alternative reality where you can dance like never before! Jumping into the matrix, players will be able to enjoy this synthwave and retro new universe with their friends and family. 'Virtual Paradise' will also include a Virtual Party and Virtual Gala within Just Dance 2020.
The Virtual Party will be available from July 3rd to 16th. For the first time, not one but two songs will be accessible for free for Just Dance 2020 players until the end of the event: "Fire – LLP Ft. Mike Diamondz" and "Boom Boom – Iggy Azalea Ft. Zedd". The party event will also include the release of "New World (Alternate version) – Krewella, Yellow Claw Ft. Vava," all songs accessible with an ongoing Just Dance Unlimited subscription or an active trial period.
The Virtual Gala will be available from July 23rd to August 13th, delivering a new playlist, 3 exclusive songs and 3 hits from previous opus accessible via Just Dance 2020 with an ongoing Just Dance Unlimited Subscription or an active trial period.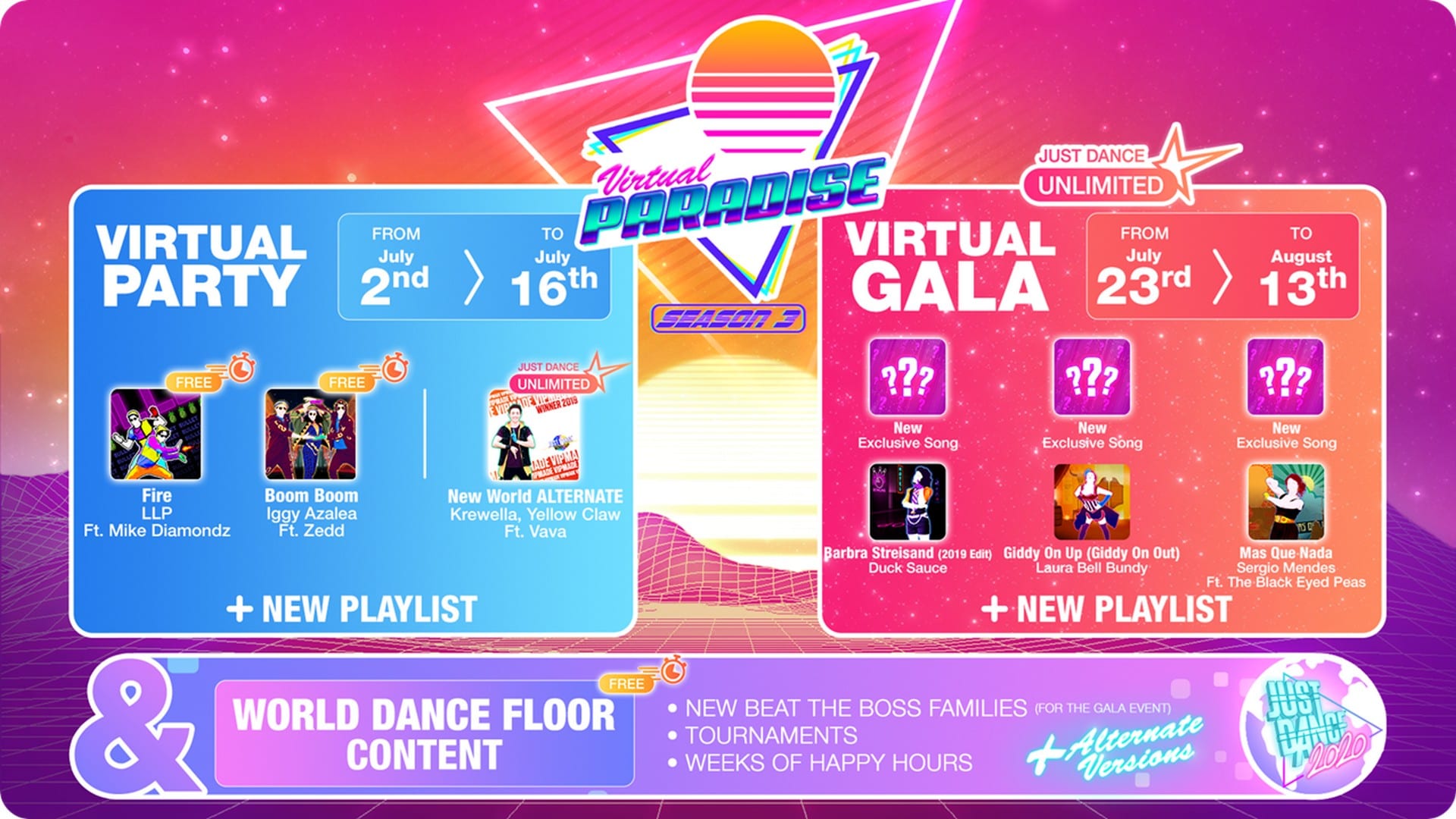 Among the new releases, players will be able to dance like never before to the beat of the following songs:
"Barbra Streisand (2019 Edit) – Duck Sauce"
"Giddy On Up (Giddy On Out) – Laura Bell Bundy"
"Mas Que Nada – Sergio Mendes Ft. The Black Eyed Peas"
Along with the release of "Virtual Paradise," Just Dance will launch free events in the World Dance Floor, the online mode of Just Dance. Players can join dancers from all over the world to defeat new Boss Families (during the gala event) or participate in virtual Tournaments.
These events are available for all Just Dance 2020 owners on Nintendo Switch™, the Xbox One family of devices including Xbox One X, PlayStation®4 Pro and PlayStation®4 computer entertainment system and Google Stadia.
Just Dance 2020 is available on Nintendo Switch, Wii, Xbox One, PS4 and Google Stadia. Each copy includes a free one-month trial of Just Dance Unlimited, which will be automatically updated to include the latest content. Just Dance Unlimited allows owners access to more than 500 songs and additional new content implemented all year long, including four massive updates dedicated to specific themes to celebrate iconic moments throughout the year.
Available on Nintendo Switch, PS4 and Xbox One, the Just Dance Controller App makes the game more accessible for current-gen owners with its phone scoring technology that allows players to dance without any additional accessories like cameras, available for free on iOS and Android.