Today, Blizzard is excited to share about the new free-to-play system, the introduction of nine-week seasons, and their newest Support hero! Read on for a brief breakdown of what's coming to Overwatch 2, and head to playoverwatch.com to read the full Battle Pass blog and FAQ.
Newest Support – Kiriko
Kiriko supports her team through gentle healing, deadly precision, and fluid mobility. Kiriko will be instantly available for returning Overwatch 1 owners via the Founders Pack and will debut in the free and premium Battle Pass for new players.
They'll be revealing more details on her background next week, but until then grab her new merch and check out the gameplay trailer.
Overwatch 2 New Seasonal Model
Overwatch 2 is shifting to a seasonal model where we plan to deliver new content to the game every nine weeks in the form of new heroes, maps, game modes, premium cosmetics, and more.
Season One's Battle Pass will feature the following unlockable free rewards in 20 tiers spread throughout the 80+ total tiers:
Newest support hero, Kiriko (instant unlock for returning Overwatch players; available on the free and premium Battle Pass for new players))
2 Epic Skins
1 Weapon Charm
2 Souvenirs
1 Highlight Intro
14 additional items (emotes, victory poses, name cards, sprays, player icons, etc.)
Prestige Tier Titles (8 earnable titles available only after completing the entire pass)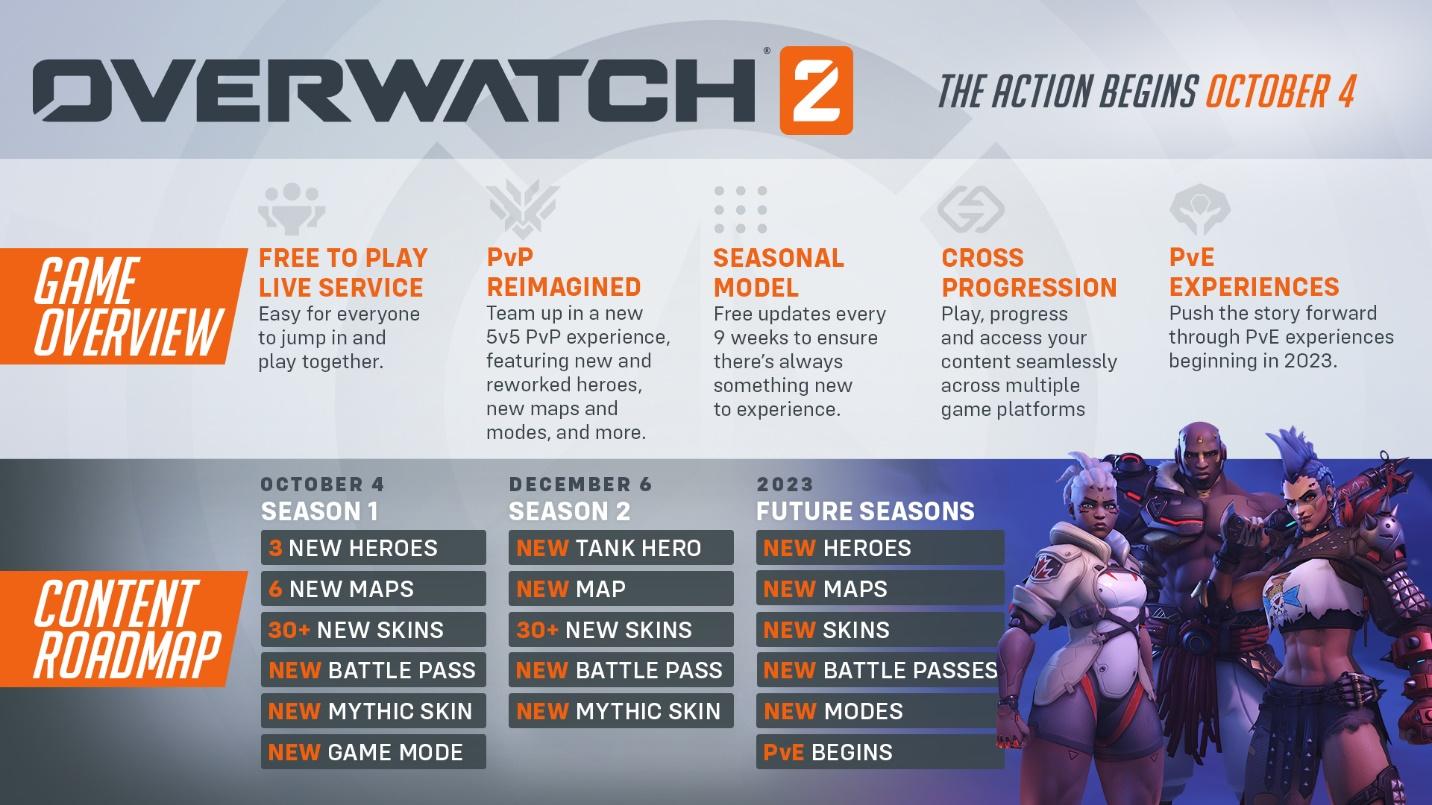 Season One's Premium Battle Pass includes, in addition to all the free rewards above, the following unlockable rewards:
Immediate access to Kiriko
20% XP Battle Pass Boost
1 Mythic Skin
5 Legendary Skins and 1 Epic Skin
3 Play of the Game Intros
4 Weapon Charms
3 Emotes
3 Souvenirs
6 Poses
6 Name Cards
30+ additional cosmetic rewards
…AND MORE!
Free-to-play, the Battle Pass, and Kiriko are just the beginning of what's to come with Overwatch 2. Check out the full Overwatch 2 Explained blog and FAQ, and we'll have even more info to share in the weeks ahead before launch on October 5th AEST!