It's T-minus 3 months until PAX Aus 2022, and mission control says it's time to find the perfect fit for the return of the first in-person PAX event since 2019.
With excitement for the show even harder to escape than a black hole, for the first time PAX Fans will have the chance to snag their swag before PAX Aus which takes place on October 7-9th at Melbourne Convention and Exhibition Centre.
No need to travel to space to have your breath taken away, just scroll to see this year's merch lineup, including cropped tees, tees, hoodies, water bottles and more.
You'll want to get in quick! There are limited shiny items which are sure to impress your friends at your next IRL meet-up. (PAX Aus, obviously!)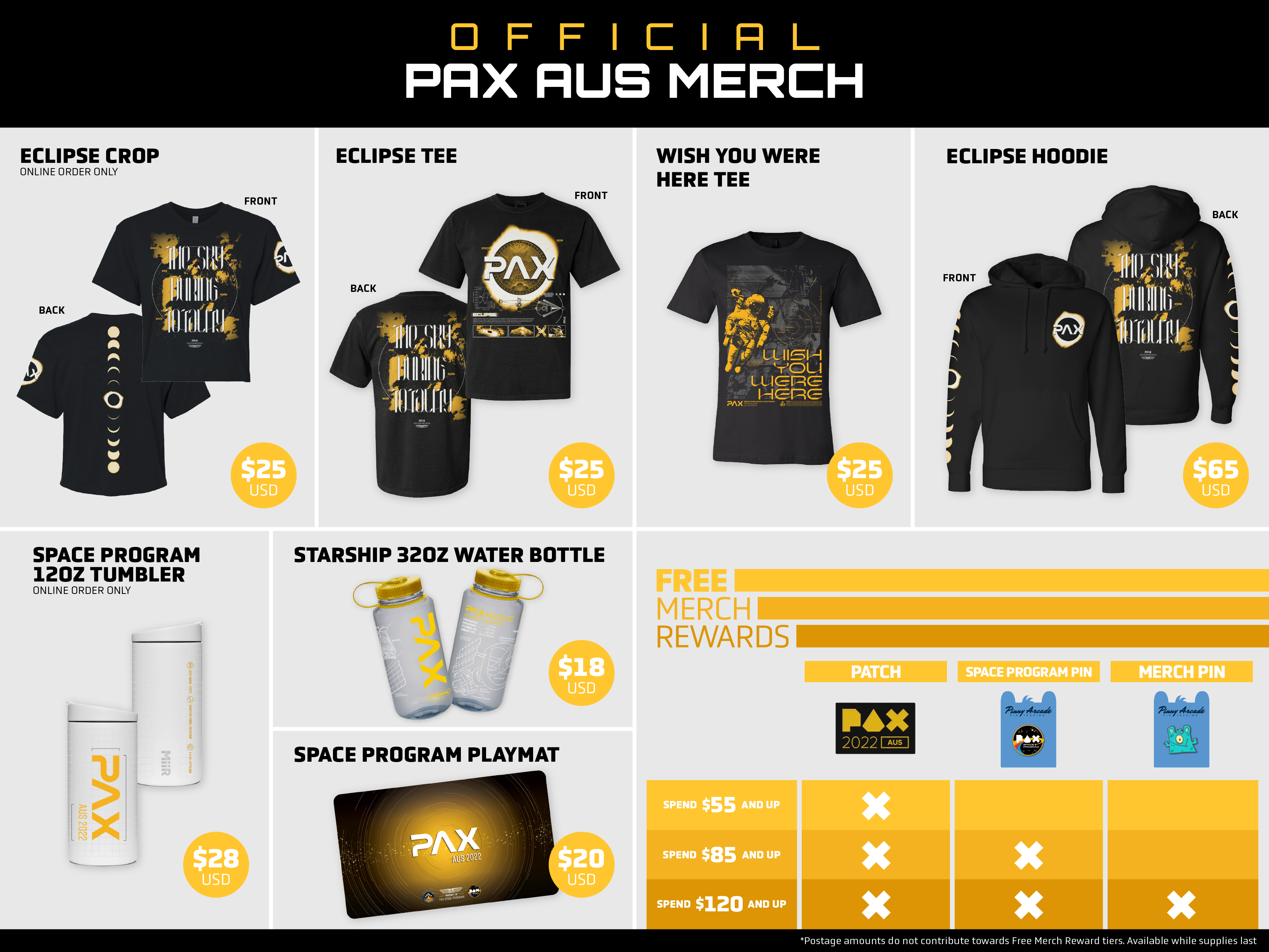 Pin this merchandise link to your browser, store.paxsite.com, and start shopping NOW.
Eclipse Hoodie – RRP: US$65
Eclipse Tee – RRP: US$25.00
Wish You Were Here Tee – RRP: US$25.00
Eclipse Crop Tee – RRP: US$25.00 (online exclusive)
Space Program 12oz Tumbler – RRP: US$28.00 (online exclusive)
Starship 32oz Water Bottle – RRP: US$18.00
Space Program Playmat – RRP: US$20.00
A few deals and freebies will also be available depending on how much you spend:
Spend US$55 or more to get a Show Patch
Spend US$85 or more to get a PAX Space Program Pin
Spend US$120 to get a Merch X Pin
You're still reading?! Head to their merch store! Share it in discord! And remember, it is dangerous to go alone, so recruit your Crewmates! Badges for PAX Aus are still available here: https://aus.paxsite.com/.