Marvelous Europe today announced that Rune Factory 3 Special, an expanded remake of the classic entry in the long-running fantasy life-sim series, will release on September 5th 2023 on the Nintendo Switch™ system across Europe and Australia.
Rune Factory 3 Special is available for physical pre-purchase for the Nintendo Switch™ system through participating retailers. A Limited Edition version of the game will be available, including a 140-page A5 notebook, character stickers, Micah-themed pin badges, a woven patch, an A3 poster, plus access to the in-game "Swimsuit Mode" allowing for characters to appear in their swimsuits year-round, all housed in a custom outer box featuring an original Rune Factory 3 Special illustration inspired by the game's anime opening.
In Rune Factory 3 Special players take on the role of Micah, a young man with the power to turn into a golden sheep-like monster known as a wooly. Rescued by a young woman after falling headfirst into the provincial town of Sharance, Micah awakens with no memories of his past and soon finds himself embroiled in a longstanding conflict between humans and monsters. Micah must work to build bridges between the races to restore peace, all while uncovering a shocking secret of his own.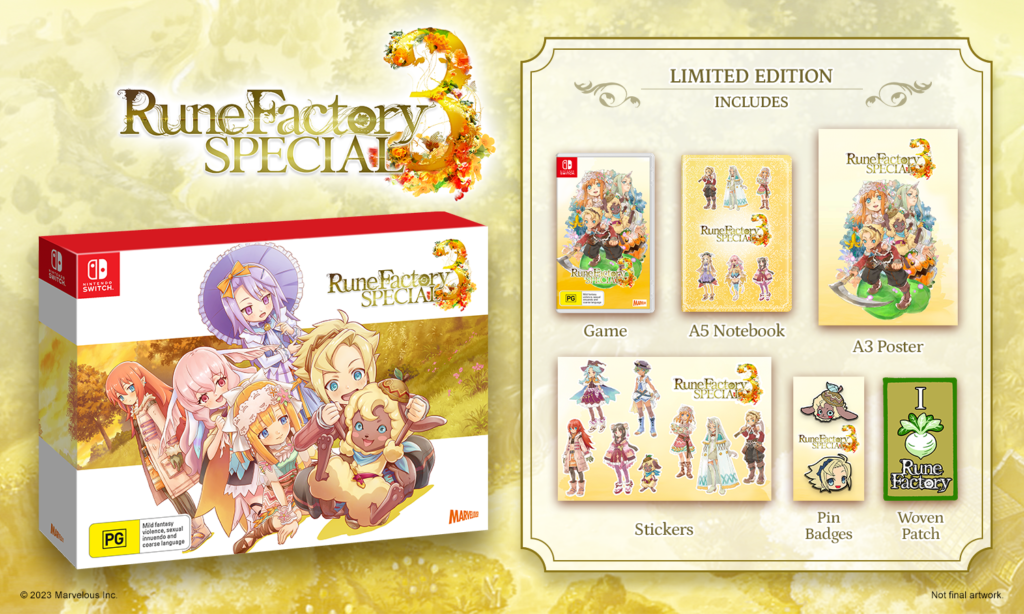 Featuring brand new content including Newlywed Mode, a set of standalone adventures unlocked after marriage to each of the game's 11 eligible bachelorettes and a "Hell" difficulty level to challenge even veteran players!
Whether it's a first visit or a return to Sharance after a long time away, players can experience the unforgettable story of Rune Factory 3 with improved graphics and redesigned 3D character models.
Published in Europe and Australia by Marvelous Europe and in North America by XSEED Games, Rune Factory 3 Special is scheduled for release on the Nintendo Switch™ system and Windows PC via Steam on September 5th, 2023. This title has been rated PG on the ACB rating system.
More information about Rune Factory 3 Special can be found at www.marvelouseurope.com