Fans of the Grand Theft Auto series are tingling with excitement after publisher Take-Two Interactive hinted at a 2024 launch for the eagerly-anticipated next instalment of the franchise, Grand Theft Auto 6.
Grand Theft Auto 6 is one of the most-hyped video games in history, thanks, in part, to it being ten years since GTA V hit the shelves. There was a four-year gap between Grand Theft Auto: San Andreas and Grand Theft Auto IV, then five years between IV and V. Ten years is a massive gap and one that fans of the blockbuster franchise are growing fed up with.
Take-Two Interactive released its latest financial statement on May 17, which included a conference call involving the company's senior management team. Chairman and Chief Executive Officer Strauss Zelnick's comments suggest GTA 6 will launch in 2024, triggering much excitement in the video game community. Should GTA 6 land in 2024, the online spread betting markets will be awash with people backing it to become the game of the year and possibly the best-selling title ever.
CEO's Comments Suggest Upcoming GTA 6 Launch
Zelnick's comments read, "For the last several years, we have been preparing our business to release an incredibly robust pipeline of projects that we believe will take our company to even greater levels of success. In Fiscal 2025, we expect to enter this new era by launching several groundbreaking titles that we believe will set new standards in our industry and enable us to achieve over $8 billion in Net Bookings and over $1 billion in Adjusted Unrestricted Operating Cash Flow. We expect to sustain this momentum by delivering even higher levels of operating results in 2026 and beyond."
The $8 billion in net bookings comment has stirred the video game community. Take-Two Interactive's net bookings for the current financial year weighed in at a company-record $5.3 billion, with net bookings of $3.5 billion reported the previous year. The leap from $5.3 billion to an estimated $8 billion or more is gargantuan and looks impossible based on the company's official release schedule. Aside from the usual raft of sports titles, a new Mafia game, and a fresh BioShock title, nothing stands out that could see net booking increase by $3 billion. That is unless GTA 6 is almost ready.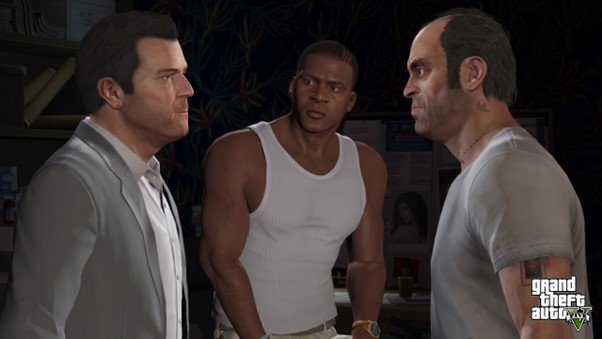 Grand Theft Auto V is one of the best-selling video games ever. It generated $800 million in sales on its first day and reached $1 billion within three days. Across all platforms, GTA V has sold over 180 million copies and has revenues in excess of $7.7 billion, not including the hugely lucrative Grand Theft Auto Online product. Only releasing the latest GTA title could result in Take-Two Interactive's net booking soaring by almost $3 billion.
What to Expect From GTA V?
Rockstar Games confirmed GTA 6's development was well underway in February 2022, but there has been radio silence since. However, in mid-September 2022, 90 videos showing 50 minutes of game footage were published on the GTAForums. The footage was confirmed as being genuine by sources at Rockstar.
Although some of the video footage was more than a year old and far from the polished final product we have come to expect from the GTA series, it appears GTA 6 is set in a modern-day Vice City, Grand Theft Auto's fictional version of Miami, which has featured in the 1997 Grand Theft Auto and as the main setting of GTA: Vice City.
Reports suggest the initial map will expand and change, much like Fortnite's maps, with Take-Two Interactive keen to avoid swamping its staff as it had done with previous titles. Other reports include GTA 6 having a female protagonist for the first time in the franchise.
Fans of the long-running franchise are worried about how Take-Two Interactive and Rockstar Games will approach the game's story and dialogue. Past GTA titles have often hit the headlines for the wrong reasons due to the dark comedic, often sexualised and sometimes racist nature of the game's characters and NPCs. In a world where "cancel culture" has become prevalent, it remains to be seen how the new GTA game will tread the fine line between what is acceptable and what is not. We do not have too long to wait to find out.