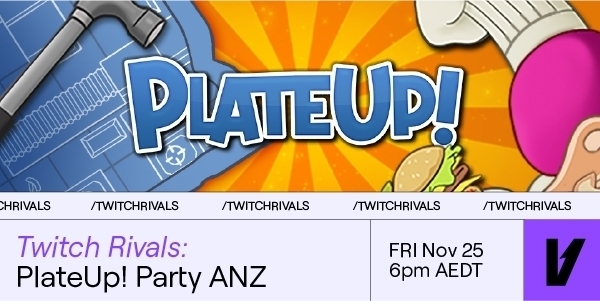 Get your aprons ready because some of ANZ's favourite Twitch stars will be teaming up for an all-or-nothing virtual culinary battle at Twitch Rivals: PlateUp! Party ANZ on Friday, 25th November at 6pm (AEDT).
The chaotic kitchen and restaurant battle will see 16 Twitch streamers come together online in crews of four. Teams include:
PlateUp! is a restaurant management co-op game that challenges teams to build and run a restaurant from scratch, from curating a menu, laying out appliances, cooking food and serving customers. Strategic planning and solid teamwork will be the key to victory – can our streamers withstand the heat or will a culinary mishap spark their virtual restaurant's closure?
Cooking it up across three action-packed rounds, teams will have the choice to pick one recipe at each round, which will be revealed on game day. For each round, the first team able to cook, serve and manage their way through 15 hectic levels (or get as far as possible) will be set to gain a whopping 20 points. Players will also be able to secure extra points by completing additional challenges like finishing a day with a mess on at least 10 tiles or setting a customer on fire.
Teams will be competing for a prize pool of $10,000 USD and the chance to bask in the glory of their culinary and restaurant management expertise.
You won't want to miss this pressure-cooked competition. Head to /TwitchRivals this Friday to witness the battle!