Today, Ubisoft announced that the Six Masters, the national Rainbow Six esports league for the ANZ region, will return in 2020 with the Six Masters 2020 Split 1 to commence early in the new year. The announcement comes in the lead up to the Six Masters 2019 Finals where eight of the best teams in the ANZ region will compete at the LAN Final event at Margaret Court Arena from Friday 30th August to Sunday 1st September as part of this year's Melbourne Esports Open.
The eight finalist teams that will make their way to the finals at the Melbourne Esports Open are:
ACME Association
FNATIC
Fury Australia
Mindfreak
Oddity
Orgless
Rhythm
Team SiNister
As finalists of the Six Masters 2019, these eight teams automatically qualify for the Six Masters 2020 online group stage. More details about next year's tournament will be announced in the months to come.
"The Six Masters is already a tremendous success for esports in the ANZ region and we're excited to showcase everything the Rainbow Six scene has to offer at the Melbourne Esports Open this weekend," says Matthew Tang, Group Head of Esports & Ecommerce at Ubisoft Australia.
"We're thrilled to announce the return of the Six Masters in 2020 as well. We continue to amplify our investment in Rainbow Six esports in our region and this announcement demonstrates our commitment to supporting the players, organisations and fans who have shown so much passion for our scene over the past three years. We'll be sharing more details in the coming months."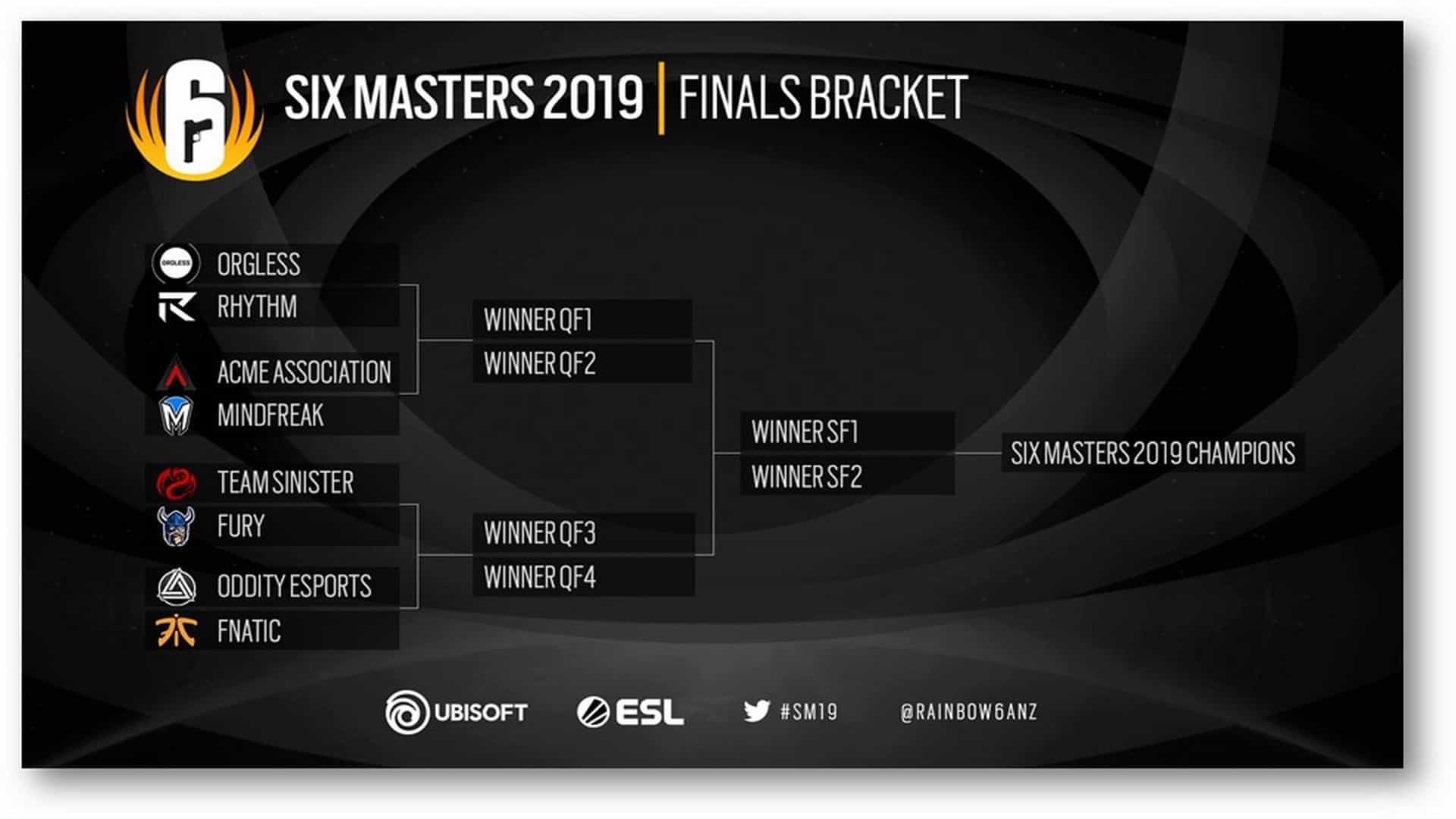 The Six Masters 2019 Finals will commence with the first quarter final match livestreamed on Friday afternoon and conclude with the grand final on Sunday afternoon.
Friday, August 30 (Livestreamed):

5:00pm – Rhythm vs 0RGL3SS

Saturday, August 31 (MEO Day 1):

10:00am – ACME vs Mindfreak
1:35pm – Sinister vs FURY
5:10pm – FNATIC vs Oddity

Sunday, September 1 (MEO Day 2):

9:00am – Semi-Final #1
12:35pm – Semi-Final #2
4:10pm – Grand Final
The eight finalist teams will battle it out in single-elimination, best-of-3 matches for a share of the $50,000 AUD prize pool and the title of Six Masters 2019. The prize pool is split as per below:
1st: $20,000
2nd: $10,000
3rd-4th: $4,000 each
5th-8th: $2,000 each
9th-10th: $1,000 each
11th-12th: $500 each
Tickets to the Melbourne Esports Open 2019 are now available and can be purchased from the official website at melbourneesportsopen.com.au or ticketek.com.au.
The entire event will also be livestreamed on official Rainbow 6 ANZ channels below:
For more information about the Six Masters 2020 and all Rainbow Six esports please visit official website and follow them at twitter.com/rainbow6anz