Today, Tom Clancy's Ghost Recon Breakpoint introduces its new A.I Teammates experience as part of Title Update 4.0.0. Free for all players, the update expands the A.I teammates and adds all-new progression loop as well as extensive customisation options for teammates.
Ubisoft also announced that Tom Clancy's Ghost Recon Breakpoint will be free to try May 28 – June 1 on PlayStation 5, PlayStation 4, Windows PC and Stadia*. All players will have full access to the base game's content for the duration of the free weekend and will be able to play co-op with anyone who owns the game. Any progression made during the free weekend will carry over when the player upgrades to the full game on the same platform.
New players can pre-load Tom Clancy's Ghost Recon Breakpoint on Windows PC starting today. All information about the free weekend can be found here: http://ghostrecon.com/freeweekend
In conjunction with the free weekend, standard, Gold and Ultimate Edition versions of the game will be discounted on all platforms, as well as the Season Pass, for a limited time. Thanks to the Friend Pass, Tom Clancy's Ghost Recon Breakpoint players are able to invite up to three friends who do not own the game to join their co-op session.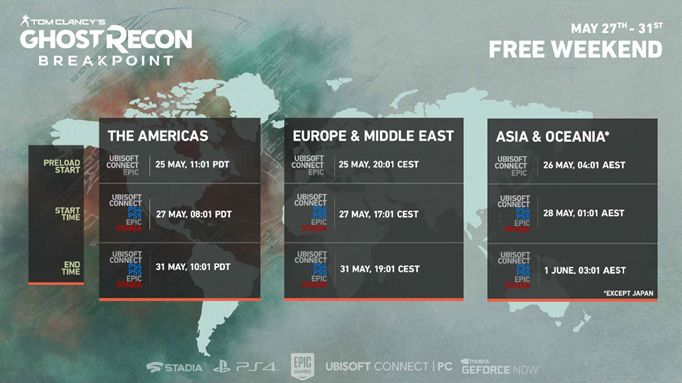 * Players will need a PS Plus or Stadia Pro account to access the Free Weekend