I like conventions. Amongst the smell of sweat and loud, animated conversations in lines, they bring people together. At conventions there is always some sort of sense of community. Whether it be gaming, cosplay, nerdy pop culture, or even just a mainstreamer that is curious, we all belong in some sort of group. So, bearing that in mind I flew down to Melbourne to enjoy MY first PAX, but one of many for MKAU.
So, what is a 'PAX'? Originating in America and having been on the golden shores of Melbourne for a few years now, it is one of Australia's biggest gaming conventions. This 3-day celebration of anything in the world of gaming culture, has everything from retro appreciation, cosplay, up and coming new releases, tournaments, and panels.
This is our experiences of the weekend;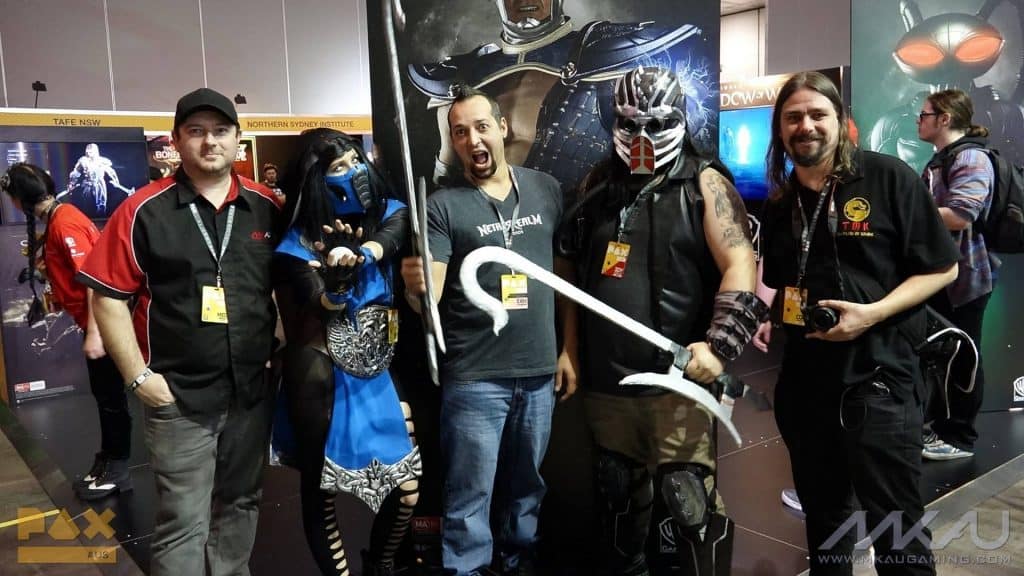 For a Friday; a work day, the halls of the Melbourne Convention and Exhibition Centre were alive with the buzz of excitement. Even with early access to the hall floor on the Friday, booths were energetically primping and adding final touches to their displays ready for the influx. The space was enormous with every booth, stall, stage and riggings, immaculately set out. Even on the Saturday when the convention was SOLD OUT, not once did I feel bottled necked in the crowd.
Most of the day was spent getting a feel for the place, since it is such a huge location we found it hard to find the right rooms for panels as it could be a ten-minute walk or even longer, with so many good distractions along the way. The 'Enforcers' had their fingers on the pulse though, and were easily able to point us in the right direction every time.
Not only was the day buzzing, but also the evening was loaded with entertainment. Panels were often going late into the night. The first night MKAU attended "How (Not) to approach sponsors as a full-time gamer" hosted by our affiliate AK Racing's Chiara Pagano, Goto.Game's Phid McAwesome and Jack Huddo, Twitch streamer Dom 'DibbsGG' Bryce and Lalor McMahon from Razer. They were so down to Earth, and offered a valuable insight into the industry. Much reflection ensued, and many lessons were taken away.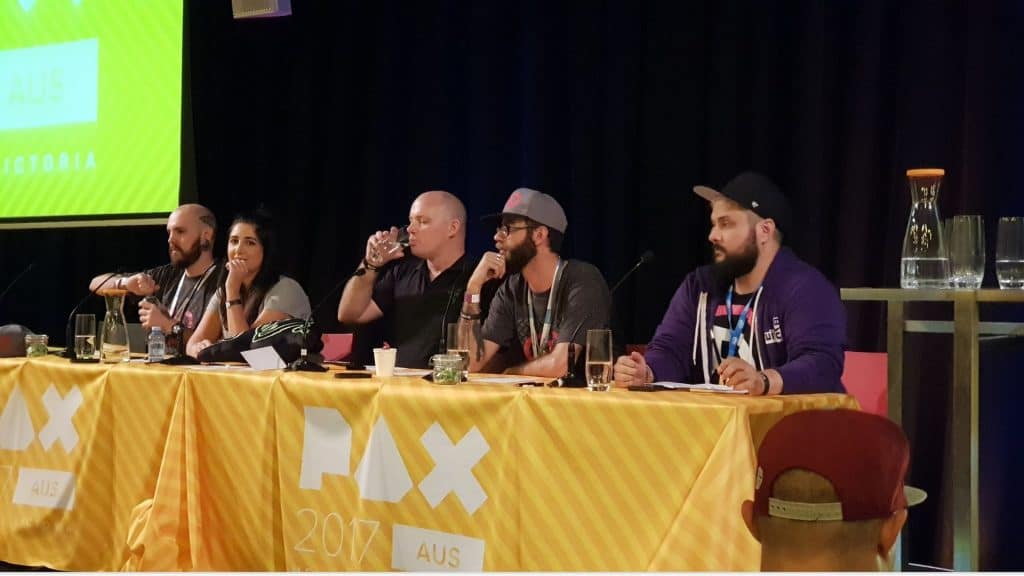 Saturday was hectic with the convention selling out, and you definitely felt it when it came to lining up. Fortunately, there was plenty to do and the crowds, for a packed convention, were reasonably calm and content. If you were lucky you could catch a glimpse of special guests hurrying to panels or meets such as Burnie Burns from Rooster Teeth or Steven 'Bajo' O'Donnell, working the crowd and just being his cool self as he streamed inside the massive, purple Twitch set up.
If you needed fresh air, even outside had plenty to see. Cosplayer, upon cosplayers were congregating, posing, showcasing their hard work, smiling for cameras, and taking photos with gobsmacked fans of their characters. You can't help but smile at the joy they were bringing to both old and young.
Also acting as a perfect backdrop was the ship, yes PAX had a real-life boat, docked in the harbour, where gamers could climb aboard and demo XBOX's pirate exclusive 'Sea Of Thieves".
We were also fortunate enough to get invited to some booths to try some of their latest products and we couldn't wait. Acer Predator was our first booking of the day and they had some impressive stuff to share. Their 'Helios 300' gaming laptops were so lightweight, while in stark contrast their new gaming desktop the 'Orion 9000' was an intimidating beast on wheels.
The Hyper X booth was also kind enough to invite us to check out their newest gaming hardware. They have a great range of new headsets and mice; however it was the HyperX Alloy Elite Keyboard that really caught the boss's eye.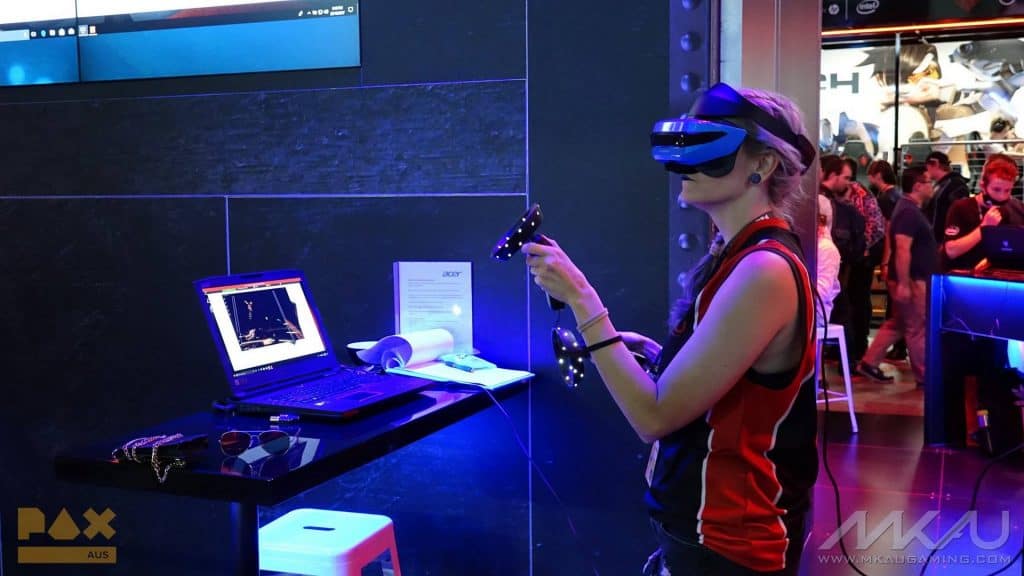 It was inspiring to see and listen to the innovative development that has gone into these products, as gaming definitely is an ever-evolving lifestyle. We also dropped by our good friends Bluemouth Interactive at the Astro Gaming booth to play a couple of games of COD while checking out their latest A20 headsets and Scuf controllers. Yes, we played in style, no it didn't stop me from getting wrecked by 12 year olds.
By Sunday our feet were sore, so we were actually relieved to sit and watch the Injustice 2 tournament. For 3 hrs the top 8 players, a mixture of pros and amateurs duked it out to be number 1. Very organised and well hosted, it was nail biting all the way up to the finale when Canadian 'EANIX Biohazard' took out the top spot, the cash, and the esteemed title. It was also great for fans to see Derrick Kirtzic (Game Designer) there from NetheRealm Studios repping his legacy of fighting games and enthusiastically hosting.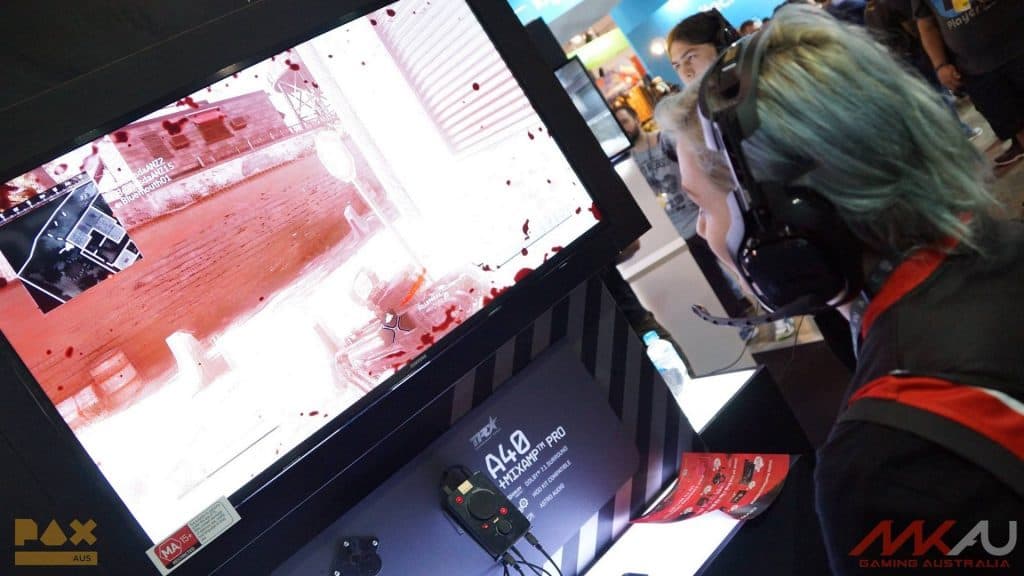 To close our weekend at PAX we decided to go to the Bethesda Trivia night. It was a hilarious panel of influencers, Bethesda fans, and the ever charmingly animated host, Paul Verhoeven. While we could play along as an audience via an app, it was a shame the audience was not involved more. The laughs were plentiful though and the panels answers impressive.
Despite some criticism online about size and content diminishing over the years, I thought overall, PAX Aus 2017 had really kept an eagle eye on the trends and current events in the gaming world, and delivered a convention that had something for everyone. I can't wait to see what 2018 has in store for this ever-growing industry. Well played 'Yug'.
If you'd like to check out all our photos from PAX Australia 2017, you can do so by following the LINKS below.
PAX Australia 2017 [Friday]: https://tinyurl.com/y9b8tzee
PAX Australia 2017 [Saturday & Sunday]: https://tinyurl.com/ya3668zk