Ask and ye shall receive! After the two joyous Definitive Editions that came before it, Age of Empires III: Definitive Edition now joins in on the HD fun. Getting the same spruce up and 4K polishing treatment like its aforementioned prequels, Age of Empires III: Definitive Edition not only upgrades and includes its two previous expansion packs "Warchiefs" and "Asian Dynasties", but also gets a tasteful handful of tasty new content, which we shall dig into right now!
GAMEPLAY
Upon game start, the most notable change comes from a pop-up message from the developers. Previously featured in the original edition 'Warchiefs' expansion, the game included two playable factions called the Iroquois and the Sioux. With modern times come modern changes, and as the developers mention in their message, they have been renamed to their culturally appropriate names: the Haudenosaunee and the Lakota, state the developers: "inaccurate or stereotypical depictions" have been removed with "created new voice overs using native speakers" after they consulted living members of these nations.
When you do reach the HD version of the 'Warchiefs' chapter of the main game, the new dialogue does sound much more authentic and natural, comparatively to its original predecessor, which goes to show the amazing work that this development team took to do the right thing. Besides the updated dialogue and necessary rebranding, the story / campaign mode (in terms of features) remains basically the same. Though the other two previous games had their campaign modes left relatively untouched, it's saddening that not more was done or even made into DLC for this, let alone the other two games.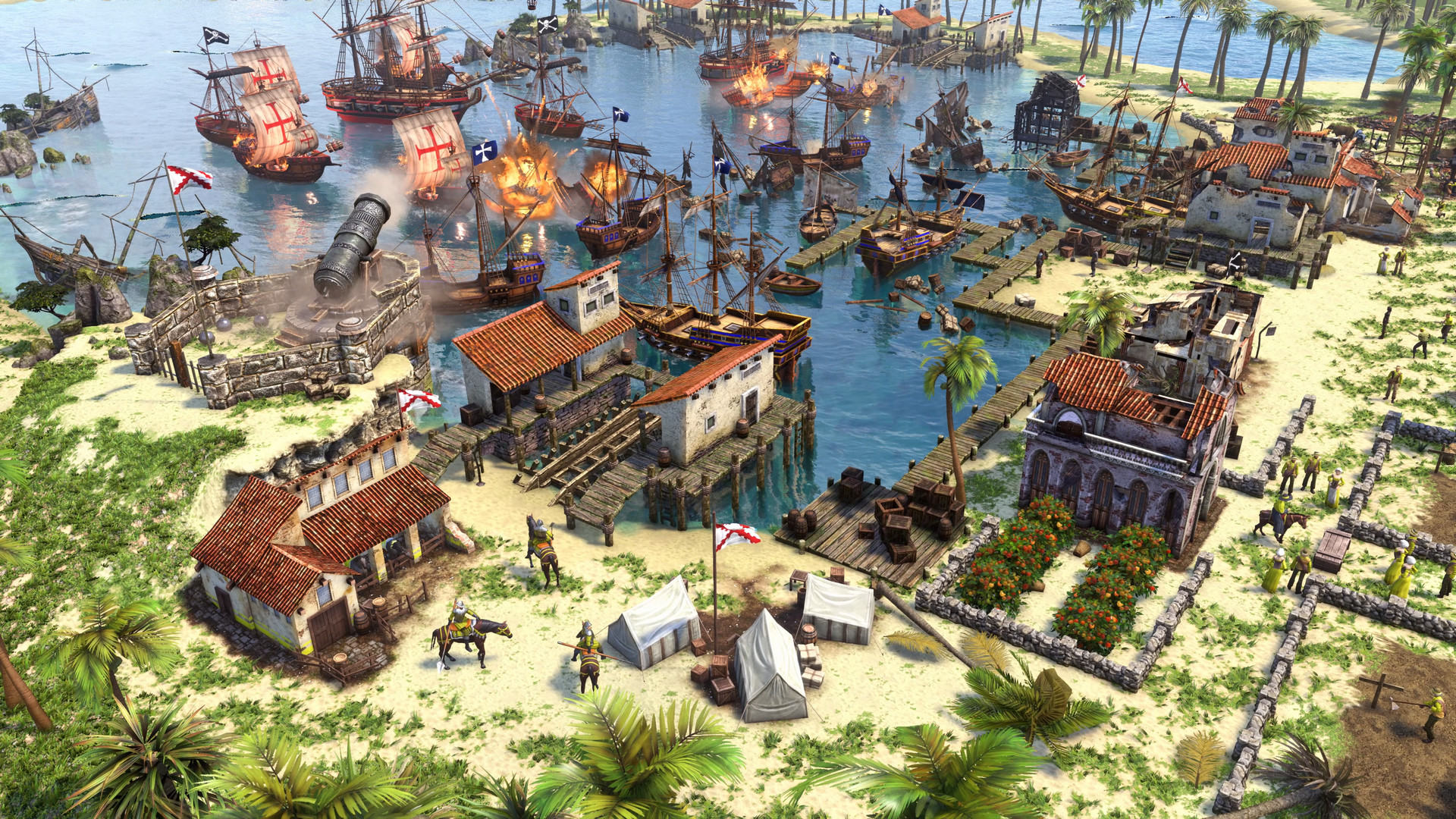 Speaking of campaign, a common bug has also made the jump from SD to DE as a few in-game cutscenes were left hanging, by which background characters, sound, map and music would all work, yet certain characters would not interact leaving you with a very awkward 'who forgot to bring the steak to the BBQ' kind of feel, as you stare blankly at your protagonist on screen, as you eventually slowly reach down and hit the 'skip scene' button.
Age of Empires III: Definitive Edition also invites two new Atlantic-based factions the HD party – The Inca and The Swedes. As a fan favourite (and previously excluded feature for the original AoE III), the Incas get a Priestess unit who can convert enemy units to your side, chanting the famed AoE classic "Wololo!", alongside Bolas Warriors and Chimu Runners, both of which are swift movers across any battlefield. Their population-based dwellings will produce food by default, allowing you to further dive into their culture and embrace their new units and technology.
The Swedes have a similar dwelling-based perk, which can be placed next to any natural resource, and it will harvest that resource automatically without the use of settlers. Their melee units & siege weapons have a faster movement speed than other factions, putting them as a top tier threat to be reckoned with.
The new "Historical Battles" mode presents some fun little challenges mixed with a bit of single-player action, kind of a mix of both skirmish and campaign mode. Unique challenges pop up during various battles, allowing for a creative and strategic advantage on your opponent.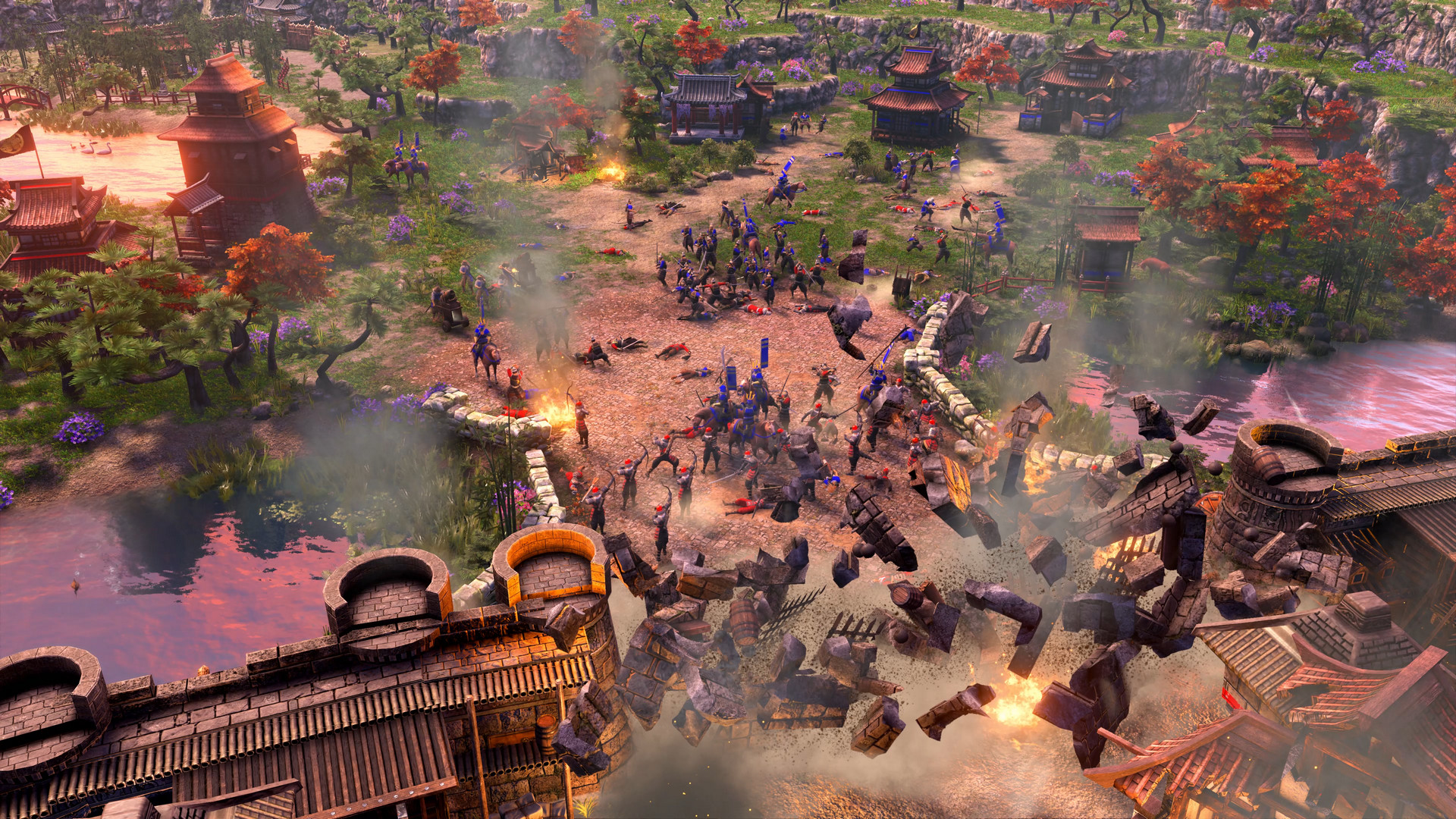 "The Art of War" mode really had me interested in its immediate name value alone, until I played the mode. Sadly, the mode just falls flat and feels empty, as if there was a feature or a proponent missing from the content. Sure, all the battles and scenarios differ, but they're quite quick and easy to power through, leaving you to wonder when, if ever, you'll be undertaking that mode again.
GRAPHICS + SOUND
Hands down, Age of Empires III: Definitive Edition's stand out performer is its graphics and sound. The new physics are my absolute favourite to witness, with building crumbling and explosions being the gold medal stand out. Features are a lot of fun to watch. Enemies being cannonballed across the battlefield, and ships ripping apart over the ocean take the close silver medal. Rounding it up in the graphics triple threat is the nature-based graphical upgrades (lighting, water, terrain) which have had such a wonderful update and refresh, it truly is amazing to see the update to not only this 15 year old game, but graphical advances as a whole. In game models, both during play and cutscenes, have been polished and de-pixelated, leaving it with a modern coat of paint. Though not over detailed like other modern strategy games of today's era, it's enough for you to be pleased and enjoy the game.
CONCLUSION
Age of Empires III: Definitive Edition has been fed its 4K HD upgrade and it proudly joins the ranks of its fellow AoE: DE and AoE II: DE duo. With the Colonial Age, Industrial Age, Indian heritage, Asian history and even Cowboys being featured, you'll find yourself immersed all over again with this new edition.
The Good
Fantastic HD graphics
Captivating updated gameplay physics
Improved sound and dialogue
New factions and modes
The Bad
Some modes are one hit wonder (play once and never again)
Some campaign cutscenes feel bugged
No new campaign content