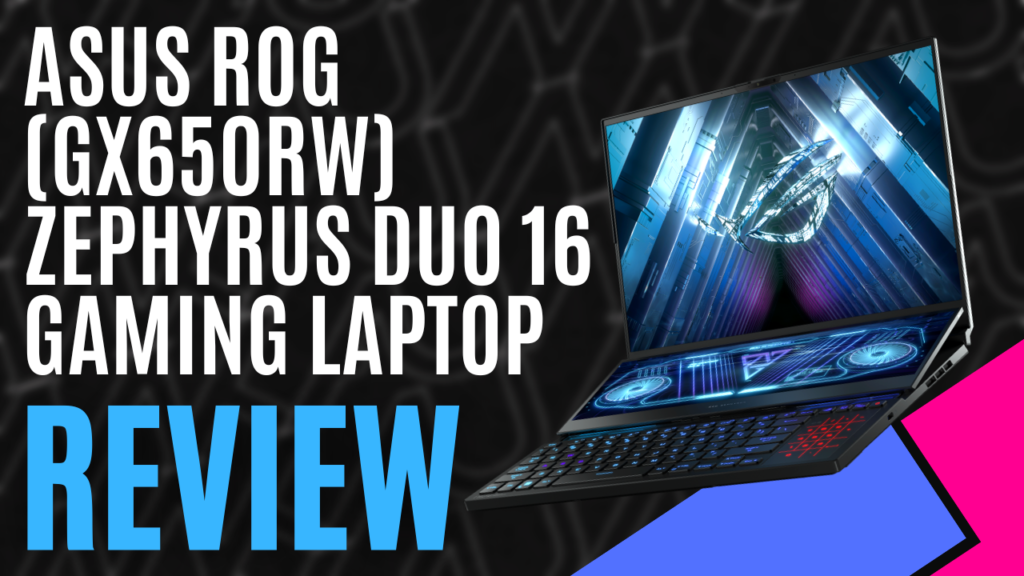 When you're gaming, it's almost a given that you have an additional screen, regardless of whether displaying your game over both, you're streaming, or you have Discord open so you can chat with your friends and keep an eye on the posts. This is a little harder to do when you're gaming on the go, often relying on another mobile device, such as a tablet, to keep an eye on other things. This is where ASUS takes a page out of Xzibit's book: "I heard you liked monitors, so we gave your monitor a monitor."
The ASUS ROG Zephyrus Duo 16 GX650RW-L0146W Gaming Laptop boasts two screens – a 16" Quad HD 16:10 ROG Nebula HDR screen as your main monitor, with a refresh rate of 165Hz and 3ms response time, and a 14" ScreenPad Plus 3840 x 1100 4K IPS panel with touch support. This was certainly a surprise when I first opened it up, and I almost thought I had broken it before I realised what it was. This extra display can be used for a variety of different tasks, including monitoring your stream, giving you an extra display for reading reference material while typing out an assignment or review, editing photos, music, and movies, or even as an extra screen to display additional information on your mission in the game you're playing. The possibilities here are almost endless!
Powered by an 8-core AMD Ryzen 9 6900HX CPU running at up to 4.25GHZ, an RTX 3080TI, and 32GB of 4800MHz DDR5 RAM, this notebook blitzed through the User Benchmark tests, scoring a "UFO" rating across the board, meaning it scored well above expectations. During the 3D DX tests, I observed an average of 190FPS across DX9 and DX10, while the CPU scored a total of 830 points while under a heavy load, once again, smashing the tests I ran, but it's not all about the tests. We actually need to play some games.
Jumping back onto the Star Citizen bandwagon, I booted it up and ran it with everything turned as high as it could go, running it to take full advantage of the 2560 x 1600 QHD resolution, and when I first loaded in, I was excited to see my FPS sitting around the 40 mark, given my desktop normally sits between 20 and 30 while strutting around a space station while running at 1920 x 1080, with some of the less important aspects turned down to medium or high.
Jumping into a ship and launching into space, this quickly hovered around 70 FPS, dropping just below 60 during dogfights, whereas I'd be lucky to push 20 FPS if my desktop was running with the same in-game graphics setup. To truly compare it, I dropped the game's graphics down to match what I have my desktop set to so that it still looks good, but ultimately, performs well. Averaging 80 FPS while in space, 70 while dogfighting, and 60 while in a station, the winner was clear. The ASUS ROG Zephyrus Duo 16 GX650RW-L0146W Gaming Laptop blew my desktop out of the skies.
Looking from the outside, you wouldn't really know there is an additional screen. The rear cover is mostly unassuming, with some stylish inlays making up the ROG logo, and selling out Republic of Gamers under a line that runs diagonally along the panel. Opening the notebook, the secondary monitor lifts slightly and slides into a more user-friendly position, which also exposes a clear acrylic panel that allows you to view some of the inner components, light up with yet more RGB lights that can be controlled in the easy-to-use Aura Creator App.
Additionally, and just like the ROG Strix SCAR 17 SE G733 Gaming Laptop I reviewed back in November 2022, the system is compatible with Armoury Crate, an application that allows you to boost the system's performance quickly and easily, without the need to know how to overclock, and potentially damage, your components, and it gives you a rundown of how your system is running in an easy to read format.
Connectivity is what you'd expect from a notebook these days, with a 3.5mm Headset port, an HDMI 2.1 socket, two USB 3.2 Type-A ports, a USB 3.2 Type-C that supports DisplayPort, a USB Type-C 3.2 that supports DisplayPort, Power Delivery and G-Sync, and an RJ45 Ethernet socket. It also supports Wi-Fi 6E and Bluetooth 5.2, and you can store plenty of games on a 1TB PCIe 4.0 NVMe M2 Performance SSD.
As a result of the additional screen, the keyboard is a little closer to the edge of the lowercase, and this came with some drawbacks. For one, the keyboard, although very cool with its individually lit RGB keys, feels like it's a little smaller than what you'd normally find, and more importantly for me, it lacks a separate number pad. This is replaced by the mousepad due to how close everything is to the edge of the panel, however, if you're not using this as a mouse, you can turn it off and the number pad becomes available as a backlight touch panel. It was a little confusing at first, but certainly doesn't pose much of an issue if you're using a USB mouse – you just have to get used to not having somewhere to rest your wrists.
The ASUS ROG Zephyrus Duo 16 GX650RW-L0146W Gaming Laptop performs amazingly, and the additional touchscreen, while it felt a little gimmicky at first, offers so much extra function that I can overlook how awkward I felt using the built-in keyboard and mouse. While it only supports a small selection of games, the ScreenPad Plus was something I didn't realise I needed until it was in front of me, and I found it easier to complete my daily tasks using this touch screen than sitting at my desktop with two 27" monitors. As I said earlier, the possibilities are endless!
The Good
Comes with an additional screen built in
Great performance
Slick and stylish appearance
Easy to use apps for boosting performance and setting up RGB
The Bad
Keyboard is very close to the edge of the case
Mouse touchpad felt awkward to use due to its position
There is currently only a selection of games that can use the ScreenPad Plus