I can't believe how much of a mess Darksiders III is……
I have played previous titles on Xbox 360 which were fairly good games and I have played Darksiders 2 Deathinitive Edition which is published by Gunfire Games and developed by THQ Nordic, but this time around someone has dropped the ball.
Darksiders III is a single player hack n' slash/action adventure game playable on Xbox One, PS4 and PC. The story of Darksiders III takes place on Earth but one that's torn apart. You control Fury she's rider of the black horse and sister horseman of the apocalypse. She's ordered by the Charred council to hunt and kill all of the 7 deadly sins. It's not an exciting story, most of the story is you running around killing NPC's and speaking to the odd character, eventually meeting each of the 7 sins and fighting them and moving to the next.
From memory, past Darksiders games were never all that difficult. I first selected the "normal" difficulty and was pushed to my breaking point and I hadn't even beat the first sin. I recall a controller being thrown and I was pissed off to the max! Now was I just out of touch? Well I took it to twitter and other gaming community's and it seemed like a lot of people were finding the game difficult. I tested a theory of selecting the "story" difficulty that pretty much states easy mode, even though I was able to play with less hassles I still believe the difficulty system needs to be looked into, it just doesn't seem right and not all gamers will stick around if their unable to enjoy the game. Patience will really be tested when fighting against each of the 7 deadly sins, some are easier than others but the difficult ones will kill you quite quick if you lack a quick reflex.
The camera for the game totally sucks too. Yes, something else they failed to get right, it will follow you most of the time but while your fighting enemies it somehow doesn't do its job which makes it hard when some enemies cause waves of energy that will kill you. If you can't see them, their attacks will kill you because you're required to jump or dodge them. Failing to do so will kill you forcing you to start again, and for the most part the game puts you back far enough that you'll have to make the hike back to where you died.
Darksiders III puts you up against skeletons and other wicked monsters and creatures, you'll also see the odd human while on the course of the story. As you kill enemies they'll drop blue skulls which is the currency required to buy a range of health and wrath shards. There is a list of other shards that can be bought too and you're able to sell any items you don't want. Prices range from 200 and as high as 5000 and as you buy items the price for the next time you want to buy it again will go up in price. Some items you can buy an unlimited amount of times as long as you have the skulls, while others might only allow you to buy one and you can't buy it again until it's used. While travelling around you can smash things that will allow you to discover pickups, some pickups are in clear sight, health is the most common pickup.
You'll have an inventory that allows you to add things to your weapons as well as earning attribute points that you can use to do upgrades for things such as increase health, physical damage and arcane damage. Controls are pretty straight forward, on PS4 you'll mainly be pressing square either on it's own or pressing it with R1, other prompts are L1 + R2 or L1 + R1 both do special attacks.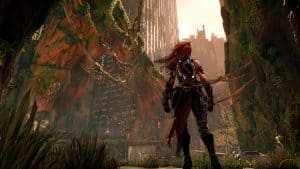 I started playing Darksiders III on launch day, it received a day one update which isn't too surprising. Starting up the game I noticed something odd right away when both logos for THQ Nordic and Gunfire Games came on screen, for some reason they were dimmed. Next was the title screen that looked blown out and all the menu options were grayed out, however still selectable if you could make out what was what. I did come to realise this was an issue with the HDR on PS4. Turning it off which can only be done on the console itself made the game appear like it should, gone was the overblown colours and dimmed out options. It was late that night and another update was released which fully disabled the choice to use HDR all together. Now, the update removed the HDR support for the time being but it caused more issues for me from that point on. Mostly performance issues, prior to the update the game did but rarely stutter the odd few times which also affected the sound, but it wasn't a major issue. Once update 1.03 dropped I could be walking around in areas and having my character stuttering and it would get even worse other times. Another issue that raised its ugly head was some rooms looked a particular way before going into them but some of the colours and textures would change soon as I stepped into it which all changed with a slight flicker effect in the game, sure it's subtle but still noticeable.
It doesn't stop there either, the overall look of the game is poor even on the PS4 Pro console. When panning the camera around there was a pixel effect present that just made the game look unfinished. This also occurred when using your weapons and it was an effect that would show up on cars and concrete walls. The visuals really took a hit in Darksiders III, the clarity really isn't there in most things you see unless it's very close and even then it doesn't look good. To think they have had all the time to make a really good game and just seems like a failed delivery. They did manage to make a decent HUD, you'll have a waypoint/navigation bar, health and wrath bar, on screen currency counter as well a shards menu to heal yourself and resupply other things.
If you're thinking of buying this, not only consider this review but also do some research, in my opinion I'd hold off for awhile and see if this is a game they'll fix before spending your money, because its current state it's a little all over the place.
The Bad
Camera Controls
Difficulty Settings
Performance Issues
Overall Visuals