It's time to head back to the lawless and unforgiving Wild West in the newest chapter for John Cooper, Desperados III. Desperados III is a real-time tactics game brought to us by developer Mimimi Games and published by THQ Nordic.
Turning the game on and you're greeted by a stunning title screen and music that will make you want to strap on a six shooter and dive right on in. Our first mission takes us back in time to where Cooper is a young boy being shown the ropes by his father. At first glance, the controls looked a little overwhelming with how many different things that can be done, but slowly and with a few do overs they start to feel more comfortable. Learning the basics as we move through the canyon, we come across hints to help us get a better grip of the expansive controls on offer.
The vision cone allows us to see the line of sight of a hovered over enemy so picking your positions is a touch easier. This mission also introduces us to an amazing feature, showdown. Showdown allows you to freeze time in game and set up your advance or react to an ambush. The more characters you have the more intricate your showdown moments can be. A double stealth kill? A no holds barred shootout? With the showdown feature you decide how thing go down.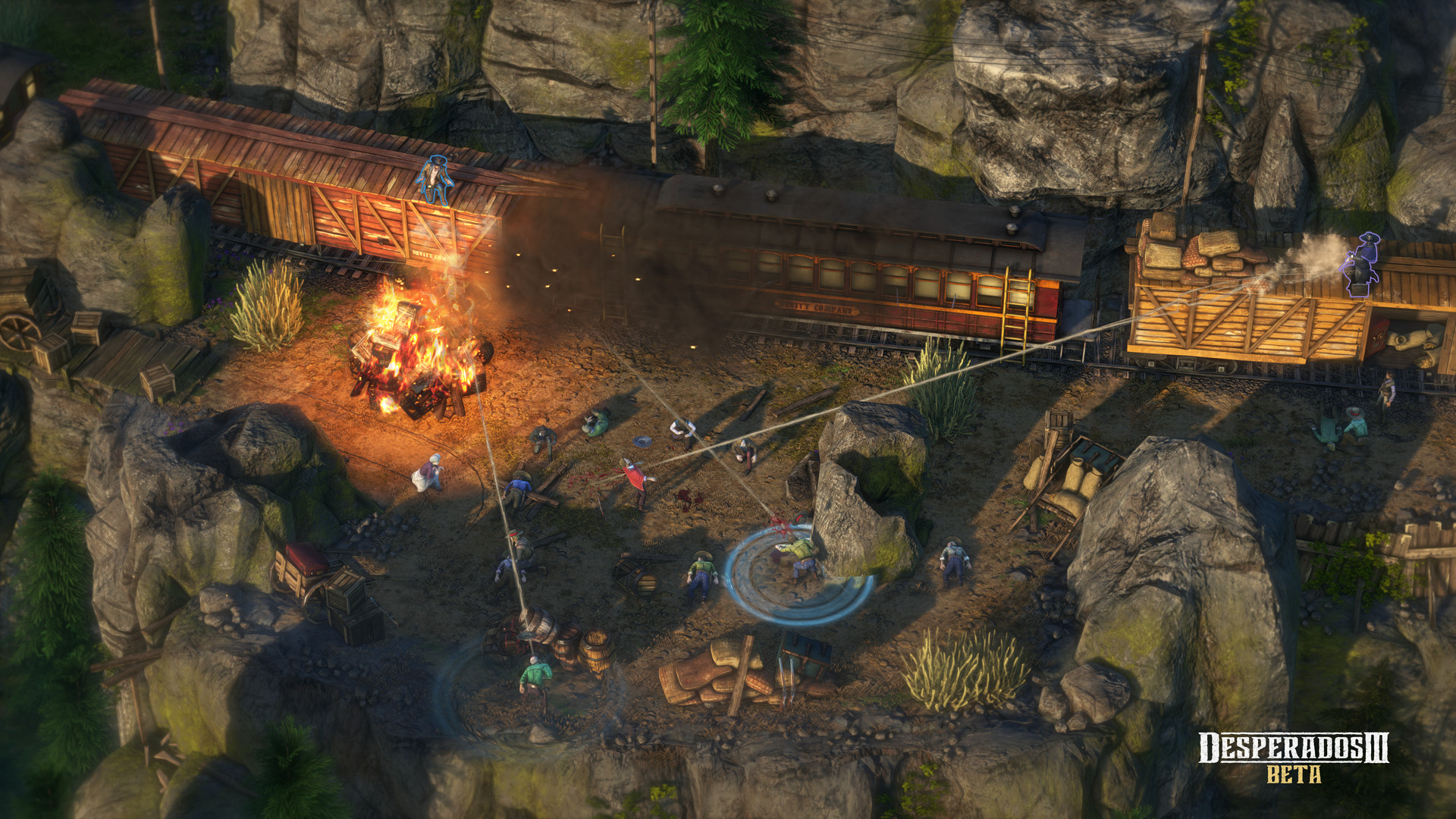 After that tutorial like mission is where things really heat up. Progressing in the story you'll acquire new characters, each with their own special set of skills, weapons and persona. My personal favourite is the sharp shooter, McCoy. Make the most of the characters and any obstacle can be overcome. One thing I did learn very, VERY quickly is that stealth is definitely your best friend. With limited ammunition, things can get pretty dicey at the drop of a hat, so plan your moves wisely and use your unique skills so as not to end up on the wrong side of a gun. Approach areas of interest with caution and always check the high ground for the sneaky enemies.
The 360-degree rotatable camera helps immensely trying to pin point the right place to mount your attack on a band of unsuspecting bandits. While the game doesn't autosave, there are constant reminders on screen to quick save your game with the push of the view button. I got caught out a few times so focused on planning my strategy that forgetting to save cost me dearly and I ended up having to redo multiple areas again.
Upon completing missions, you get an overview of the map area and a tracer that shows you where you travelled to complete the mission. It's a great idea for someone that loves to analyse the way they've played and find new and sometime ingenious ways of completing it faster and better. Replay-ablility is high with challenges to do for the 100% enthusiasts and 4 different difficulty settings.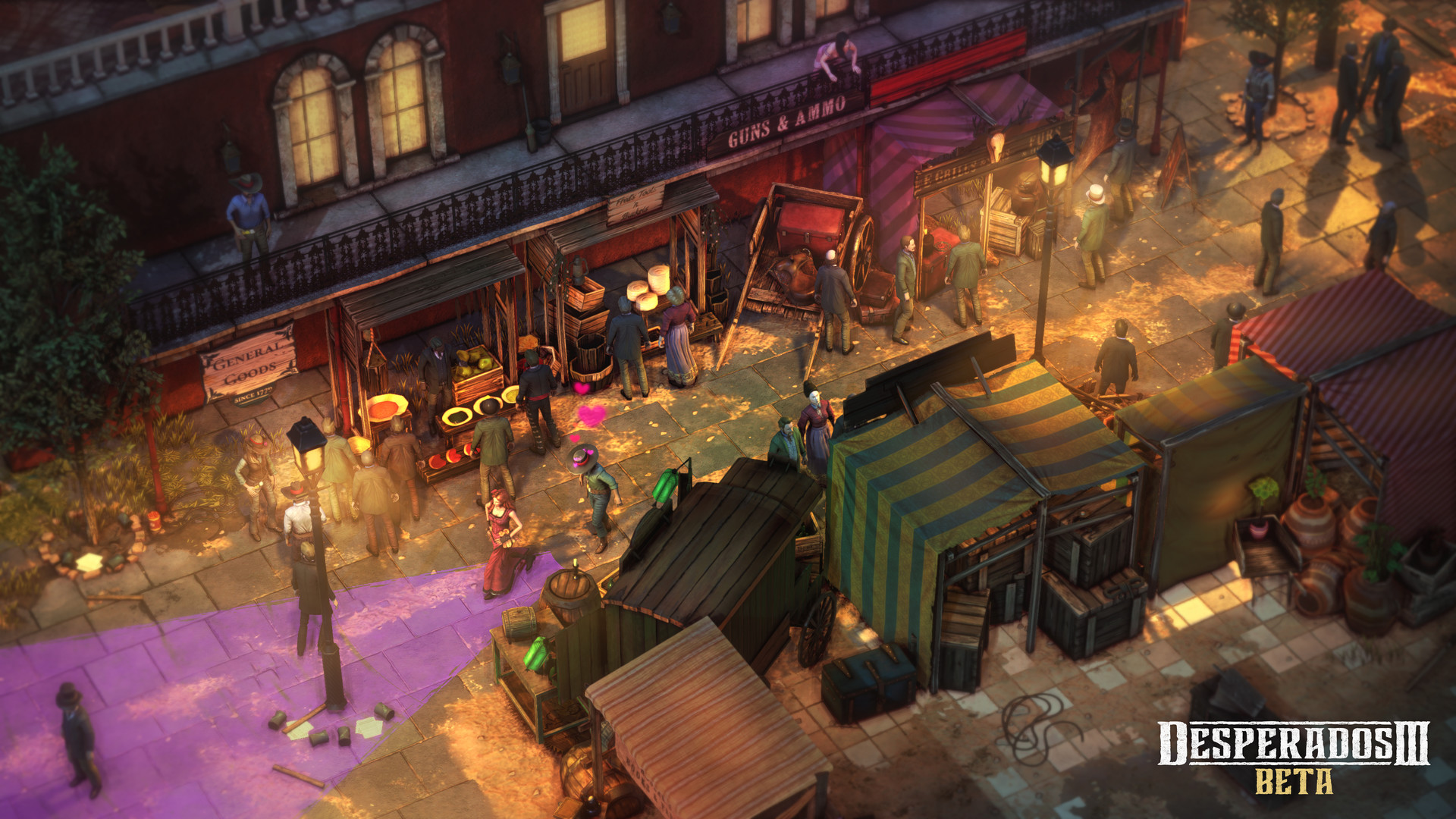 The graphics and audio in Desperados III is as crisp as the brim on Cooper's hat. The vibrant colours of the rivers and mountain passes contrast to the beautifully detailed frontier towns and emerging cities. Nothing feels out of place, creating beautifully crafted levels to such a high standard. Every building detailed how you'd imagine it was during Wild West times, making you want to walk right alongside Cooper and the gang. With the 360-degree camera you can sit there in awe of how well put together this game is. Even the masses of civilians' in the game are individually different from the last, which to me shows a great deal of pride has gone into making this something to remember.
The cut scenes throughout the game have been put together in a way to tell the story perfectly. None have felt overly long or unnecessary which can be a downfall for some but developer Mimimi Games has executed it to a tee. The language and slang used is indicative of the times and enhances not only the game and cut scenes but really helps immerse you into the game they have created.
Desperados III is a beautifully crafted real-time tactics title that will have you constantly planning your next move and not want to put it down. Your possibilities are only limited by you take it on how it suits you.
From people fresh to real-time tactics games to the enthusiasts and 100%ers, Mimimi Games have you covered. Fans of the Wild West will not be disappointed by what is right in front of you. Plan, execute and enjoy everything Desperados III has to offer. Just don't forget to save like me!
The Good
Visually stunning
Limitless options and choice of how you play
Storytelling well balanced
Showdown mode
The Bad
• For a new player controls can be a little overwhelming