Published by Alowar Premium and developed by Fictiorama Studios, Do Not Feed the Monkeys is voyeurism simulator that puts players in the shoes of a spy who monitors various live video feeds through an in-game desktop computer.
Players will have to observe the actions and behaviours and listen to conversations of the people (nicknamed Monkeys) in each live feed to collect information on them, while at the same time managing the spy's real life such as their health and paying the apartment rent.
Beginning the game, players will find themselves as the newest member of The Primate Observation Club and get a rundown of what's required of them. This online club are a shady group that monitors people via surveillance cameras and webcams that have been compromised. The people being watched by this group are referred to as Monkeys and the members of The Primate Observation Club watch their actions and listen to their conversations to gather information and learn their deepest, darkest secrets.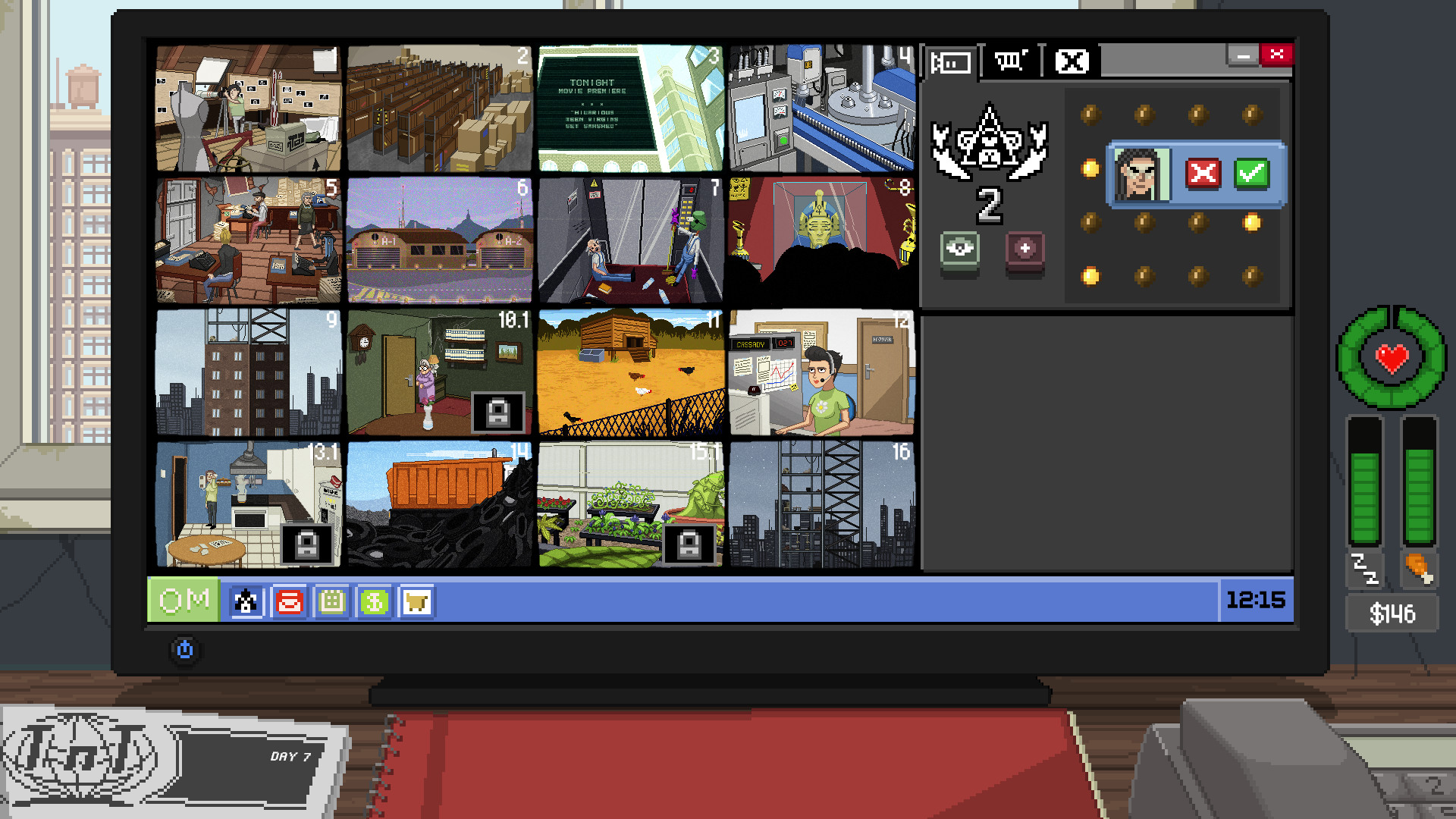 Each playthrough will have different live feeds available giving players a new adventure each time. Live feeds could be a person creepily watching a neighbour through a telescope and taking photos, an elderly man who appears to be European constantly talking about a major war from the past, a farm that suddenly has crop circles appear as the days go by and many more. Player will need to view their actions and listen, or actually read their conversations as they appear in text form and collect information to learn more about them. There are some grammatical errors in the conversation texts, but aren't too bad and don't have a big impact on the overall game. Players will also be able to interact with the Monkeys which is strictly prohibited, but so very tempting to see what the outcome is.
While viewing unsuspecting people through cameras, players will also have to watch their health, hunger and getting enough sleep in order to be able to carry out the tasks required. Hunger is kept up by of course eating food, but different foods are healthier than others. Healthy foods are most recommended but players will need to go to the grocery store which takes up time, whereas ordering junk food is quicker since they're delivered straight to you and fills you up, but it has negative effects on your health. Sleep is optional any time of the day, but takes away hours and players may miss important events in some of the live feeds. Maintaining your overall health by keeping yourself fed and getting enough sleep gives the game a real risk reward feel. Lots of different people will come knocking on the door, such as the landlady collecting rent, one of the neighbours always asking for spare change, religious people trying to recruit you to their cult and more.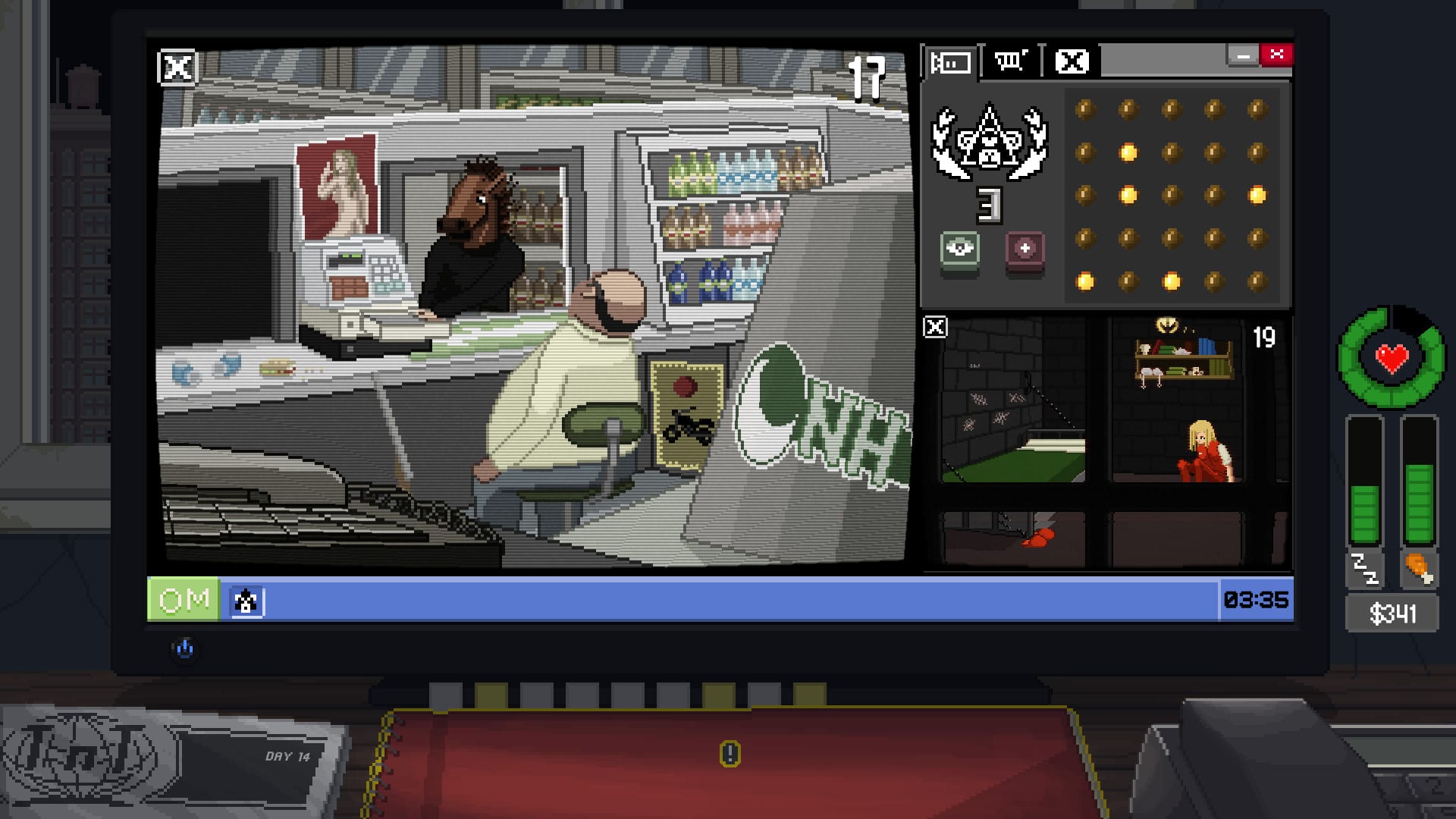 Players can earn money by doing various jobs that are listed on the back of the apartment entry door including dog walking, cleaning dishes, security guard and other mundane jobs. It's a good way for players to earn cash, but of course does take time out of the day. However rent needs to be paid and food is needed to survive. Another way to earn money is by viewing certain emails that offer rewards if you can correctly answer certain questions, based on the live feeds you have available.
Controls are very easy to navigate for the computer or apartment, and the Switch version also offers touch screen support, which is very handy for a game that's suited to be played on a PC with a mouse. The graphics are presented in classic 8-bit style, giving it that retro feel and seems to really fit the game's aesthetics.
Do Not Feed the Monkeys is a very unique, intriguing and addictive game that offers a lot of replay value. Even though it's morally wrong to be invading people's privacy, the temptation to see what happens next can be impossible to resist.
The Good
Wanting to see the different outcomes
Easy simple controls
Switch version offering touch screen support
The thrill of trying to focus on work while balancing real life at the same time
The Bad
Some grammatical errors in the text conversations