I never really understood the fad that was Minecraft. I mean, sure… digging stuff up, building things and wacking enemies with a wooden sword was kind of fun. While there are some incredible creations out there, there is really only so much you can do. Mine, build, kill and survive. It got old pretty quick – there wasn't anything that kept me interested in the game. And then along came Space Engineers, where you basically do the same thing, but with the opportunity to build space ships and visit new planets. But like Minecraft, it lacked a decent story mode. Along come Square Enix, masters of role-playing games with a huge focus of powerful stories, who proceed to release Dragon Quest Builders 2.
Waking up on the deserted Isle of Awakening, you'll be forced to survive and work against the evil Children of Hargon, a group of fanatically religious monsters devoted to the complete and utter destruction of all types of creation; be it building a simple piece of equipment, an awe-inspiring village, or even something as basic as cooking. You are one of the last builders remaining, and you need to convince the people of this world that the teachings of the Children of Hargon are false; that creation and building are not evil in the slightest. How they managed to convince people to give up creature comforts such as food and shelter are beyond me, but hey. That's how the story goes. While not a particularly powerful story, it was enough to keep me interested in playing the game for more than a few hours. I had an objective set out for me; I wasn't just left to my own devices and getting bored when things weren't working how I wanted them to.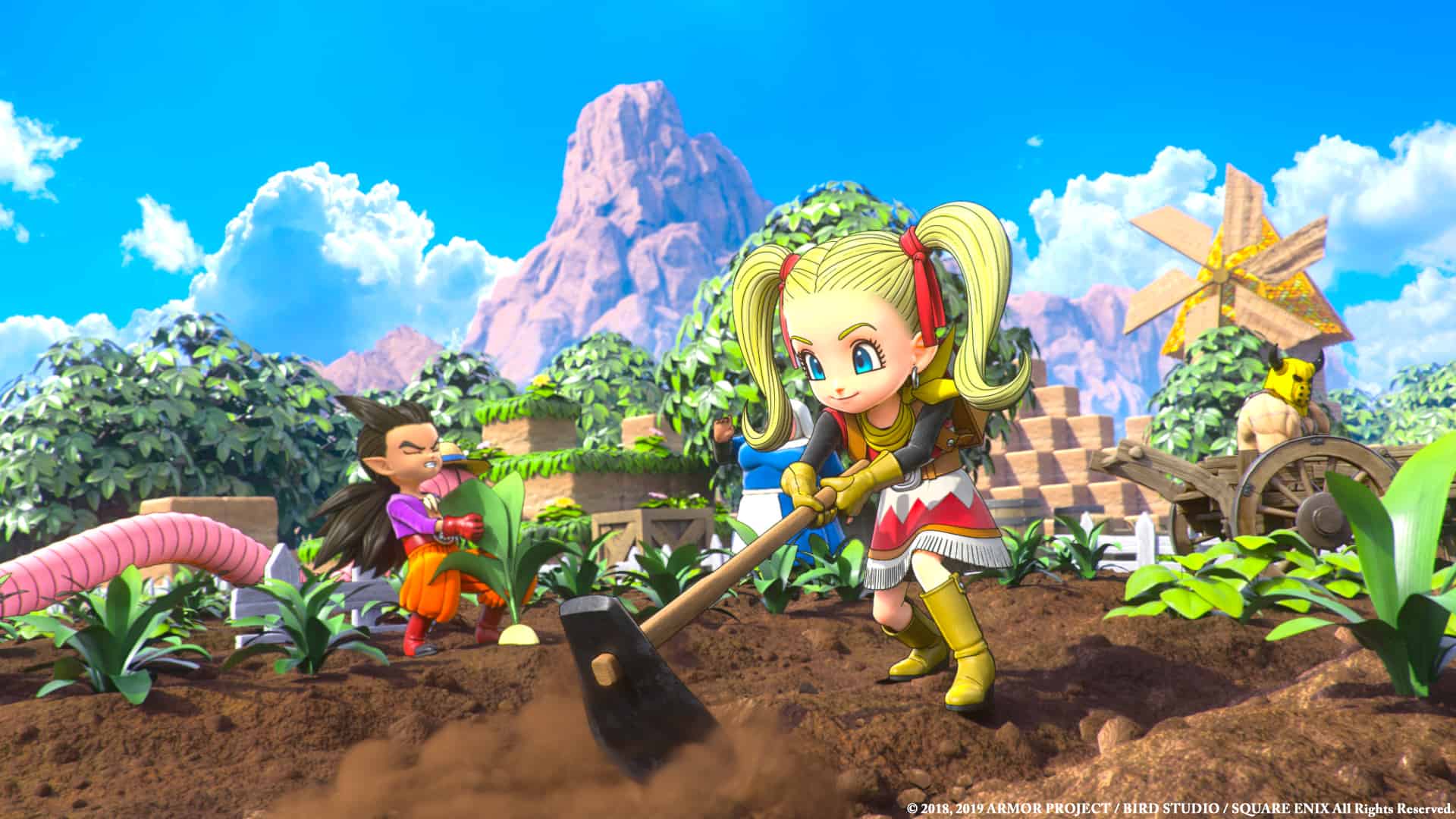 Dragon Quest Builders 2 offers players a very small amount of customization such as being able to choose your characters gender as well as the colour of your hair, eyes and skin. When I first loaded in, I wondered if I had selected the right game as I was presented with a character that vaguely resembled the Super Saiyan version of Trunks from DBZ only slightly more, dare I say, cutesy. The graphics in general are nice and clean, albeit slightly more simplified than some of other games Square Enix have developed, but I feel with the blockiness of the buildings and the world in general, they are hoping to play off the success that is Minecraft.
Unlike Minecraft however, the blocks in the world have beautiful textures to them but are unfortunately very obviously individual blocks when it comes down to it. Throw in a couple of cute little celebratory animations and for the most part, it is visually a pretty solid game
In true Square Enix fashion, I have to say they have done a great job with the soundtrack. The music changes seamlessly as the game progresses, from low key & calming as you spend your day building, to a little more intense during the night; then right through to something that increases your heart rate without realizing it when you're in combat. Square Enix have always been the masters are presenting the right music at the right time, even though it has been simplified for this particular game. The in game sound effects are also quite well presented, with sounds that are suitable to the task at hand.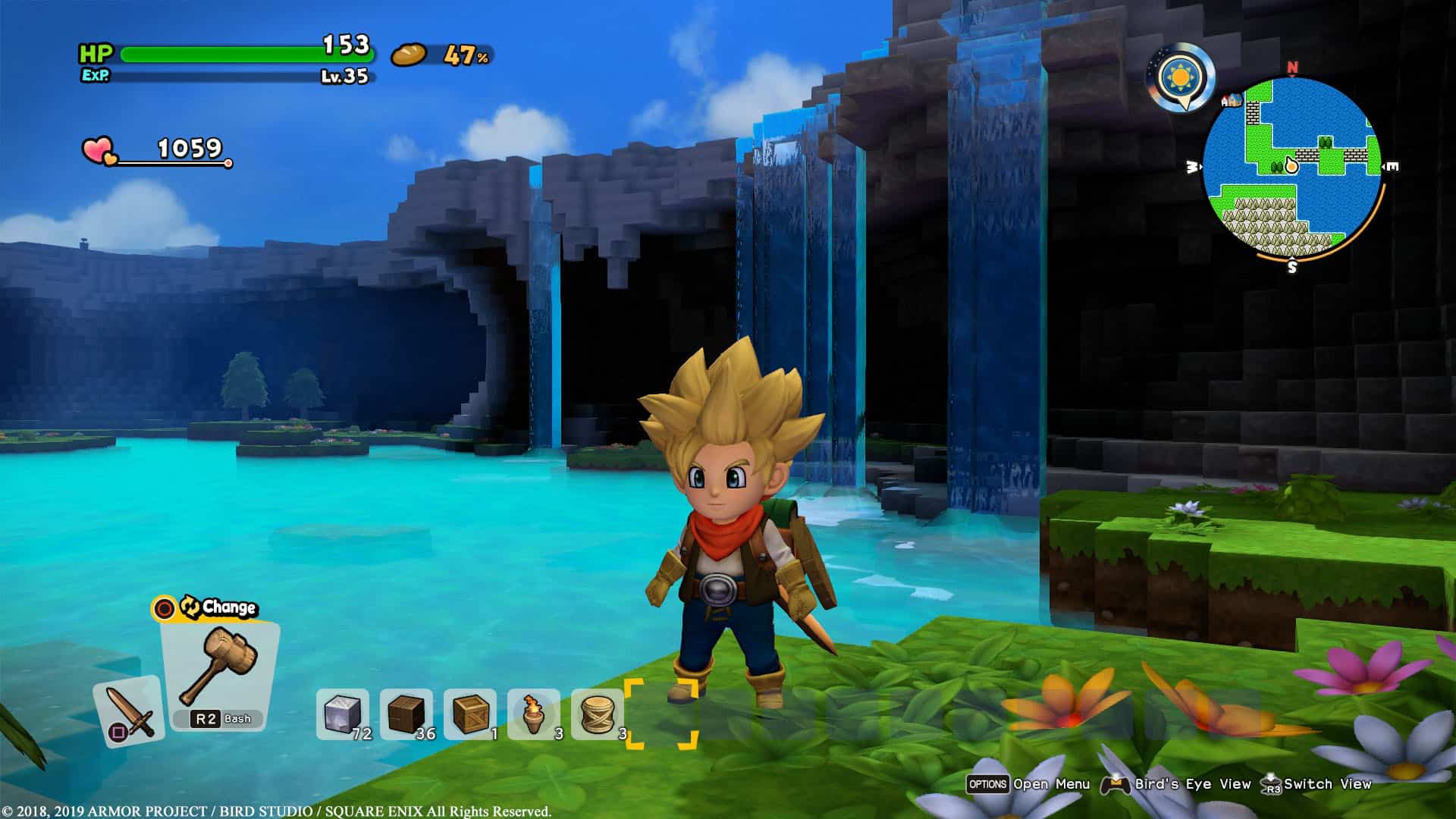 As you hammer away at your construction table, you can hear the faint sounds of your companions working away in the fields, watering the crops you need to survive. Subtle footsteps can be heard as they walk through the building and make their way to bed at the end of a hard day's work.
Then my heart dropped, and my ears began to bleed in protest as the dreaded "blip" responded to the wall of text appearing in place of voice acting. I found myself mashing the "X" button of my PS4 controller simply because I did not want to listen to the endless droning of each letter appearing on the screen. I probably missed some important story stuff as a result.
Just like Minecraft, Dragon Quest Builders 2 handles quite well, with a few changes to the tried and tested "build it" style game play. As with Minecraft, you have some basic tools but these are linked to their own buttons, or else easily swapped using the "X" button while staring into space. Pressing the triangle would have my character swing whatever weapon so happened to be in their hand either at an enemy, at a broken piece of wood to collect more material, or at whatever crop I happened to be standing in to collect food. Pressing the right trigger allowed me to swing a great big mallet, smashing down large rocks or breaking trees into little pieces for me to collect.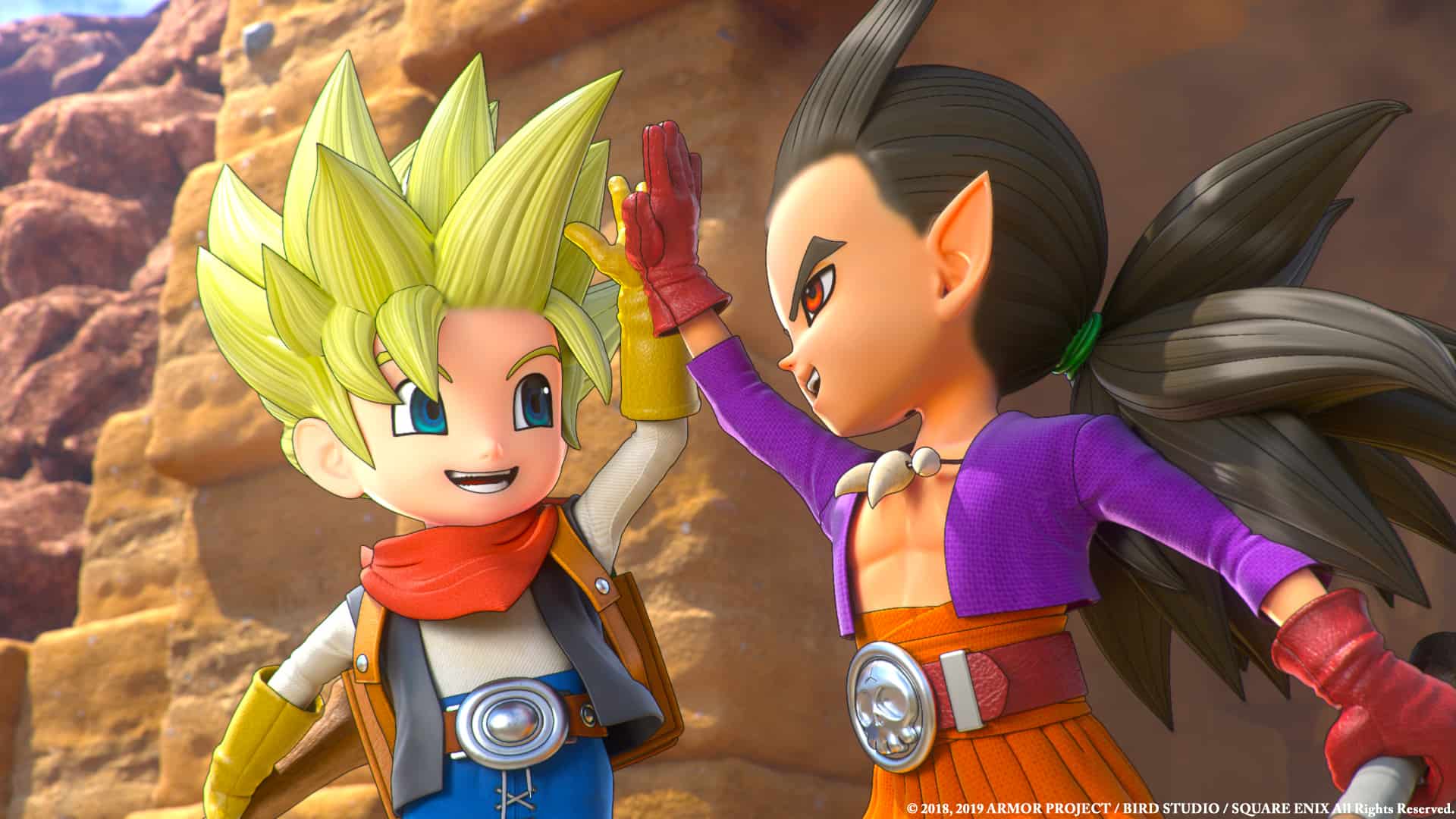 Alternatively, with the press of the "X" button, I would swap over to some kind of Infinity gauntlet that gave the power to move said objects. Strangely, I was also able to pick up and move blocks that had already been placed, removing the need for anything to really be stored in the characters inventory. The biggest confusion for me, however, was the fact that the game supports a camera the player controls. This leads to several mistakes while building, often leaving me frustrated at having to pick them up and deposit them elsewhere, or not realizing that I had completely missed a block on a blueprint.
While I don't feel like the game is anything spectacular, especially when comparing it to what Square Enix are capable of, Dragon Quest Builders 2 is a great alternative to the likes of Minecraft, offering younger players a similar style of game play, but also allowing them to follow a story and give their game a bit more purpose. The cutesy graphics will be more appreciated by younger ones and the simple story line won't go unnoticed as they build across multiple islands.
For me however, it's not really a game I anticipate I'll go back to now that I have written this review. Sure it was a bit of fun. Sure it kept me a bit more invested than some other builder games have, but now that I have put it down I don't really feel the need to carry on with it.
The Good
Cutesy art style
It actually has a story
Multiplayer capabilities - up to 4 players
A more simplified building system
The Bad
Minimal character creation
Not as RPG focused as I would have liked – no skill trees etc
The camera was frustrating