It's that time of year again. We are all getting ready for the end-of-year holidays, and for the gaming world, that also brings out all of the annual release titles. When it comes to dancing games, however, few have stood the test of time and Ubisoft holds the top spot on the mountain with their powerhouse, Just Dance 2022. Sporting over 40 brand new tracks for the base game and over 700 tracks available with the Just Dance Unlimited subscription, you'll be busting a move all year long.
With this year's edition of Just Dance 2022, Ubisoft has built off the previous titles while working hard to streamline the interface and overall experience. After signing in with your Ubisoft Connect account and creating your dancer profile, you are presented with three modes. Kids, Quick Play, and the Just Dance mode all provide a variety of ways to get moving and a safe place for new players. The bulk of your time will be spent in the Just Dance mode, dancing away the night while working on your profile, but we will get to that in a moment.
The Kids mode is tailored around a silly sense of humour for the on-screen coaches both in dance moves and design. If you have the Unlimited subscription, you even have access to a few Disney songs, with the on-screen avatars dressed like the characters. There is no score kept in this mode but lots of encouragement with on-screen prompts telling you how awesome you are. Low key I went back to this mode from time to time for a bit of a confidence boost. The QuickPlay was a little more advanced, with some more current songs and a string of recommended songs in a row to keep the momentum flowing.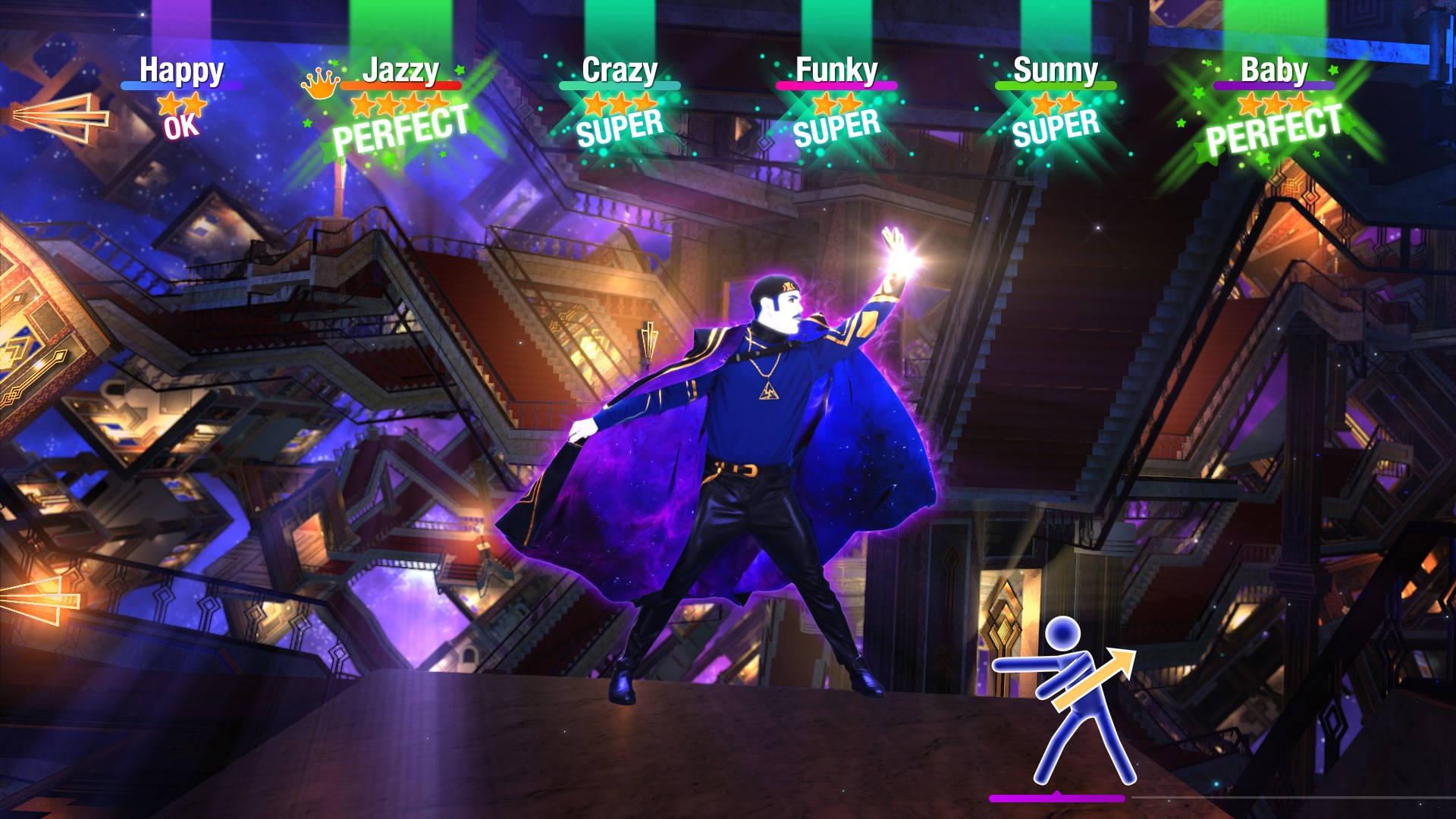 The Just Dance mode is the place to be for those who like keeping score or keeping track of how many calories you are burning. It is here you can level up, unlock mojo coins to cash in for more avatars and logos, or participate on the world dance floor. The standard mode will track the score in stars and points, and for some added statistics, you can activate Sweat mode.
Without critical analysis, the game can't give you a one-to-one count on exactly how many calories you are burning, but as long as you are keeping up and tracking the movements as best you can, it gives you an educated estimate. It's a pretty simple trick but I was far more motivated to keep going watching my stats build, as there is a chance you could hit the high score for the week and have your profile featured online.
For this review, I was playing on the Nintendo Switch and their Joy-cons seemed destined for this type of game. It's important to note that Just Dance 2022 isn't only possible on the base Switch model with the removable Joy-cons. For Xbox, PlayStation, and the Switch Lite, you can download the official Just Dance Controller app on most smartphones for up to six people to join in at once.
Each player will be required to hold a phone or a single Joy-con in your right hand so the gyroscope can track your movement. It is entirely possible to sit on the couch and move the controller or phone in time with the prompts, but you would be cheating yourself more than the game.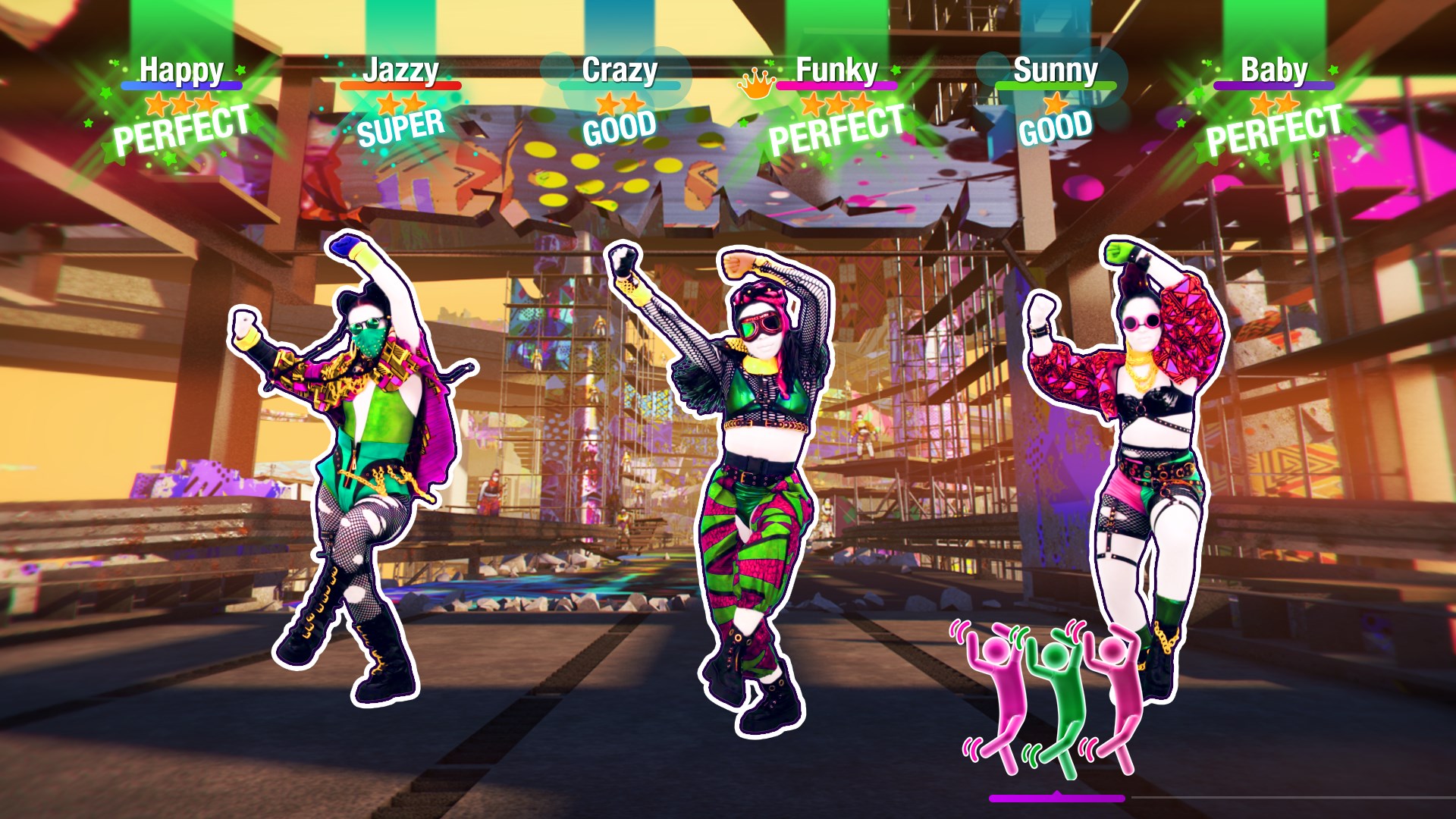 With so many options for genres of music, Ubisoft has done an amazing job at breaking it down into manageable playlists and search options. When I felt adventurous I opened the K-pop playlist and legitimately worked myself into a decent sweat. I can't knock it. If you get involved and follow along with every squat and lunge, even though the game can't track your leg movements, you can get into a serious aerobic workout. It was noticeable that some dance moves get recycled a bit, that felt inevitable though with trying to balance accessibility with variety.
The small pictographs on the bottom right of the screen gave a small hint of what to do but I found the best way to learn the dance was to repeat it and mirror the on-screen coach over and over. Given how amazing the motion capture was and how flawless the movements of the coach were, it
was like watching a real person. They all had their own visual personalities with some wild and wacky costumes and some intense and colourful set pieces on display. It was exciting even when I was lost and struggling to keep up.
If you are willing to laugh at yourself while you flail about trying to copy some digital dance moves, then you can have hours of fun in Just Dance. Playing with a couple of friends can add to the chaos but does open up ample opportunity for an accidental physical injury. Trying to bridge the gap with exercise and video games has been getting better with each year and Just Dance 2022 remains an approachable and fun experience for everyone.
The Good
Fun, Wacky and wild coaches
Being able to use a phone as a controller
Visual backgrounds are bright and exciting
Forgiving tracking keeps you engaged for longer
Sweat mode gave a hell of a workout
The Bad
90% of the music is locked behind a subscription system
Using a phone for a controller with no wrist strap was tempting fate