Let's Go Nuts by BeardedBrothers.Games is certainly a different game, you feel right at home yet also like you are staying at that creepy aunt's house you've never met before. The platforming is so familiar, but the game mechanics are a fresh and unfamiliar take on this tried and true genre.
You play a cute and charming, little Squirrel, on a mission to collect acorns and rescue your fluffy-tailed critter friends, through 40 levels over 4 different diverse worlds. Along the way, you battle weird little monsters and move objects to prevent yourself from falling to the ground and dying in a toxic sludge. This is an important premise as it's very much like jumping from couch to couch avoiding the floor, as a child, more fun when you aren't being yelled by your dad because he's napping.
Gameplay requires you to guide your little rodent friend by jumping and fluttering from platform to platform over proverbial lava, with some gaps being seemingly impossible to tackle, to get to the end. This is where it's uniqueness in platforming shines. Much in a similar style to 'Angry Birds' our Squirrel must barge into wooden boxes of different types to make new platforms. Big boxes are heavier but wider, small boxes fly further but give minimal landing room. Its an art to get to the end of a level in a flat stick time.
The controls are extremely simple to use, with movement using left joystick on the joycon controllers and jump/double jump using A. I mainly preferred to play it in handheld mode, but hey each to their own, I like tighter controlling with the Switch up close and personal. To be honest, speaking of 'Angry Birds', at times it comes across as a humble mobile game, it is that quaint, and I could really see it doing well there.
The game includes Single player Mode but also 2 others; Endless Mode and Local Co-Op Multiplayer, so you can get up to 4 squirrels in to compete in collecting nuts and saving more rodent friends. Definitely a bonus when it comes to replay value, as single player is very easy to breeze through.
While it is a charming title it is unfortunately very repetitive with the constant jumping and double jumping onto platforms, jumping on the heads of enemies, collecting gold stars and nuts… sound familiar? Most platformers regrettably. Each level has different goals to it which adds either an easier or a more challenging option to pass the level.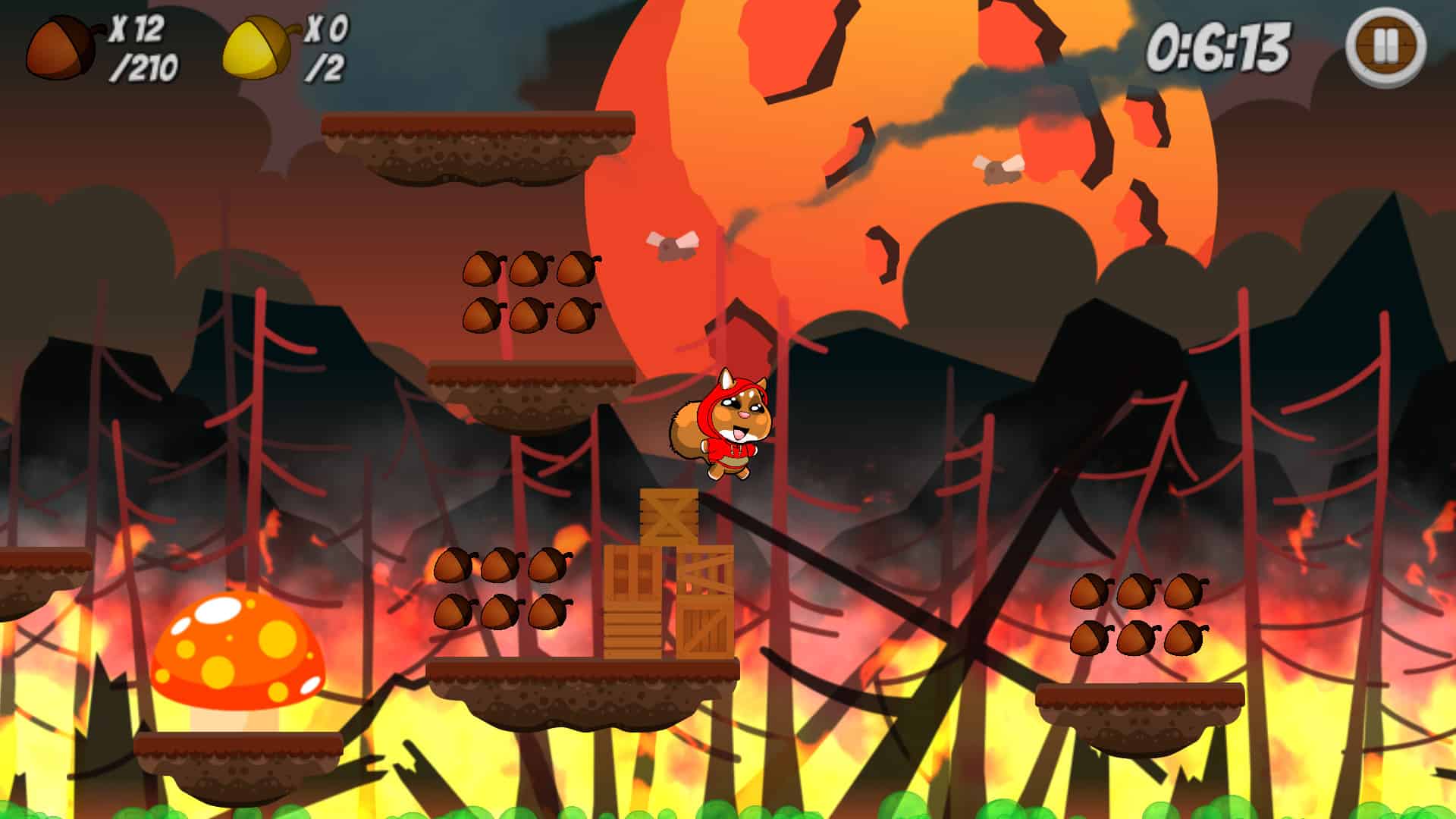 As a 2D, cartoony game, it looked lovely docked and in handheld mode. The bright colors of the environments were vibrant and the detailed added charm to our nutty little friend. I definitely cannot fault the visuals.
Everyone likes to be able to customize their characters now a days, regardless of the game, and this is no different. Using the nuts, you've collected as currency, you can customize your squirrel in adorable outfits. Each outfit costing more and more nuts though, I saved up my nuts…(like a real squirrel) and got myself that Ninja outfit, I'd been eyeing off since the beginning of the game. Unfortunately, there's no benefits to these, just cosmetic.
Let's Go Nuts, is definitely not a bad game to pass time with, levels slowly increase in difficult as you play on, to keep you entertained for a while. While the game is short, it has replay value with the 4-person multiplayer. In summary this is one solid game that you can play again and again.
The Good
Easy to play
Chews up some spare time where you don't feel like getting too involved in the story.
Interesting mechanics
Replay value
Cute visuals
The Bad
Repetitive gameplay that only slightly changes from level to level.
• Almost too simplistic, like an mobile game.