Published by Koch Media and developed by Voxler, Let's Sing Queen is a karaoke game and the latest instalment of the Let's Sing series, but this time dedicating it to the legendary British rock band, Queen. Although this isn't the first singing game to be dedicated to Queen, with the first being 'SingStar Queen' released back in 2009 which had 24 of their iconic songs. Let's Sing Queen has a total of 30 songs which include fan favourites like A Kind of Magic, Another One Bites the Dust, I Want to Break Free, We Will Rock You, and the ever popular Bohemian Rhapsody.
Being a singing game, you would expect to need a microphone plugged into the console to be able to sing along, but the Let's Sing Queen game actually allows players to not only use microphones, but also gaming headsets and even their smartphones. This is made possible by downloading the Let's Sing app for free on any Android or iOS device and connecting it wirelessly to the console, as long as they're using the same network. By following the simple instructions, using a smartphone as a microphone is incredibly easy to set up and sing your heart out. Somewhat surprisingly, any of the devices feels very responsive to your voice, feeling like there is no delay at all.
Beginning the game, although subtle instrumental versions of Queen songs can be heard in the background, going from the title screen and exploring the menus, the presentation really doesn't give the feel of being at a Queen show, or even give the vibes of a typical rock concert. The presentation is actually a bit dull and just doesn't have that Queen feel to it, instead seeming a bit too modern and very basic.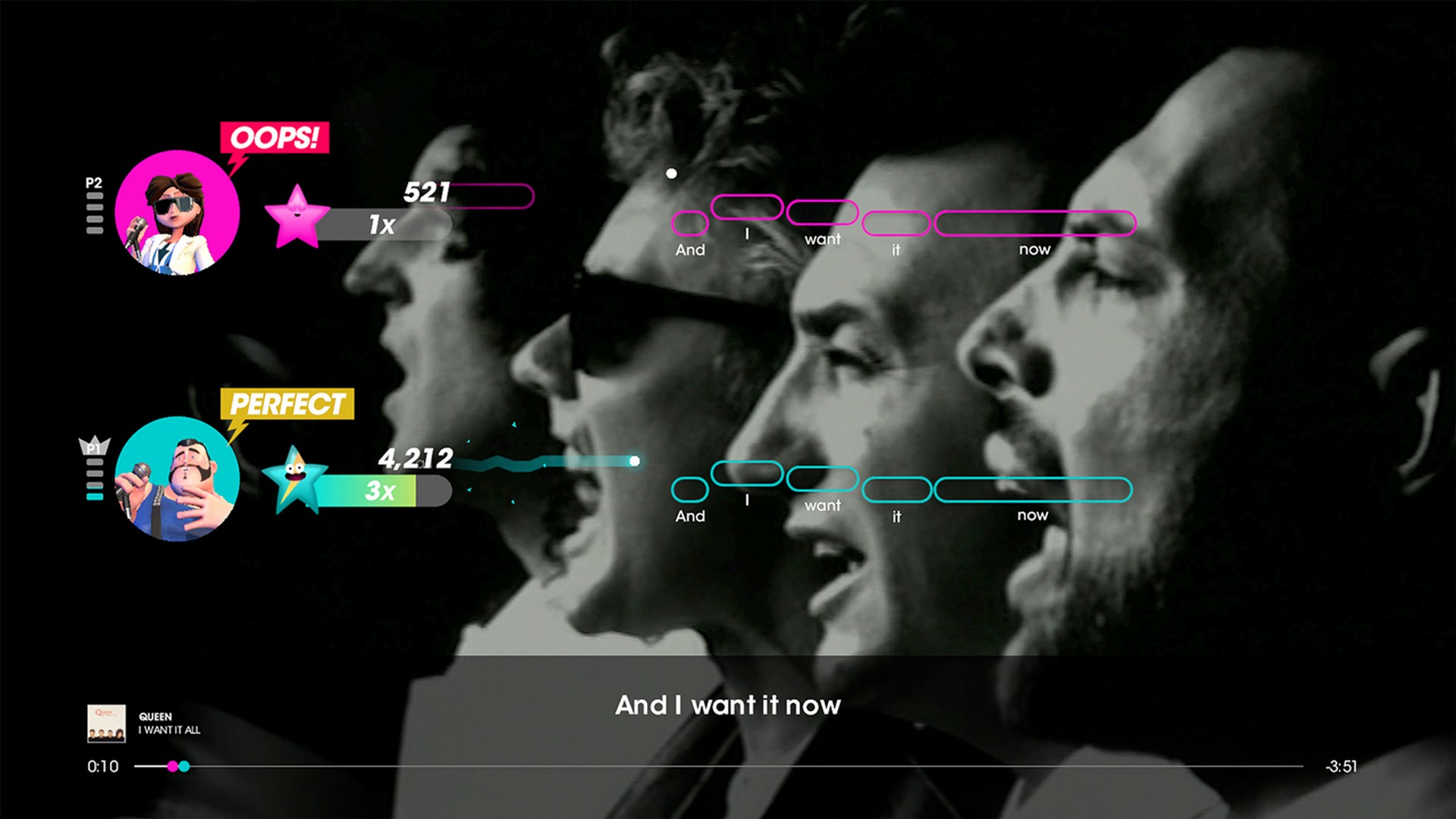 However, after getting through the menus and into the actual game, all 30 of Queen's greatest hits are available from the beginning, complete with corresponding music videos. Browsing through them either in alphabetical order or by year will surely send players and Queen fans on a nostalgia trip.
There are six game modes to choose from, which include Classic, Feat., World Contest, Mix Tape 2.0, Jukebox and Let's Party. Classic is a straight up karaoke game to sing any of the 30 songs and get the high score. Feat. is a teamwork game that can be played with a friend to get a compatibility score, or even singing along with any of the band members, including the late great Freddie Mercury. World Contest takes the singing online to compete against anyone in the world, climbing the online leader board.
Mix Tape 2.0 is a fun game where samples of multiple songs can be selected, played one after another and will keep players on their toes. Jukebox allows players to simply play and enjoy any song at home or at a party, but is only available after they're unlocked by finishing them in Classic mode. Let's Party is two teams with up to four players each having a sing off, though each team will only have a single microphone. These modes certainly give the game more variety when compared to some similar titles.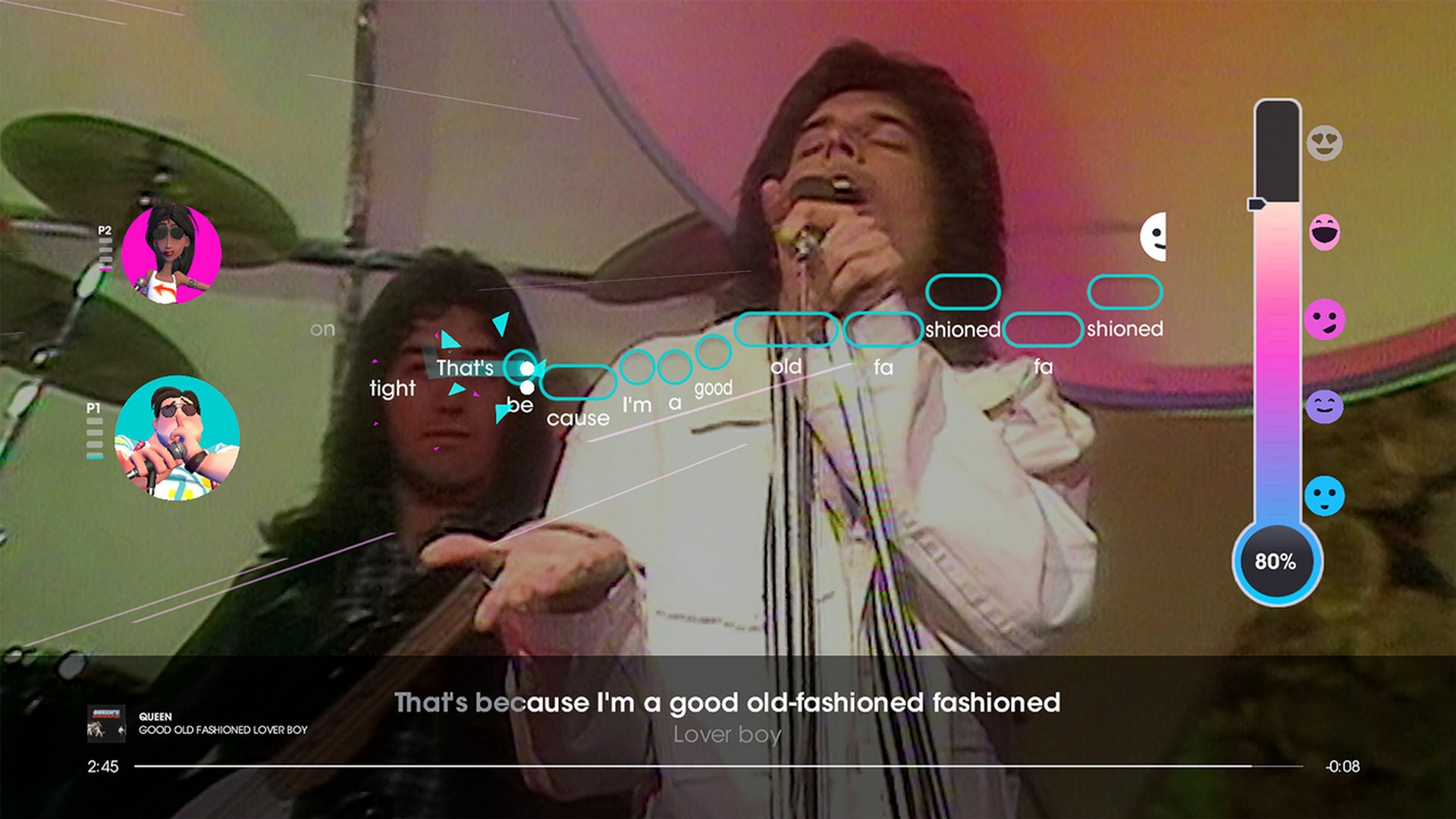 The gameplay mechanics are very much like the SingStar series, which isn't really a bad thing given it follows a formula that definitely works. By singing into the microphone, players will need to keep their dot on the screen in line with the vocal levels, and being more in tune equals a higher score. Also, just like the SingStar series, simply humming into the microphone will also get through the song and achieve high scores. This is particularly useful if players simply want to complete every song and earn their Achievements/Trophies with minimal effort. Of course, the real fun is by actually trying belt out your favourite tunes by Queen.
Each player can select a character that will be on the side of the screen during the songs, each with their own different animations depending how enthusiastic the player's singing is. There are four characters at the beginning, but players will be able to unlock more as they go, with very cartoony characters of all shapes and sizes becoming available. Unfortunately, they don't feel like they add much to the game, but their costumes, many of which replicate some of the more memorable outfits Freddie Mercury wore, are a really nice touch.
For a game that exclusively features music by Queen, the overall presentation could've been made much more to feel like it was dedicated to its namesake. I feel that adding a mode that maybe gives a history lesson, as well as interesting trivia of the iconic band, would've been a very welcome addition. However, with 30 songs to choose from and various ways to play, sing, and rock out with Freddie Mercury, Brian May, Roger Taylor and John Deacon, makes Let's Sing Queen a must have for any karaoke enthusiast, especially die-hard fans of one of the most influential and innovative bands of all time, Queen.
The Good
30 of Queen's iconic tracks spanning more than 20 years
The nostalgia trip by browsing through the songs in alphabetical order or by year
Each microphone device feels very responsive and no delays
The closest thing to rocking out with Queen
The Bad
Overall presentation before starting a song not giving that Queen vibe
Load times can be slow
The characters don't feel they add much to the game
Not having a mode that gives a history lesson and trivia of the band