We do some really dumb stuff when we are desperate. It makes you wonder though, to what lengths will you go to achieve your dreams or even worse, protect the ones you love?
Our friends Square Enix and DONTNOD Entertainment are finally back with Episode 3 of their charming and oddly quickly becoming cult classic franchise; Life Is Strange 2. Going by the title 'Wastelands' this episode throws you right back into this point and click, interactive journey of our illustrious protagonists Sean and his little brother Daniel, who are on the run law.
While this episode is a carry on of the story, a lot of technical elements are the same as episode 1 and 2. For a full comprehensive review, read the following links to Episode 1 and 2 below:
Life is Strange: Episode 1 – HERE
Life is Strange: Episode 2 – HERE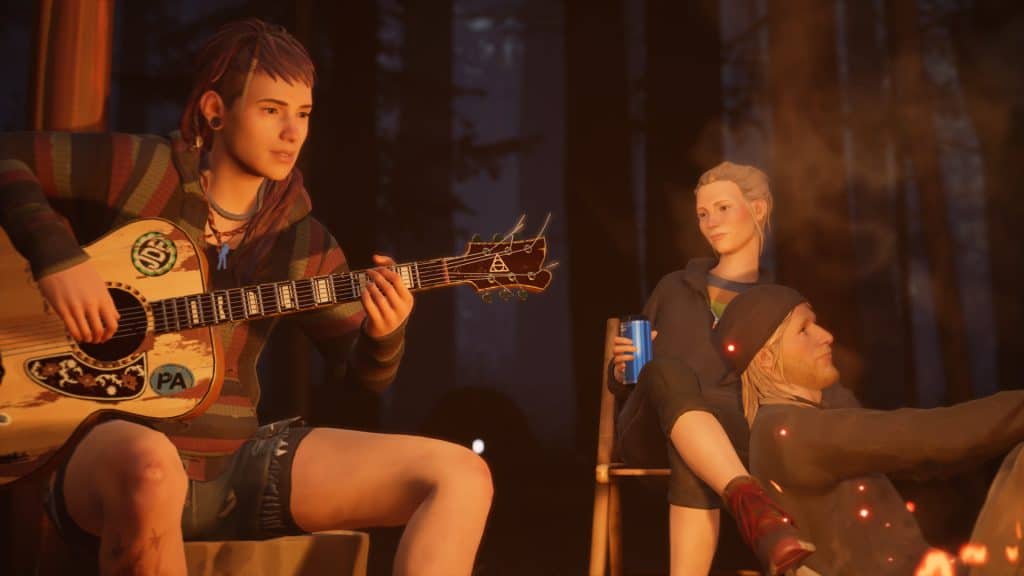 Episode 3 drags you right back into the disarray that is Sean's and little Daniel's lives. They no longer have the protection of their doting grandparents and we open to find them roughing it out with a pack of hippy drifters in the woods. Making a new sort of surrogate family, dealing with the pain of having to leave their loved ones constantly and blossoming teenage love are just a few of the tribulations this rag tag pair must face. When their gypsy friends Finn and Cassidy tee Sean up with a questionable way of making cash which not only threatens their escape but also their lives, and Daniel being emotionally torn by his increasing power, will this band of brothers ever make it to their happy place in Mexico?
While still touching on some hard-hitting social commentary like previous games and episodes, I feel they have finally pulled back a little on the cheese. This is a relief, as at times it felt like they were trying to hard to be hip and relevant to the young audience rather than telling the story.

A more action-packed episode and definitely my favorite so far, it pained me to watch Daniel go from a sweet innocent child to quite an annoying brat, despite making choices through Sean's interactions to protect him. I do understand the arc in the story is about the trauma he has experienced but at times his dialogue just seemed prickly and out of place.
Like I have said in my past 2 reviews of the previous chapters, the graphics are still beautifully indie with the gorgeous Americana of Redwood forests being the main setting. The soundtrack is on point as usual and this time round I particularly enjoyed sitting and listening to the minor character, Cassidy, playing original tracks on her guitar. It was definitely a nice homely touch, that made me reminiscence of campfires with my own friends in past times and past lives. I would like to note though, out of all the episodes this one seemed to glitch slightly with loading beer cans floating in mid-air or the occasional characters staggering in and out of frames.
Overall, Episode 3 was a tale of danger, trials and conflict balance for Daniel and Sean and certainly was one episode that had me on the edge of my seat to see how it was going to unfold. Despite a few graphical issues I thoroughly enjoyed it. Being at about the halfway point of this interactive narrative, I definitely can't wait to see where the next episode will take us and what twists and turns will happen along the way to the unfortunate Diaz brothers.
The Good
More action that the previous episodes
Slightly toned-down adolescent angst than usual
Beautiful graphics
Amazing soundtracks
The Bad
Questionable personality shifts through dialogue
Glitchier than other episodes