All good things come in three – and OlliOlli is no different, with British game developer Roll7 returning for their upcoming third game "OlliOlli World", now skating closer to its release date!
OlliOlli World is a bright, colourful, and downright fun 2D-platforming skateboarding game. You start off in the new world of Radlandia, a skateboarder's paradise. The storyline of the game has you rise the skating ranks of Radlandia, via gnarly tricks and lengthy grinds, in hopes of replacing the retiring skateboarding legend, Chiffon.
OlliOlli World's main campaign is eye-bulgingly captivating, but alas, some levels zoom by very quickly, kind of ending your fun just as it's about to peak. Sure, it has its merits: cutting your fun off at its peak may have you wanting to keep playing, living off your OlliOlli gaming high, but with only six worlds to carve through, gamers may clock this very quickly. Fortunately, the team at OlliOllI World has catered to this by offering various alternative options which happily extend the game life.
Each level has a pre-set level of goals/tasks, using a point tally or "hit this many objects" throughout the level, however, there are alternative challenges that, upon completion, earn you some pretty neat cosmetics for your rising radical skater. Within the level are various checkpoints that, if you should crash, will respawn you at the last saved position, but one popular challenge that features heavily in the game is that of "don't use checkpoints". Basically, if you crash, restart the level. It's intense!
OlliOlli World also includes a 'rival mode', which connects your level score to that of another random player. Replaying the level, and destroying their score, makes you that level's champion, but the nice thing is that this feature constantly refreshes, so there is always another rival waiting in the wings.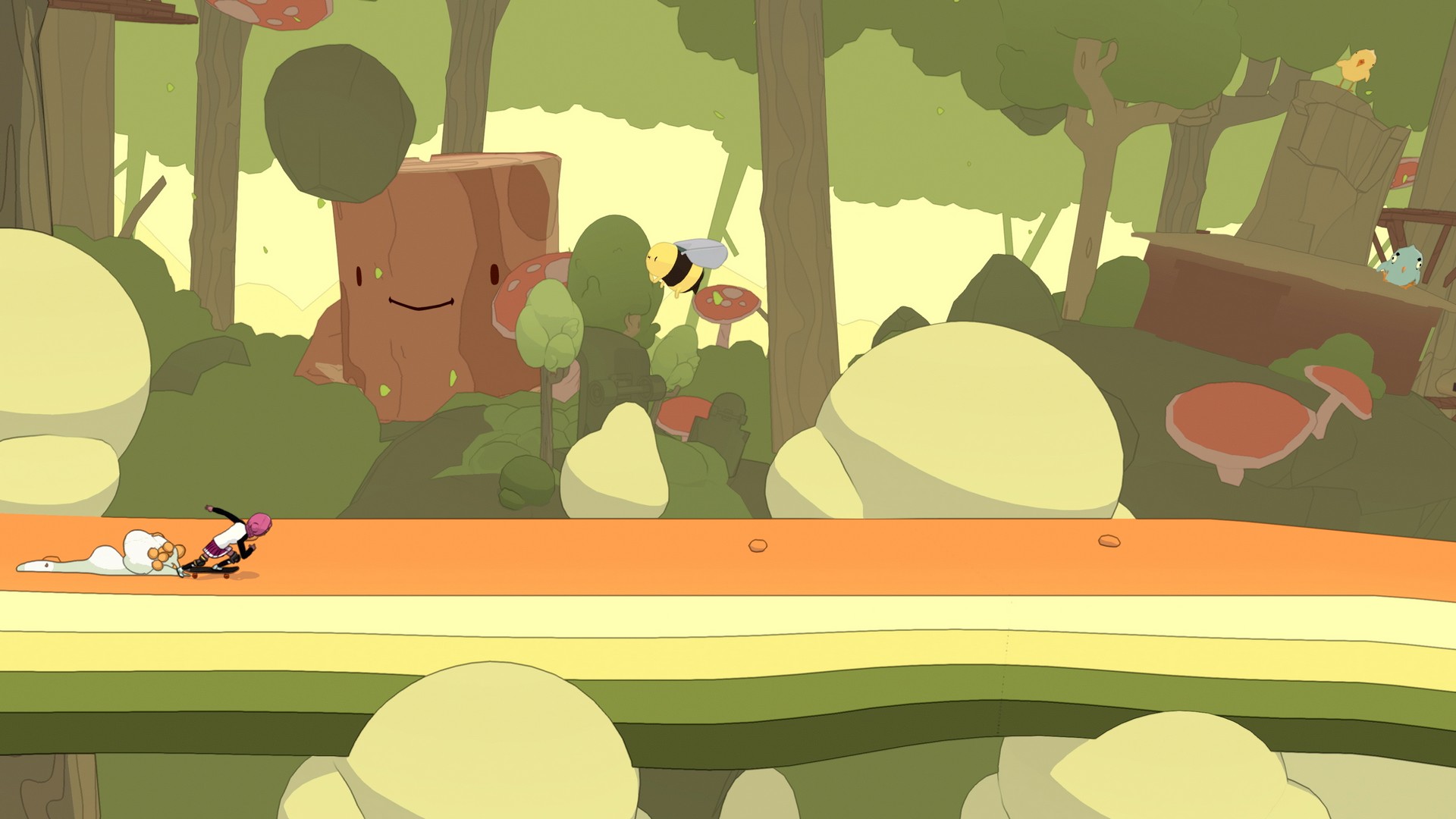 OlliOlli World attempts to provide a multiplayer mode, but it's still a work in progress. "Leagues" is an online daily challenge mode, which plays similar to that of the previously mentioned 'rival mode'. "Portal" is similar to that of hosting a private game, where you can invite your fellow OlliOlli pals to skate for supremacy.
With a new game comes a gang of new characters. You have an entourage of supportive characters, all of which assist you both pre-and-post level gameplay. Gnarly Mike, a massive bear-like character, provides comedic relief & score-multiplying course challenges, which upon completion unlock new cosmetic upgrades for your skater. Chiffon, a psychic & current Radlandia skateboarding legend, acts as a checkpoint. Suze is your skating film-making buddy, who helps induct the games Photo Mode. Then there's Dad, though he states he isn't anyone's Dad, but is actually named after his Dad. He owns the Rad Dad skate shop, where you undergo all your cosmetic upgrades and changes.
CONTROLS
Unlike other skating games that have you hold down 3 buttons, whilst furiously flicking maniacally at your analog sticks to just ollie and grab your board, OlliOlli World has a seemingly easy-to-learn control scheme. The left analog stick is your main focus here, as moving the stick in a direction "charges" a trick, and when you release the stick, your character leaps into the air, executing it.
Similar to that of Boxing/MMA style games, rotating the left analog stick up, down, left, around, full rotations, and repeat patterns all lead to different movements that are required to unload different tricks. If that seems like a lot to take in, don't fret, as there is a Trick-o-nary, which is basically a move setlist, featured on the games pause menu, listing and displaying various methods and ways to execute all unlocked tricks. Combos are also born, raised, and truly admired in OlliOlli World, whereby grinding rails, jumping off rails for a trick, and re-landing on the rail, all add to your combo/overall course score. Mix that with some of the course challenges that we mentioned earlier, and you've got yourself a point-heavy, but hugely addictive, playthrough.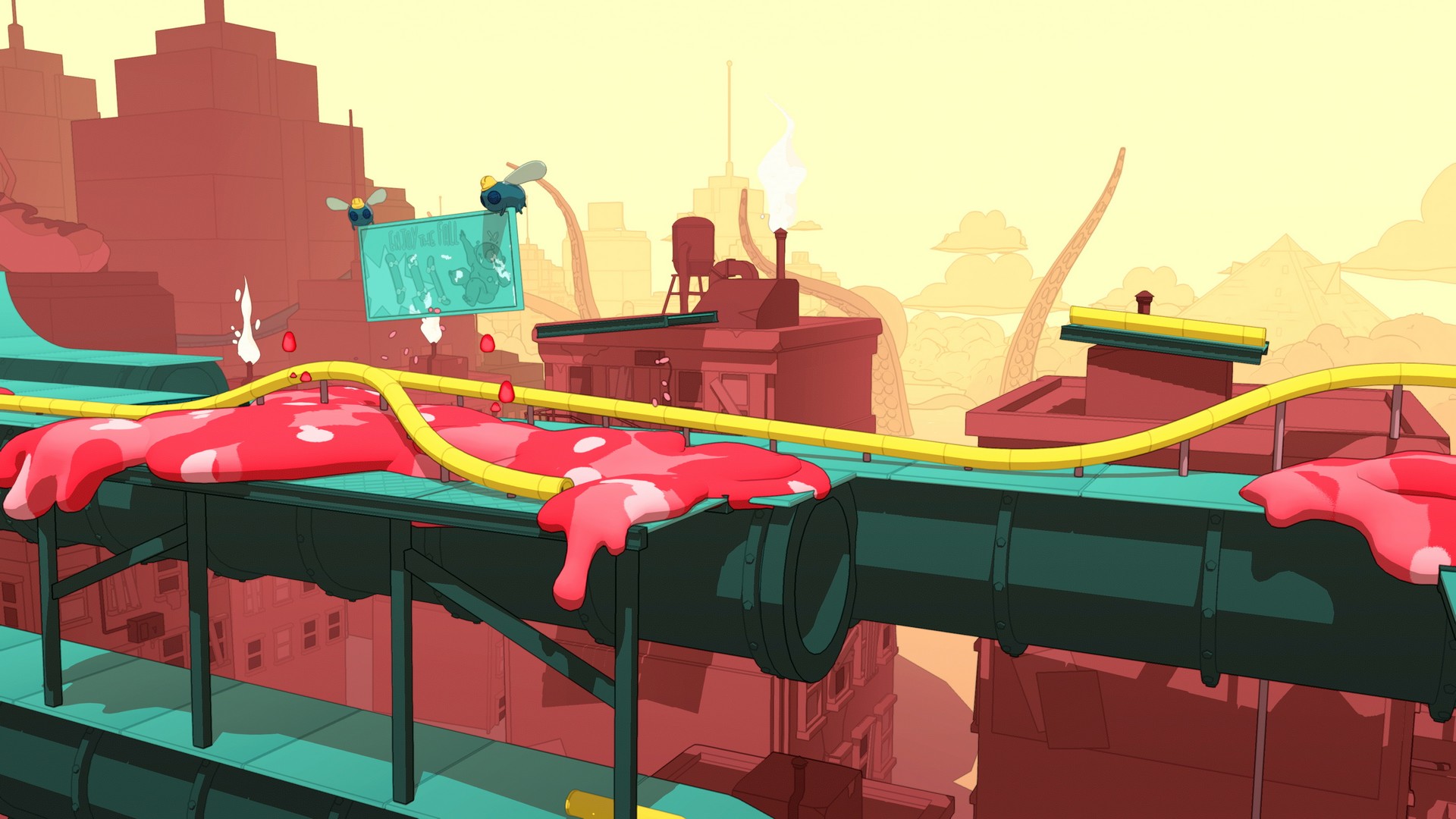 GRAPHICS + AUDIO
Historically, previously series entries OlliOlli and OlliOlli 2's words featured a heavy pixel-art style, which definitely worked for the series back then. Thankfully, Roll7 has decided to give the game a completely new coat of paint and decals, presenting Radlandia as a bright, colourful, and vibrant world. There's a variety of worlds and regions you'll ollie and nose grab your way through, all of which employ OlliOlli Worlds' new art direction, colour palettes, and environmental clutter, but they share OlliOlli World's new look.
Some of the craftily designed levels you'll cruise across have taken inspiration from the real world, and bonus points if, when playing, you can see certain easter egg influences. Sunshine Valley, the beachside area packed with snap-happy tourists and gym junkie pigeons?!, Cloverbrook, a haunted forest treated as some sort of Skateboard graveyard, and Burntrock, a western/desert wasteland littered with bright suns, skeletal remains & spiky cactus.
What's a skating game without its soundtrack, right? Well, fear not, for OlliOlli World have done their research and every single track they have managed to either obtain the rights to or have created themselves, perfectly complement every course, trick, moment and move in this game.
SUMMARY
A fun, vibrant, and easy to pick up and play skating game, heavily levelled up from its previous entries. If you are a skating enthusiast, this game will have you dumping hours of your time into it, hopefully crowning you the next skating legend!
The Good
Easy pick-up-and-play controls
Fun character customisations
Very colourful & artistic appearance
The Bad
Levels are quite quick
Menus seemingly hide advanced tricks / features
Multi-player is still a work in progress