'One Punch Man: A Hero Nobody Knows' developed by Spike Chunsoft and published by Bandai Namco, is a fun and fast paced fighting game with a little adventure on the side. If you have watched anime you may know of One Punch Man and if not, that's ok as it's still one of the best fighting games I've played.
One Punch Man: A Hero Nobody Knows tells the story of a character you've created and their rise up the ranks as a hero of the people. As you fight monsters you will complete objectives, becoming more powerful and developing a broader range of move sets. Making sure the whole time you are finding friends to have your back during the tougher fights.
As someone who loved One Punch Man I couldn't wait to play this game, I was a little curious how it would work because as the name suggests the main character can defeat enemies with one punch! So how does that transfer into a fighting game? It was kind of awesome you got to customise your own hero, even adjusting your character's voice to your desired tone. This game has a nice, little tutorial at the beginning with a hero named "Lecture Man", explaining most of the game mechanics to you. You then proceed to a fighting tutorial, and this is where the game hooks you in.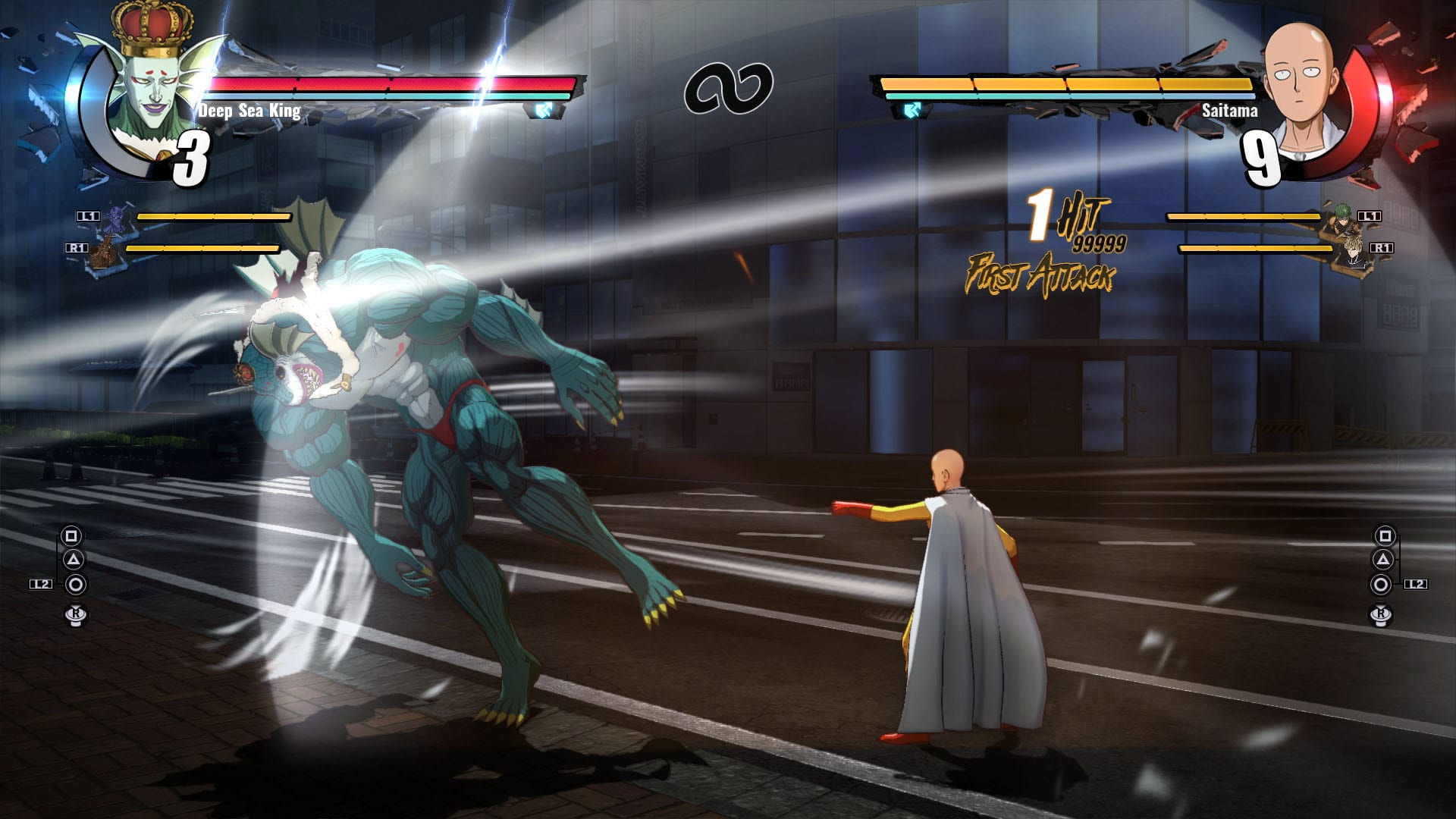 I will freely admit I am not good at fighting games, I will mash that "A" button for punching until I win. I am terrible at learning the stupid fatality moves such as tilting that bloody left stick, while pressing LB, while also pressing A, while holding your tongue out and standing on your head; I just can't do it. So One Punch Man: A hero Nobody Knows covers this nicely, you have basic punch, heavy attack, jump, block and your "killer moves". These are special moves you learn throughout the game and assign to "LT" plus "X,Y,B". Super simple, I was in love.
One Punch Man has really nailed it interpretation wise, as the voice actors are the same as the ones who dubbed the anime series and the characters look just like the ones from the show too. The landscape is fairly basic however, with your fight arenas ranging from night to day, in the middle of the town with buildings all around or you might be out on a soccer field?
These arenas are also 3 dimensional so you can really run around if you need to wait for back up or for an item drop. I found the music was at times, a little repetitive, so I ended up putting my own music on. Again though, if you have watched the anime even the backing tracks sounded super familiar to the show. Very upbeat, jazzy numbers, quirky as the series is.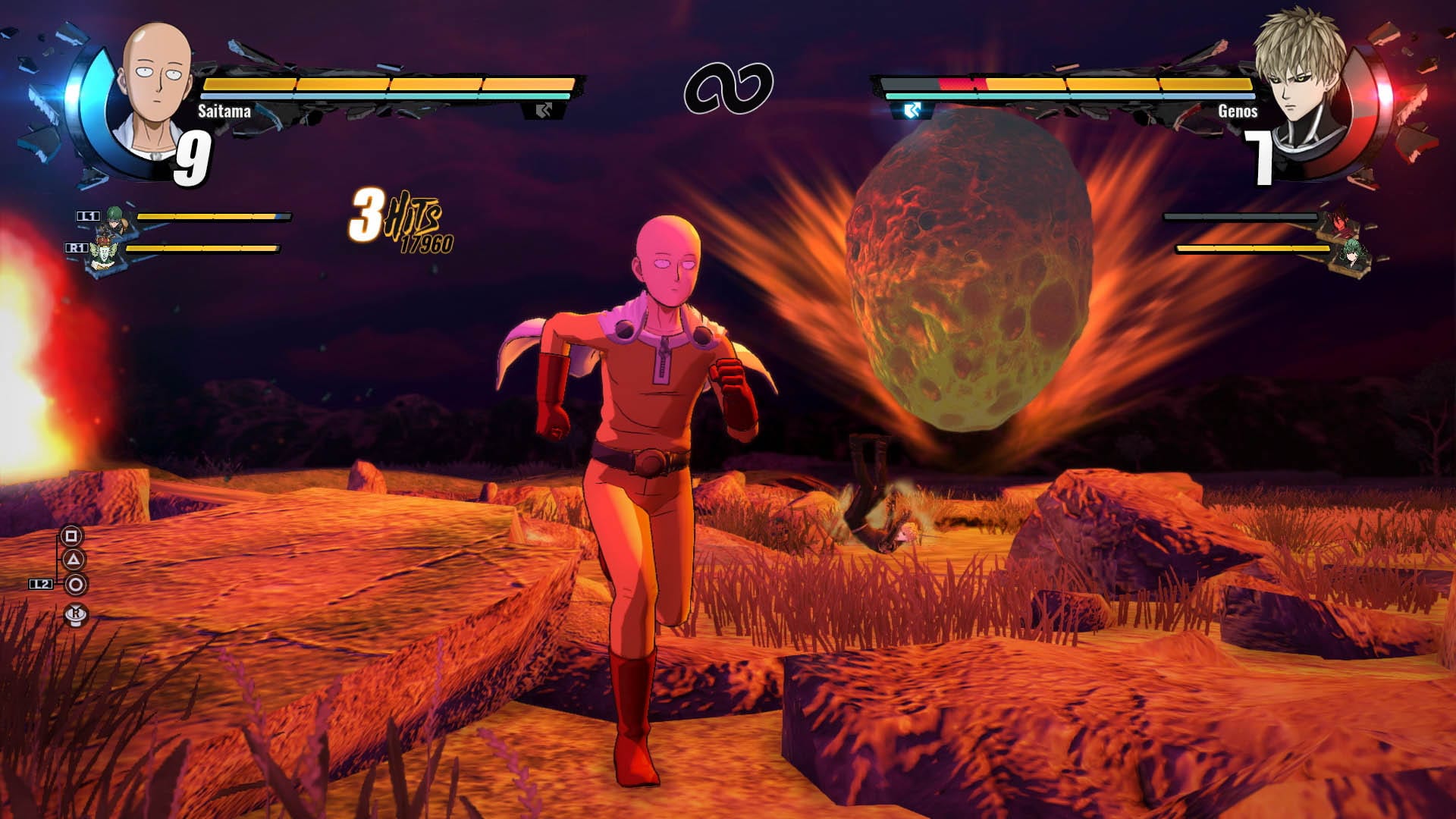 One Punch Man: A Hero Nobody Knows is more than just fight sequences, which was refreshing to see. Like most Bandai Namco fighters, you can walk around the town and help people who need it. For example, a kid needs help to find his bus pass, no sweat, it required no fighting just you walking around looking for a shiny item on the ground. As you develop and level up as a hero your missions get harder so the game constantly challenging you. Your fight style can also be changed, with the option of being a weapon wielder, psychic or just use your everyday fist flyer. You can choose where you want to focus your stats, from HP to attack power, developing these as you fight through the monsters and earn growth points.
The game also has some Online features available too. If you choose to be online other people will be walking around the city like a hub and you can talk to each other. Verses battles are available if you like to play with others and truly test your skills and see where you stand amongst the rest. Definitely a true test.
I have thoroughly enjoyed playing One Punch Man: A Hero Nobody Knows and feel like if the online and DLC is kept up, it will continue to be a great game that I can go back to time and time again. The map is small, and the fights can feel a little repetitive as the same enemies get reused but listening to my own tunes, I very much enjoyed teaching the monster to not mess with me. If you're not a fighter fan then this game is not for you, but if you enjoy a good fight come at me!
The Good
Easy fight mechanics
Fun even if you don't know the anime
Vs modes offers a lot of replay value
3D arenas
Stat Building
The Bad
Reused enemies get repetitive