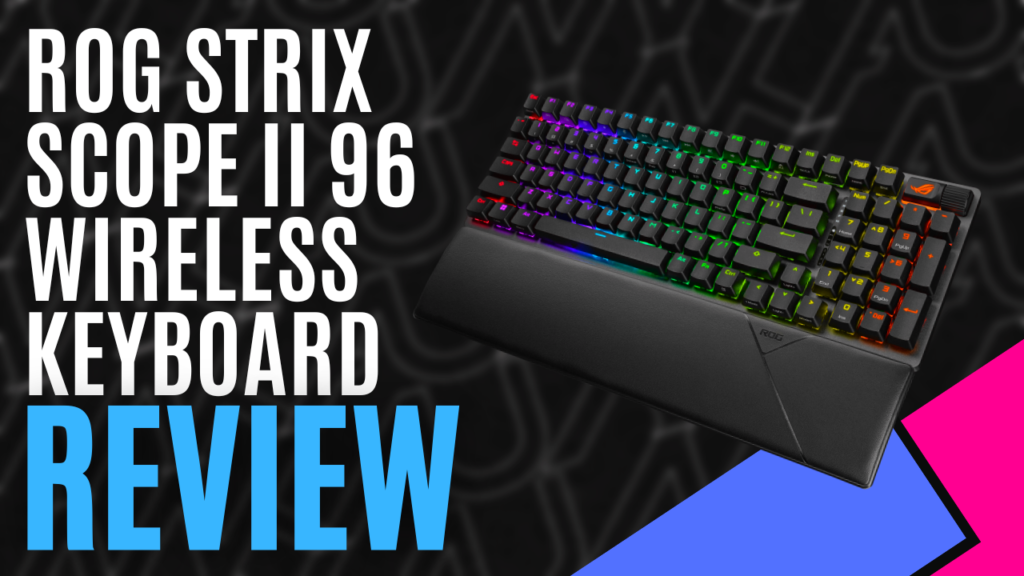 'Republic Of Gamers' never ceases to amaze me. They provide high-quality goods that are steered towards a vast range of gamers, striving every time for 'Bigger and Better'. Innovative in their design and production, we, at MKAU, were lucky to review the ROG Strix Scope II 96 Wireless Gaming Keyboard. What do we think? Read below to find out!
Straight out of the box, this thing is sleek. Hefty in weight, this thing is built to last to trials and rage of a hardcore gamer. Running at 96% in length, this keyboard is considerably smaller than the ROG Strix Scope RX that I previously reviewed, despite also having a number pad and arrow keys running in at 377mm by 131 mm.
The matte black style is smooth and the UV-coated concave keys are satisfying to the touch. The underside is ribbed, which helps with slippage, and the feet, while not adjustable in slant, are set at a comfortable and ergonomic wrist angle. You also will find feet adjustable to three sizes and a magnetically attached wrist rest for even more comfort as you type away.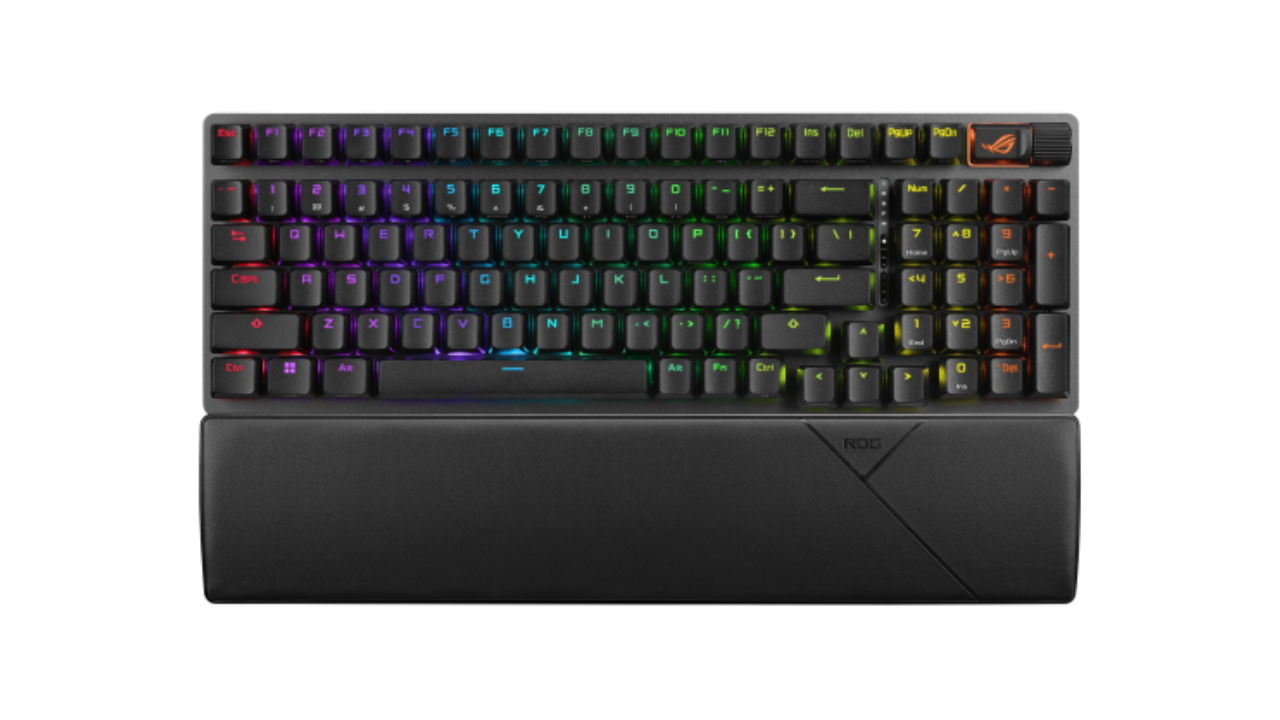 ROG really likes to supply you with all the goods, something I appreciate. Inside the box is also included; a spare spacebar in a rad logo-ed design, a dual key and switch puller, your USB to USB-C power cable, USB extender, some stickers, and most importantly, the OMNI wireless receiver tucked away neatly and magnetically at the back of the keyboard itself, so it can't be lost.
The power cable is braided too, which is great for wear and tear over time, and helps to protect the inner wiring.
Like most modern keyboards, the ROG Strix Scope II 96 Wireless Gaming Keyboard is lit up like a Christmas tree. With individually lit keys, you can customise your backlights in a range of colours and styles with their Aura Sync capabilities, meaning all your similar devices can be the same. From static, breathing or even pulsing to music, the keyboard really shines in any colour and sets that ambient glow in your office space.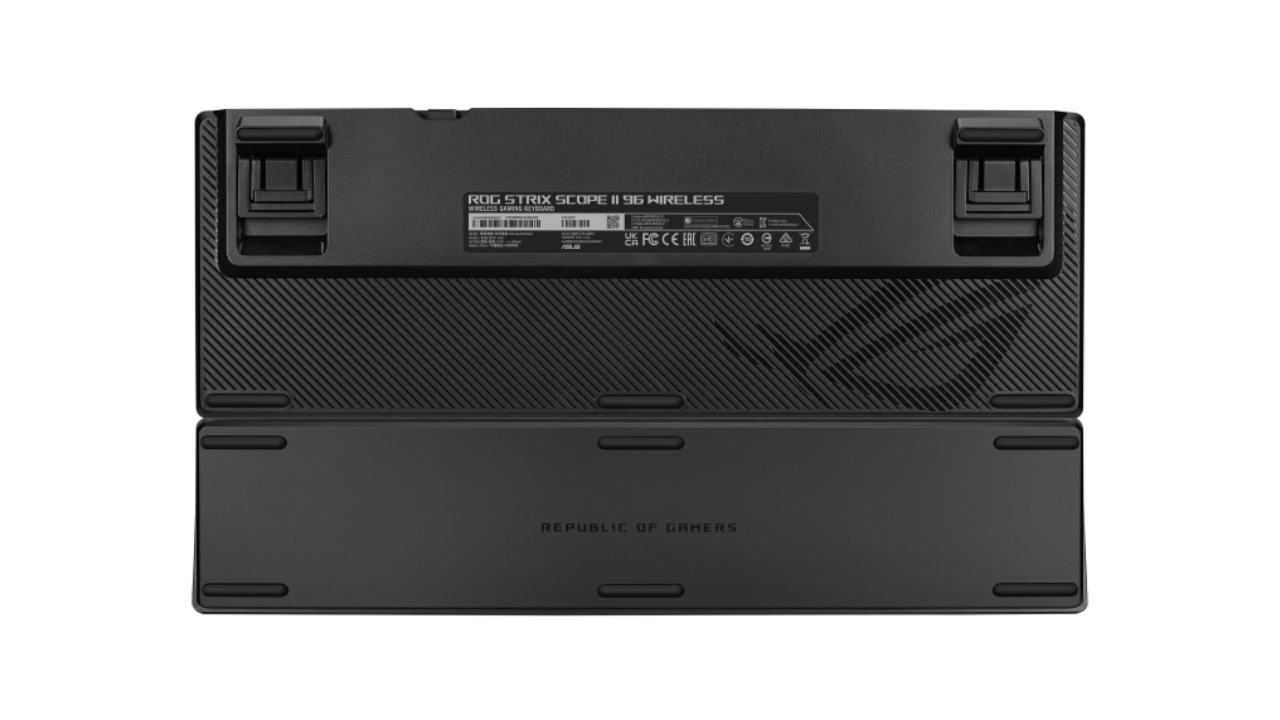 The switches are certainly silky for anyone looking for a quieter experience. Equipped with sound-damping pads for the switches, these ROG NX Snow mechanical switches are smooth in their 1.8mm actuation. Not super clicky, but streamlined and soft acoustically in delivery. Coupled with the Anti-ghosting and N-Key rollover, input was lagless, meaning accuracy in every keystroke.
Using the keycaps and switches, though, was a smooth and pinpoint experience, perfect for casual typing and excellent for online gaming. They are also interchangeable switches too, meaning if they aren't your jibe, the ROG Strix Scope II 96 Wireless Gaming Keyboard is fully customisable to your own preferences and style.
Using the receiver, you can connect up to three different ways. This means you can connect via Bluetooth, 2.4 GHz SpeedNova wireless connectivity, or with the USB cable itself. The cable will charge your device with up to 1500 hours of type time, but be aware the brightness of your RGB lighting will diminish this time. I always love to keep my peripherals plugged in, but I found the wireless connectivity flawless and lag-free. I happily typed away for hours on wireless without a single delay issue.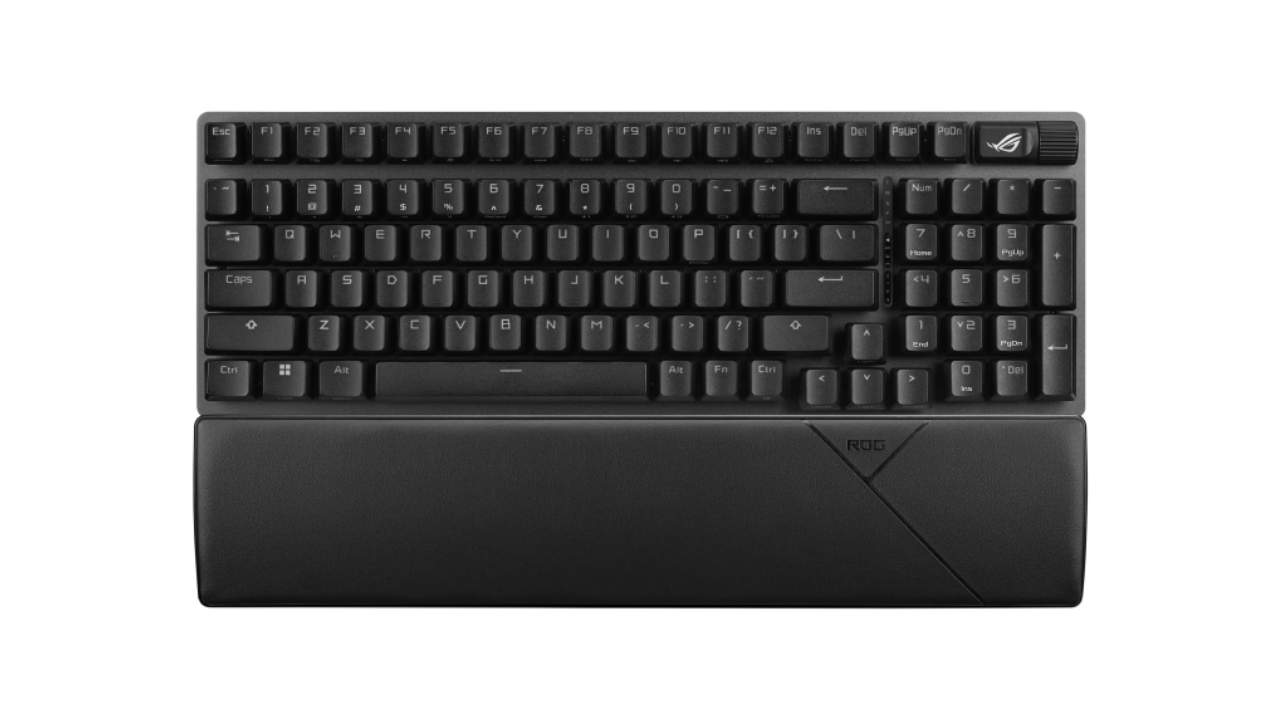 You will also find you have hot keys using the F1 to F5 that are programmable, perfect for recording or switching in and out of scenes. The ROG multifunction button and media wheel allow for page control, audio and media player control, and lighting brightness. I found this a very handy button, with more than one function at your fingertips without having to remove your hands from the keyboard.
The 'Armoury Crate' is ROG's software used to customise all your peripherals. Here I could customise my lighting, create up to 5 profiles, map out keys, and dabble in macros. The software looked daunting at first but was actually really easy to navigate, simple, and user-friendly. Everything is clearly labelled with instructions, and even the biggest noob can learn to set macros, a series of recorded inputs at a tap of a singular button, in an instant.
Overall, the Strix Scope II 96 Wireless Gaming Keyboard, by Republic Of Gamers, is a fabulous keyboard for both casual and die-hard gamers. It is multi-functional, and paired with the Armour Crate software, can be fully customised too. This is made for any style of gamer, and it's so comfortable that it is perfect for everyday office applications. This thing is a beast.
The Good
Looks sleek
Slip proof and hefty
96% in length
3 feet heights
Wrist rest included
Keycap and switch puller included
Individually lit RGB lighting keys
Silky quiet mechanical interchangeable switches
Anti ghosting and N key rollover
Lag free wireless connectivity
Reprogrammable keys
Multifunction button and wheel
Simple software