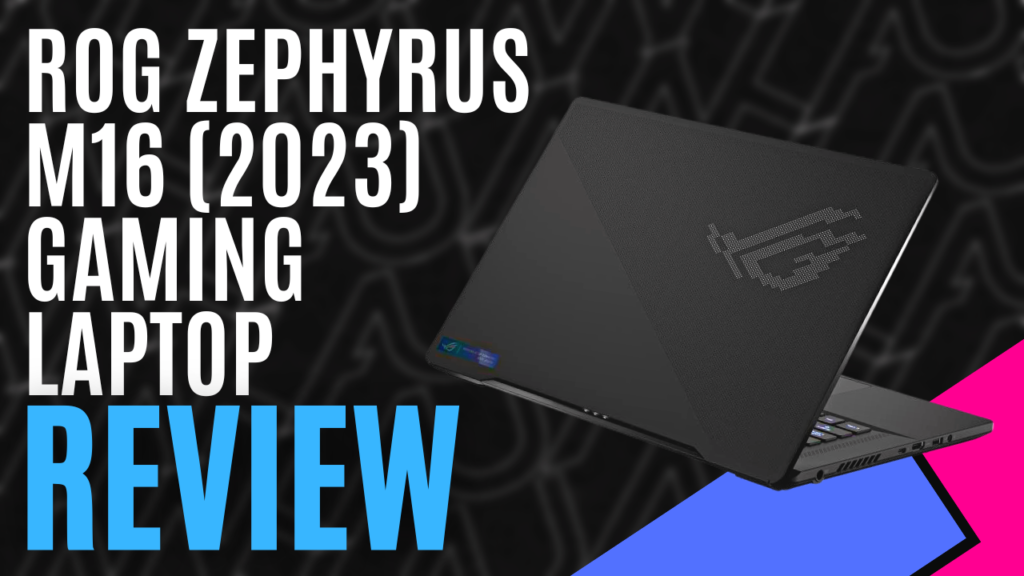 ASUS ROG is very quickly becoming one of my favourite brands, and it's been a privilege to be able to try out their new systems as they become available. My favourite so far was the Zephyrus Duo 16, which you can read up on here, and this was due to the secondary 14" ScreenPad Plus located between the keyboard and the main monitor. When it was mentioned that ASUS ROG had sent us another of the Zephyrus lineup, you bet I was excited.
The ASUS ROG Zephyrus M16 GU604 Gaming Laptop felt quite a bit smaller than I was expecting, but it features a QHD+ 16inch, 240Hz screen with an aspect ratio of 16:10 and a response time of 3ms, and it offers some incredible colour reproduction. While screen size may be average, the display itself is incredible, and this flows through the rest of the system, with a 13th Generation Intel Core i9-13900H processor, boosting up to 5.4 GHz, and an NVIDIA GeForce RTX 4090 16GB GDDR6 boosted to 1505MHz making use of the ridiculously overqualified display.
32GB of 4800MHz DDR5 RAM helps to keep the performance right up there, and the 2TB 4.0NVMe M.2 Performance SSD will have you loading into games in no time, while still offering plenty of storage for all of your photography projects. I used it for a little bit of photo editing with this laptop, and there was a significant difference between my normal desktop and the ASUS ROG Zephyrus MM16 GU604, with the colours being remarkably more true to how the model looked while I was photographing them. Playing games was equally as impressive, with bold colours and deeper blacks, giving me a much more immersive gaming experience.
While this model didn't feature the additional screen, and the RGB was limited to the backlight keys, it features a cool little system called the AniMe Matrix Pixel panel – a panel that lies behind the monitor and lights up with a number of different ROG-inspired designs, or alternatively, you can personalise it with some scrolling text. It was something I didn't notice until I so happened to walk past the laptop and noticed the flashy white LEDs light up with a bold, shifting ROG logo. While it's not RGB, its still a very striking way of personalising your laptop.
This, as well as several other systems, can be controlled using the ASUS Armoury Crate software, which allows you to monitor your system, control the single-zone ¾ size RGB keyboard, and add that aforementioned personality to the back of your screen. As I've mentioned in previous ASUS ROG reviews, this is incredibly easy to use, allowing you to monitor for updates and perform little tweaks on your setup.
When it came to actual gaming, the ASUS ROG Zephyrus M16 GU604 Gaming Laptop is an amazing system. The combination of the 240Hz monitor, the Intel Core i9 processor, and the NVIDIA RTX 4090 offers an amazing gaming experience. Installing and loading up Cyberpunk 2077, I was amazed at how smooth the animations were, with none of the screen tearing I normally experience while cruising along the roads in V's car.
Without using the system-killing raytracing, but with everything else cranked to eleven, I was excited to see my frame rate sitting well over 100 FPS. Switching back to my current game of choice, DayZ, I was even more excited when I was sitting even higher, with the only issue being when DayZ decided to be DayZ. As I've said before, if you know, you know.
Pushing the system through the usual User Benchmark tests offered the expected results, with the system pushing over 230 FPS in both 3d DX and 10 tests, and the SSD almost hitting transfer speeds of 3,200 MB/s during sequential writes.
During the process, the system ran nice and quiet thanks to the ROG Intelligent Cooling Thermal System, using the same Conductonaut Extreme liquid metal to help reduce the temperature of the CPU, and full-surround vents optimising airflow.
Were it not for the AniMe Matrix LED display on the rear of the monitor, the ASUS ROG Zephyrus M16 GU604 appears to be very basic, but that's not to say it's a bad thing. As I get a little older, I'm starting to prefer the cleaner look as opposed to harsh edges and sharp patterns, and they've managed to cram all of this performance into a system just under 20mm thick and weighing in at only 2.1kg, and this makes it an amazingly portable gaming system.
Connectivity is somewhat standard for what laptops offer these days, with two USB 3.2 Gen 2 Type-A ports, a USB 4 and USB 3.2 Gen 2 Type-C USB, with the USB 4 featuring Thunderbolt 4, and both allowing for DisplayPort 1.4 and Power Delivery 3.0. It also features a MicroSD slot, perfect for dropping in files from an action camera and getting straight to editing, and those who purchase one will receive a ROG Gladius III Gaming Mouse, a ROG Fusion II 300 headset, and a really nice RGB-accented 15" ROG Ranger Backpack. Unfortunately, the demo model we received didn't come with this, so I can't comment too much on those, but bonus items are always appreciated.
The ASUS ROG Zephyrus M16 GU604 Gaming Laptop is an amazing system, offering plenty of portability for gamers on the go, and the power to keep up with some of the most demanding games on the market. With its sleek design and bold AniMe Matrix display, you'll be turning heads at any event, all while enjoying some of the smoothest gameplay I've ever seen.
The Good
The AniMe Matrix can make your device stand out
Remarkable performance
Highly versatile
A powerful system in a portable device
The Bad
Single-zone ¾ size RGB Keyboard