I'm back for another review, though this time it's on the Switch with RollerCoaster Tycoon 3: Complete Edition, a construction and management simulation video game, published under the Frontier Foundry games label.
It's been awhile since I've played a simulation game besides The Sims, which usually ended with sadistic laughing while my Sims burned to death (Don't judge me, we've all done it.) Otherwise there was Theme Park on the Sega Saturn, way back in my teenage years and secretly I put quite a few hours into it, especially with the generic unlimited money code that these types of games always seem to feature. So how does RollerCoaster Tycoon 3 compare on the Nintendo Switch? Let's find out.
Plot/Gameplay
RollerCoaster Tycoon 3 is a strategy and simulation game in which I (the player) must manage all aspects of an amusement park. Starting from scratch with some money to get started, and a single admission booth, I was ready to become the next Walt Disney, building or removing rides, plants, toilets, food stalls, animal attractions, even change rooms for water slides. I was a busy little bee as I worked away, making what profit I could in order to build the next big attraction.
While playing in Career Mode, I also had to deal with scenarios where I had to accomplish certain goals. Impressing guests earns you a higher rating, and passing them meant rising up in the three ranks: Apprentice, Entrepreneur, and Tycoon. Players will have to balance the park's finances, hiring and paying staff, attempting to keep costs down, all while still keeping the park visitors happy. To say I was relaxed playing this was an understatement, especially when I was goofing around in the Sandbox Mode. It was here that I truly felt like Walt Disney, spending big on everything, employing more workers than I really needed and paying them like kings. It's easy to be so relaxed when money isn't a problem.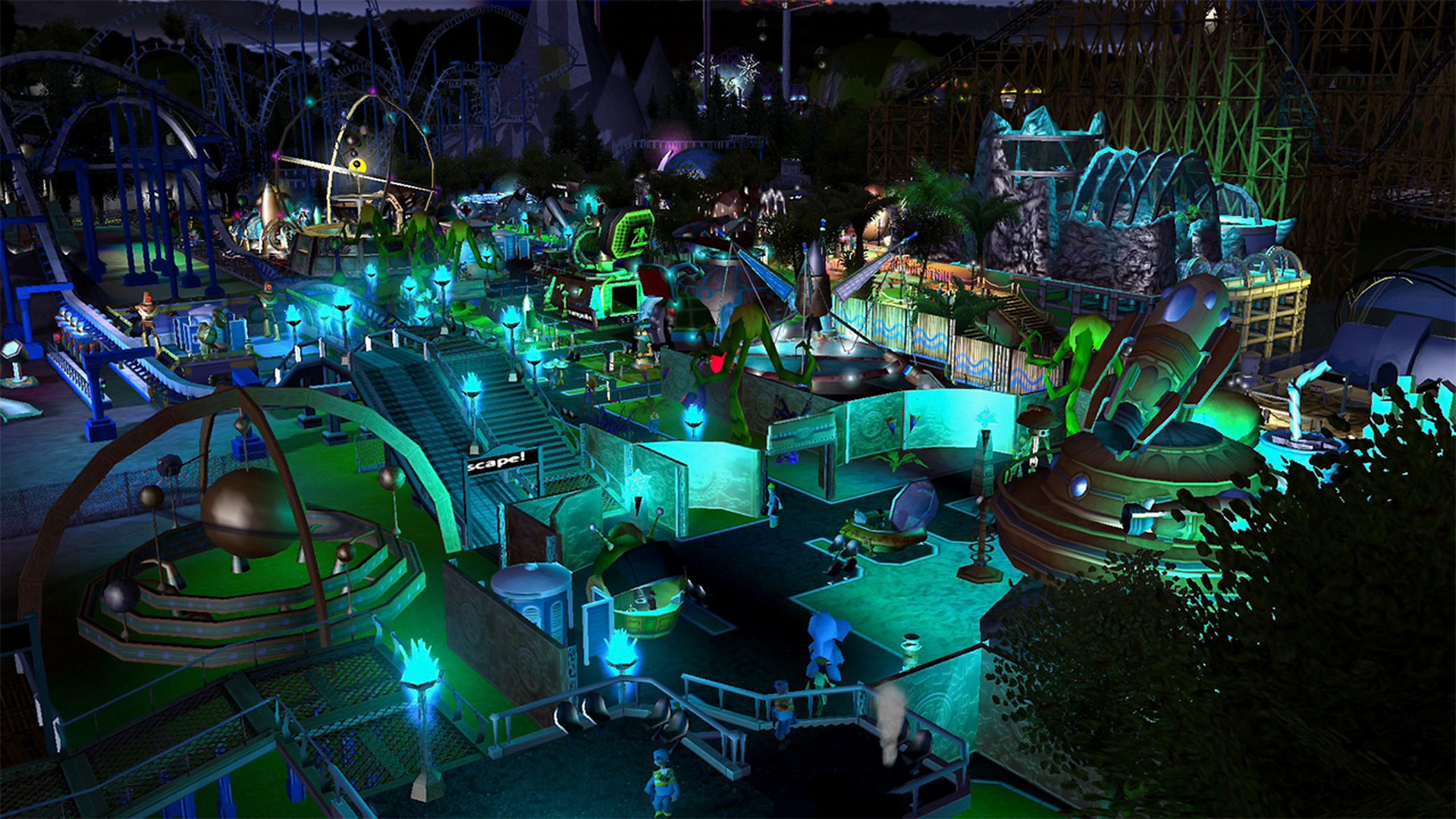 Controls
Thank the gaming Gods for tutorials! For someone who is new to the game, the controls can initially be a little intimidating, but fortunately there is an explanation that helps you to understand everything along the way. I have to say for newbies, it won't be a simple pick up and play. Even though I had played similar games in the past, my learning curve was a good 15-20 minutes trying to remember what button did what, but once I found my pattern I was good to go.
Audio/Visuals
The game looks great on the Nintendo Switch, easily outstripping what I remember from playing on the Sega Saturn, or those years playing The Sims. Yes, I know technology has well and truly moved on from those days, but I make this comment because I got very nostalgic while playing, especially with the top down view game. I also used the CoasterCam mode excessively, which allows players to ride the roller coasters or view the other attractions in first person. The only time RollerCoater Tycoon 3 suffers visually is in the handheld mode. I found it was a little harder to focus on the smaller screen than the TV, particularly with some much happening at once, but I can promise you, I still played it a lot more than I should admit.
In game audio was another little perk I enjoyed, though not so much the background music. I found myself turning it down so that I could pay more attention to the ambient sound effects of the busy crowd. I was so immersed that a quick 20 minute game during a break somehow turned into an hour passing by. The only thing that brought me back to reality was when attractions and utilities started breaking down. The sudden bombardment of alerts made the career mode quite stressful in a short space of time. The constant stream of DING! was very quickly muted.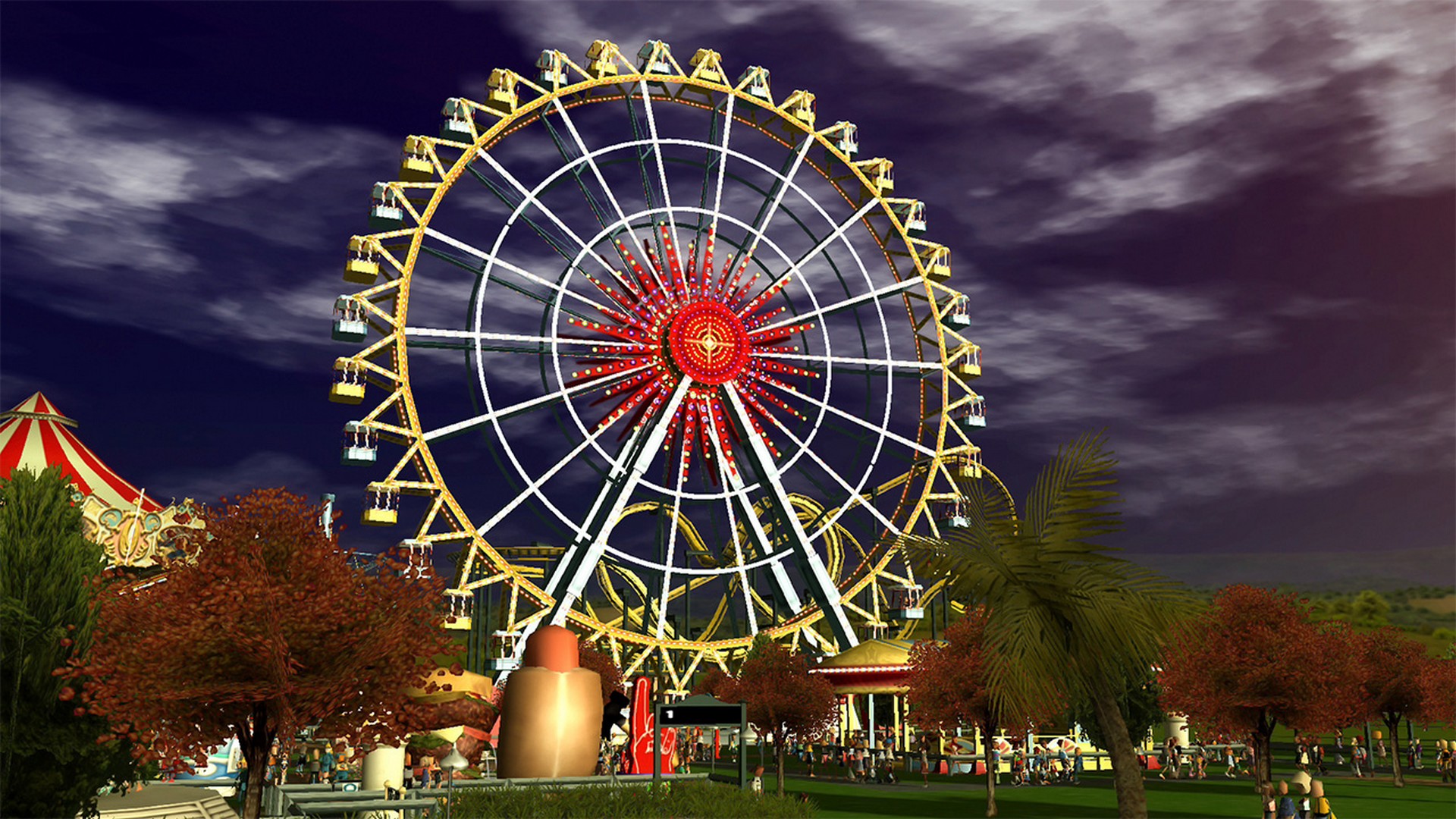 Critiques
I play video games to unwind, relax, scare myself a bit and to shoot things, not add more stress to my day. I take my hat off to people who find something like career mode enjoyable, as it had me pulling my hair out at times. If you are looking to unwind though, the Sandbox Mode is the way to go, especially when you get to ride your outrageous creations using the CoasterCam. RollerCoaster Tycoon 3 gave me a few chuckles, but the most enjoyment I got out of it was watching my kids play, in particular my youngest. Watching him try to build a park but refusing to help gave me the biggest kick of all.
Overall
I have to admit that I enjoyed playing RollerCoaster Tycoon 3, especially testing rides with dummies before opening the attraction to actual patrons. Watching them zoom down the waterslide, not realising that I actually had to add a pool and then watching them crash into the dirt below was a great source of amusement for the family. I'm just lucky it wasn't paying customers performing the tests, especially playing in career mode. I'd be ruined!
Will I come back to it? Most likely, yes. I'll gradually expand my park over time. If you're new to the franchise, I suggest you read all the tutorials, but for new and returning players, I find it safe to say you'll love it! Until next time, peace.
The Good
A real sense of nostalgia
Access to Sandbox Mode from the start
Experience your park with CoasterCam
Hillarious antics with the crash test dummies
Handheld Mode means you can take your park with you
The Bad
Career mode can be stressful at times
That horrible DING! alert sound