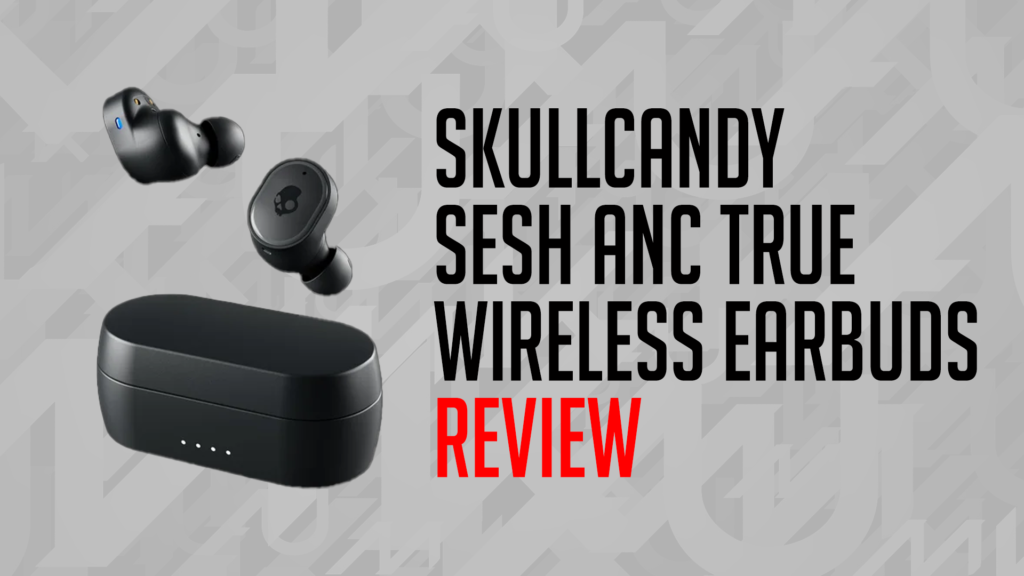 Skullcandy has come out with new wireless earbuds, the Skullcandy Sesh ANC True Wireless Earbuds. I have been reviewing this product for the last few weeks and I am very pleasantly surprised with how they perform and feel.
The Skullcandy Sesh ANC True Wireless Earbuds have a great design for the perfect fit in the ear, while also having water and dust resistance with an IP55 rating, so you don't have to worry if you are working up a sweat in the gym; The Skullcandy Sesh ANC True Wireless Earbuds were designed with workouts in mind, so there's no need to pause your music or the gains your making in the gym, and due to their fit, they will not fall out while running or jogging, and they are easy to transport with the Charge Carry Case that fits into a pocket.
How's the sound? While running default settings, the bass balance is impressive but does drown out other parts of audio in songs or movies/shows, but when there is no bass present, the audio comes in clear and smooth, which is a massive plus. Using a 4-mic active noise cancelling system, the Skullcandy Sesh ANC True Wireless Earbuds cut out significantly more noise on a much broader spectrum than the more affordable 2-mic systems out there, making them perfect for cutting out background chatter at work, in the gym, or on public transport. They also come with a Clear Voice Smart Mic that will isolate the speaker's voice using AI and help to reduce background noises, making them perfect for taking calls no matter where you are.
The battery life is a great feature that needs to be addressed, as with active noise-cancelling (ANC) turned on, you will get about 6 hours of use from the earbuds, with a further 26 hours on the charge carry case, giving a total of 32 hours before it is drained. With ANC turned off, you will get longer performance time, with about 9 hours on the earbuds, and the carry case offering up to 37 hours, giving a total of 46 hours before needing to recharge again. Regardless of whether or not you have ANC activated, you'll have plenty of listening time with the Skullcandy Sesh ANC True Wireless Earbuds.
Unboxing The Skullcandy Sesh ANC True Wireless Earbuds, you will find the Charge Carry Case and both earbuds, protected by a tag over the charging port so they are not burned out or overcharged when you get them. You'll also get a USB-C charging cable for the carry case, 2 extra pairs of ear tips for large and small sizes, a user guide, and a control manual.
There is an official Skullcandy App for your mobile device which can be used to show the battery life of each bud and comes with a large range of EQ settings and presets, so if you are using the earbuds for podcasts over music, for example, there are preset settings that will change the audio levels to give the best result for what content you are using them for. This is also a way to turn off the noise-cancelling, if you so wish to do, or if you wish to make your own setting, you can, and the app is a great way to keep the earbuds up to date with firmware updates.
The Skullcandy Sesh ANC True Wireless Earbuds can be used for calls and media, and all functions can be found in the Skullcandy app. Once you have paired the earbuds to the phone, with the help of a user-friendly guide that's broken down into easy-to-follow guides, you'll easily see how to use the touch settings on the earbuds to adjust the volume, skip songs, pause, and resume media content, which is also the same action for answering and ending phone calls. You can also make use of phone assistants, like Siri, for example. I use an iPhone, so using this feature was particularly useful if I was not near my phone during work. I could simply press the earbud three times, hear Siri activate, ask my question, and get my answer.
The Skullcandy Sesh ANC True Wireless Earbuds are an excellent purchase for those that are looking for a great companion for working out. They fit the ear perfectly and have an incredible battery life. I used AirPods before I was given these to review, and I don't see myself ever going back.
The Good
Handy App supported
Nice ear fit
Great Battery life
The Bad
Bass boost can be overpowering