Published and developed by Marvelous, Story of Seasons: Pioneers of Olive Town is a farming simulator, RPG game, and is the fourth game in the 'Story of Seasons' series.
Story of Seasons has a bit of a confusing history. The first thing most gamers would do is make comparisons to the 'Harvest Moon' series which has the longest history of farming games, but technically it somewhat is Harvest Moon as the publisher Natsume were the ones responsible for translating and localising the series in the West. They even gave it the Western name, 'Harvest Moon', as it's originally known as 'Bokujō Monogatari', in Japan. In 2014, the publishing duties of the game went back to the original developers Marvelous, who then used their American branch to rebrand the series under the new name 'Story of Seasons'. The Harvest Moon series hasn't been doing well since 2013, but Natsume released the latest entry to the series 'Harvest Moon: One World' on March 2, 2021, just 21 days ahead of 'Story of Seasons: Pioneers of Olive Town'. This means Harvest Moon and Story of Seasons are going head-to-head this month.
Beginning the game, you will be able to customise your character's appearance before arriving in Olive Town to take over the farm left behind by your grandfather and carry on his legacy. Upon arrival, you will find the land has not quite been left in a good state, with some rundown facilities and just living out of a tent, to begin with. Starting from the bottom, you will begin rebuilding the farm and form relationships with the town folks, which all factor into the success of your new farm, new home, and new life.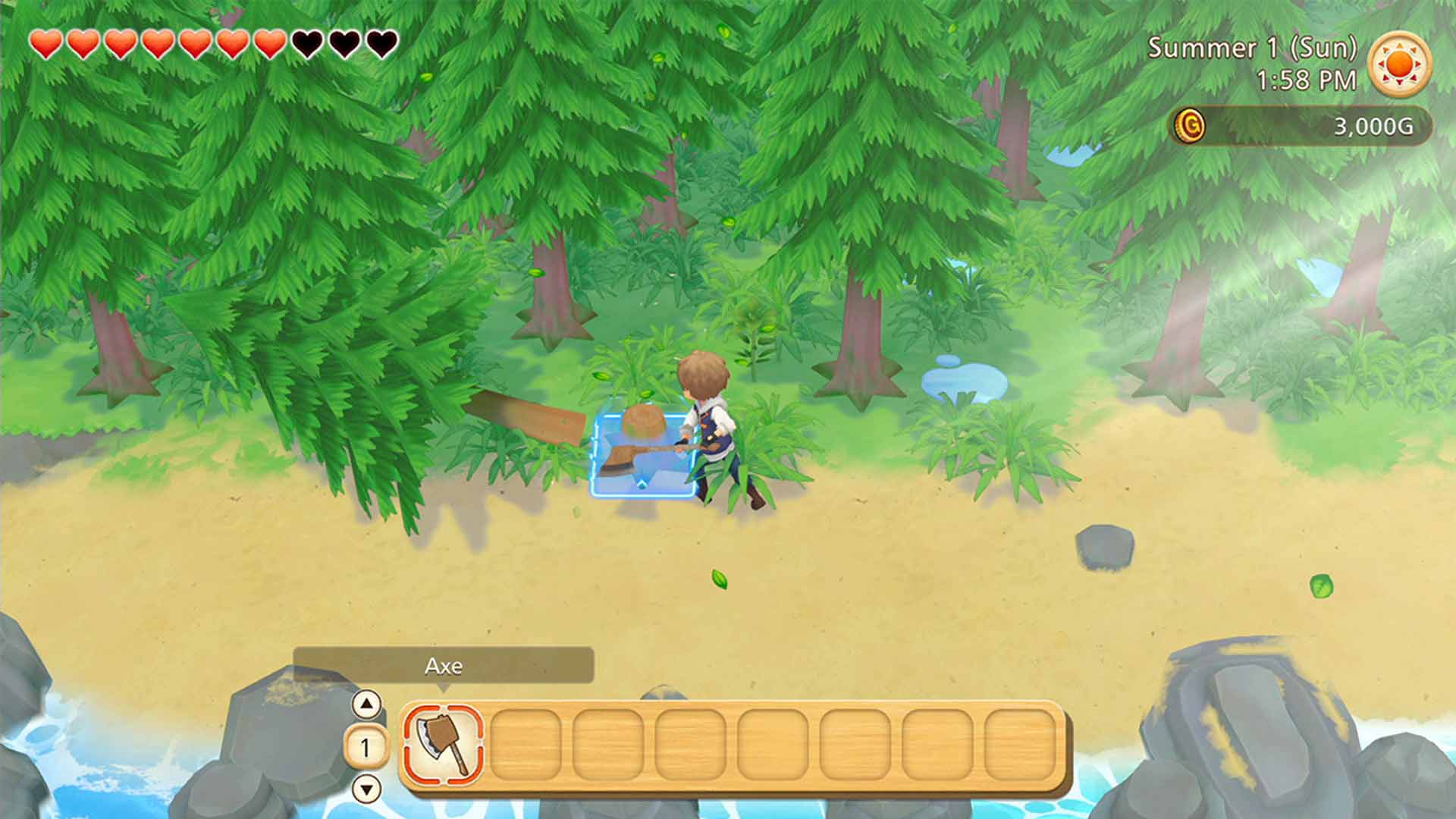 Although it may feel like a lot to take in at first, after learning the basics the game mechanics are actually very simple to use and makes the gameplay flow very nicely. Tutorials will pop up whenever the player reaches the next part of the game to learn, so each part of the game is explained bit by bit making for a very user-friendly experience. Players will be able to grow vegetables, maintain livestock, go fishing, cut down trees for timber, mine in a cave close by, rebuild old facilities, build new facilities, upgrade your home and so much more. All the vegetables, milk, eggs, etc collected can be sold to earn an income and make a good living in Olive Town.
Visiting the actual town just north of the farm, players will be able to chat to all the locals to form relationships with everyone and even find a potential wife or husband. Olive Town will have everything the player needs such as a general store to buy all the essentials for your farm, cafe, and restaurants to sit down and enjoy a meal with a nice beverage to keep you going, an info booth to tell you everything you need to know about your new home and so much more to explore and discover. There are also various activities in town in the form of mini-games where players can get rewards and is also another way to interact with the locals of Olive Town.
Players will also need to keep track of their stamina meter, which is represented by several hearts at the top left of the screen. As they go about their day farming, chatting with friends, participating in activities, etc, their energy will slowly deplete just like in real life. So, it's important to remember to eat your meals and get your sleep to get the most out of your day.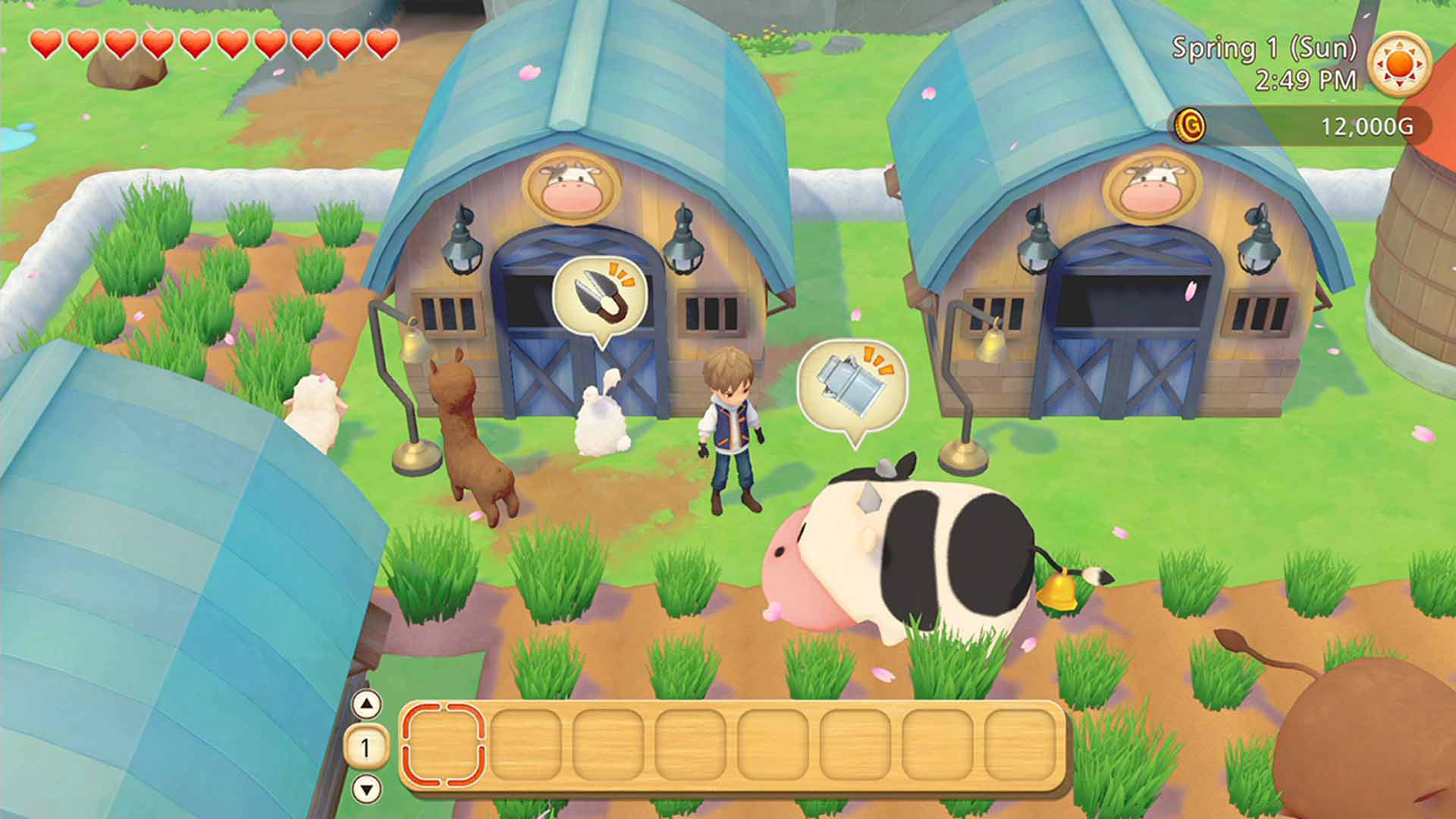 The overall art style has a very colourful and cartoony feel, creating a very bright, happy, and friendly atmosphere. The graphics are very similar to the Harvest Moon games, which is another reason why they're often compared. The cartoonish animations actually add to the overall experience, making it feel very satisfying instead of repetitive such as spinning around with an axe, similar to Link in The Legend of Zelda games. The game still has a fixed camera angle and although the view can be tilted a bit using the right joystick, it would've been nice to able to more freely explore your surroundings, as it feels there is so much more to see. The folk style music greatly adds to the overall feel of the game, giving it a very relaxing atmosphere, where players can lose themselves.
Story of Seasons has done really well since the first game in 2014 as it gets all the things right that Harvest Moon gets wrong. Even though Harvest Moon: One World was already released earlier this month, it has not been received well by critics and fans. It still has some of the same issues from the past games as well as some new ones. Overall, it ironically now feels like a pale imitation of Story of Seasons. Of course, there is also the indy game 'Stardew Valley', which has been highly praised since its release in 2016 and is still being played by many today. There are also many other farming games available or soon to be released, but Harvest Moon, Story of Seasons, and Stardew Valley have always stood out from the rest as the premier farming games.
In the end, it's up to the individual players to decide which of the top three farming games (or any of the others) they get the best experience out of. However, it is safe to say 'Story of Seasons: Pioneers of Olive Town' is the definitive farming game of 2021.
The Good
Being able to live the life of a farmer
Very easy and simple controls
Bright and colourful environments
Building relationships with the locals
Relaxing folk style music all throughout the game
Fulfilling and rewarding experience overall