I never had the chance to really get into building games such as Minecraft which is surprising because games that get the creative juices flowing have always piqued my interest. Due to the overwhelming number of children that flock to these communities, I will admit it also has scared me off from ever eventually joining in on the fun for more than a few hours.
Terraria by Re-Logic and Pipeworks Studios is an action packed, sandbox game with crazy open worlds to explore, that also opens the gates for you to be inventive and imaginative. Released originally back in 2011, this much-loved title has gone through tweak after tweak to be finally ported over to the Nintendo Switch. While there is no set plot in this game, the story is yours to create as you traverse, dig, build and fight your way to glory.
One thing that stands out front and centre, like an elephant in the room is the fact it is very similar to the beloved jem Minecraft, but Terraria is so much more than that. Despite its obvious 2D art style that sets it apart, Terraria just has so many more layers than its famous comparison.

The gameplay is simplistic, opening up with customization of your character, which was surprisingly in-depth for a little pixelated dudette, then given a sword, axe and pickaxe and sent on your merry way. In Single player mode, you are thrown straight in with no guidance. By day you must collect materials and build structures, by night you want to hide inside while creatures of the darkness lurk or lure you to your death, or you can happily keep digging away. I thoroughly enjoyed pottering around mining blocks and cutting trees to build contently all my hearts desires however, the unexpected turn around of night and day, means you really need to manage your time, another added challenge to the game.
Enemies depend on the environments and also the time of day. Each is so unique and come in a variety of difficulties, dropping better and better loot the bigger the conquer. When you do run into a boss along your travels, it is no easy task, if you are not prepared and believe me I was barely prepared. My only annoyance with this the fact (and it's a personal gripe), I just want to be left alone to build sometimes, I would enjoy a mode with no enemies, because I'm a boring Betty like that.
The game boasts over 20 different biomes in this procedurally generated world, and while I played a good 30 hours of this game and only experienced a handful of the gorgeous, 2D, yet surprisingly sharp environments. There are charming pixelated forests, deep dark caverns, even skyward plains. Not once do I doubt this claim though, as the game has so much detail crammed into it, world sizes, multiple save slots and just so much replay value.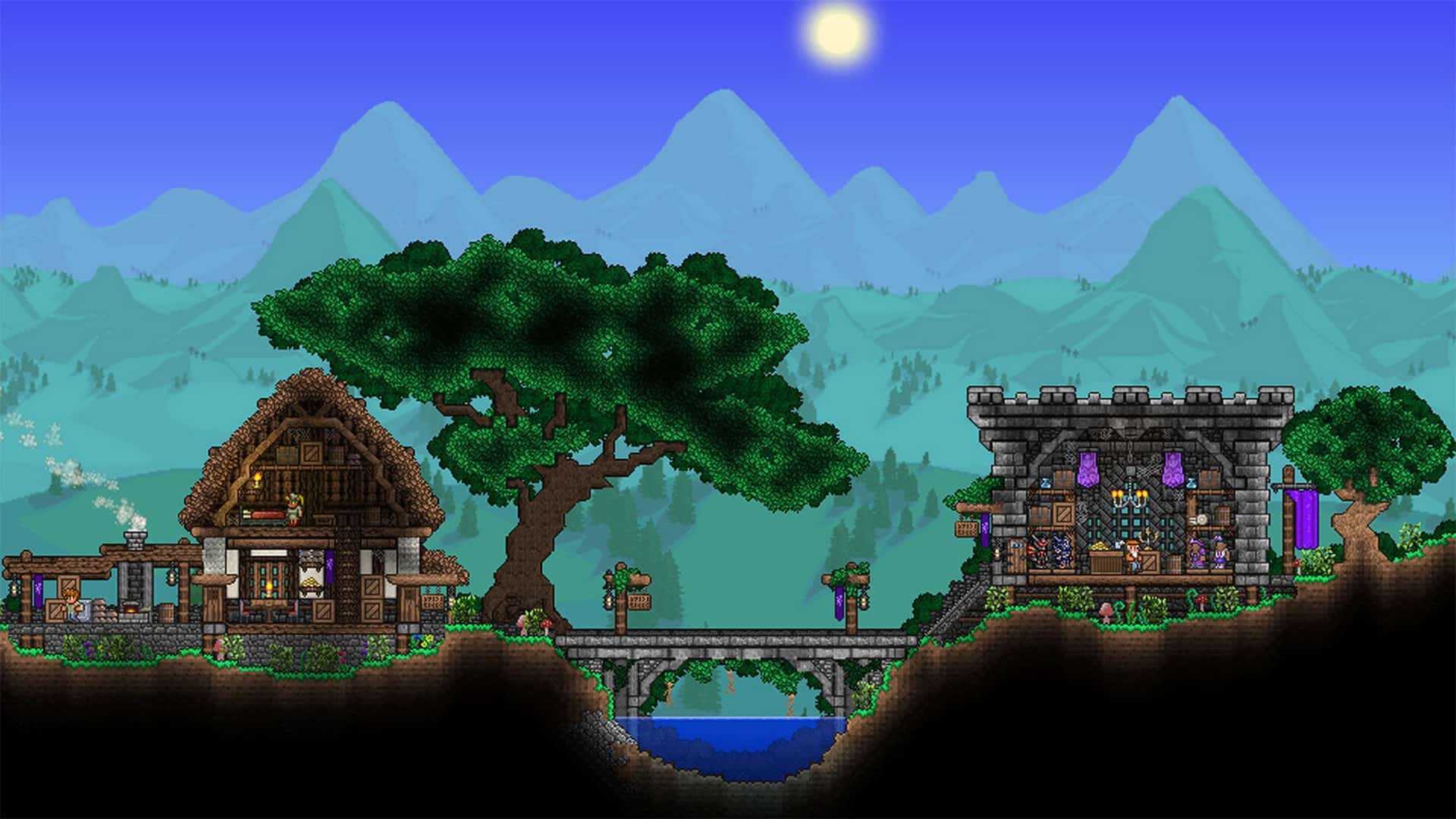 While the controls on Switch are very simple and easy to master, the small cursor boxes are fiddly and very small, almost rendering the touch screen quite useless. The game does support up to 8-person Multiplayer mode, however a paid membership to Nintendo Switch Online is required to access this online play.
While mentioning its capabilities on the Switch, it is good to note that although the controls were a bit clumsy it did in fact run like a dream both docked into the T.V. and in handheld mode. I found using a pro controller somewhat counterbalanced the finicky controls.
Overall, I just found myself building myself a better experience with Terraria than I have with other similar games. This is one genre in particular I have grown respect for as each player will have a different experience and individualized choices in their progression. I literally lost hours playing this game huddled up on my couch and I can see myself diving back into it over and over again. Now off to build my Malibu dream house in the pits on an underworld, catch you on the flip side…
The Good
Variety of enemies with varying difficulties
Engaging bosses
A diverse range of environments
Simple game play
Replay value galore
Gorgeous, simple artstyle
The Bad
Clumsy controls on the Nintendo Switch
Almost useless touch screen