In 1992, Wario made his first appearance in 'Super Mario Land 2: 6 Golden Coins' on the Game Boy as the final boss to Mario. Wario was designed to be an evil version of the Nintendo mascot and due to his instant popularity, was given his games with both the 'Wario Land' and 'WarioWare' series. Due to the success of those games, Wario was even brought into more popular Nintendo titles including the various Mario sports-themed games, 'Mario Party', 'Mario & Sonic at the Olympic Games,' and even 'Super Smash Bros'. His latest title, 'WarioWare: Get It Together!' looks to bring the raw garlic munching, flatulence-fuelled biker, and gang on a whole new wild ride of crazy, manic, and addictive minigames.
Ever since the first entry in the series with 2003's 'WarioWare, Inc.: Mega Microgames!', the large variety of minigames have had players glued to their Nintendo consoles trying to survive and beat their high scores. 'WarioWare: Get It Together!' is the first game in the series to appear on the Nintendo Switch, and this time includes 2 player co-op play and online leaderboards.
After Wario successfully builds a new gaming device, he and his friends are then sucked in and are forced to participate in the minigames themselves. Each of the individual games featured has their own unique themes based on various themes, some of which are even classic Nintendo games spanning several decades including 'Super Mario World', 'Super Metroid', 'Splatoon', 'Donkey Kong Country', 'Fire Emblem' 'The Legend of Zelda: Breath of the Wild' and more. Along with Wario, other familiar characters also return from previous games including Crygor, Ashley, Jimmy T, Kat, Ana plus more, and this time they're actually playable, each with their own unique abilities with advantages and disadvantages depending on the current minigame.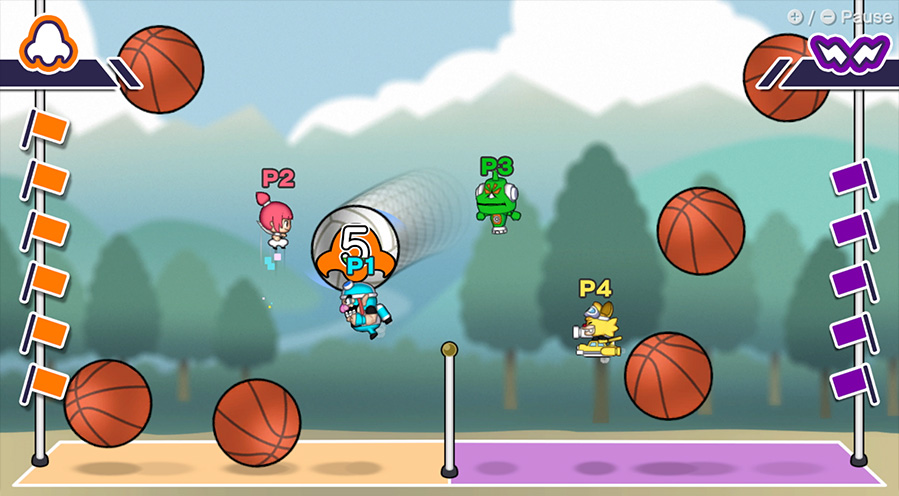 The game's plot is simple and enjoyable with a bright, cartoony vibe but wastes no time getting players straight into the game. Each character plays like they're in a 2D platform game, but the various minigames will keep players on the edge of their seats, testing their reflexes and coordination with the game speeding up as players progress successfully, which also increases the difficulty factor and adding to the intensity. This creates a very challenging and addictive game that will keep players coming back for more. As players progress through the story, more characters and minigames will become available for players to test their mettle.
The minigames include a large variety of unique themes and have their own conditions for completing them. Whether it's plucking armpit hairs from a Greek statue, pulling the plug from a bathtub, rocking a crying baby to sleep, or spinning the wheel on a windmill, the various games force players to work out basic mathematics on the spot and so much more. There will never be a dull moment in this chaotic party game. Players will be given four lives and will need to make them last as they attempt to conquer the minigames with increasing speed. There will also be boss battles at certain points, also with their own themes and conditions for success.
All the minigames can be played both in single-player or 2 player co-op mode, which will either make things easier or more frustrating, but overall are absolute fun. Previous WarioWare games also had multiplayer available for up to 4 players, but it was each player taking turns in the minigames until one player is left standing. This was most certainly fun in its own right, but the 2 player co-op mode really adds something new and fresh, which is great to play with a friend for double the fun.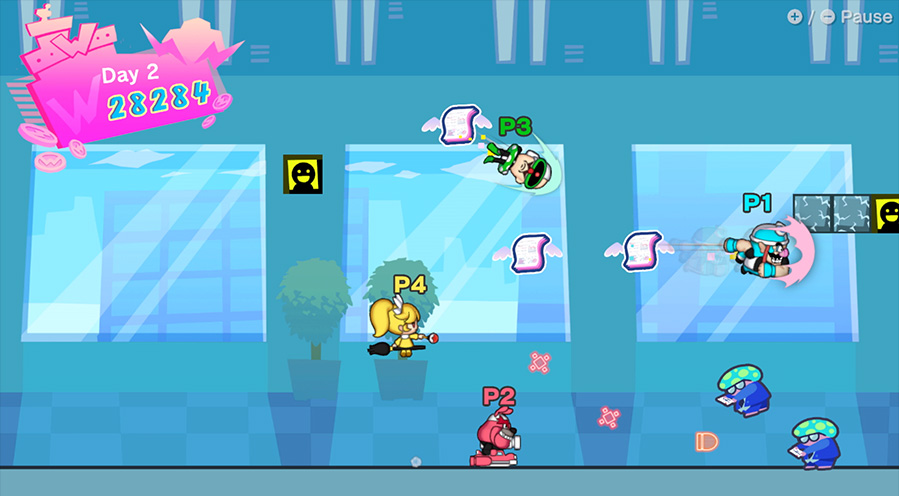 There is also a PVP mode for up to 4 players to try and outlast each other, but this doesn't have as many minigames to play compared to the rest of the game. This mode will be fun at first, but won't last as long due to the severe lack of variety. Hopefully, more games could be added in a patch update perhaps. Online leaderboards are available for players to compare their scores with the rest of the world, but unfortunately, there is also no online play at all with any of the modes, which is a real missed opportunity.
The overall presentation has a very simple but very lively, bright, and colourful cartoony style, with a diverse cast of characters, menu screens, maps, and all the minigames. The large variety of upbeat music perfectly suits each character's personality and all the minigames included. Of course, the legendary voice of the Mario Bros, Charles Martinet as Wario can be heard throughout the game. Unfortunately, his other iconic role of Waluigi is not included yet again, but hopefully, the just as wicked brother of Wario will one day finally get his due.
The large variety of minigames, cast of colourful characters, and the increasing speed, intensity, and difficulty of the addictive gameplay will surely keep players coming back for more. 'WarioWare: Get It Together!' is another solid entry in the WarioWare series and a fantastic party game for friends to come over and join in on the madness. "WAAAHHHHH!!!"
The Good
Large variety of minigames with their own themes
Addictive and increasingly challenging gameplay
Loads of replay value
Classic Nintendo games being represented
Colourful cast of characters
Bright and colourful presentation
Online leaderboards
The legendary voice of Charles Martinet
The Bad
No online play at all
PVP mode is severely lacking
Waluigi being excluded yet again