Wolfenstein: YoungBlood appears to sit comfortably right at home, warm and familiar, but in the same sense feels distant and cold, almost enstranged. This game has the internet divided at the moment, people generally don't adjust well to change but how much change is justifiable? And is it innovative change?
Set 20 years after the events of 'The New Colossus', The Blazkowics are back, and their twin daughters, Jess and Soph, are no longer babies. Living in the liberated America, the fear of The Nazis still flows through B.J and Anya veins, as we open up on a scene of them training the girls to defend themselves. When word of a Fourth Reich rising in Neu-Paris and the recent disappearance of their famous father reaches the girls, these twins jet off on an adventure to France to find their dad and kick Nazi butt. Now, while the story is interesting enough and mildly follows the line of most Wolfensteins, it is a lot slower at rolling out the action than it should be and less sincere.
Gameplay is the typical first-person shooter associated with the franchise, with some surprising RPG elements. Most noticeably, the entire game is Co-op with either an A.I. or a friend. Collecting missions from the headquarters in eerie, Parisian catacombs and using a range of guns, you must double jump and blast your way through enemies in a storm of burning fury as you navigate different regions of Neu-Paris. Using the Metro train lines you can fast travel to a few open areas around the map to complete various objectives.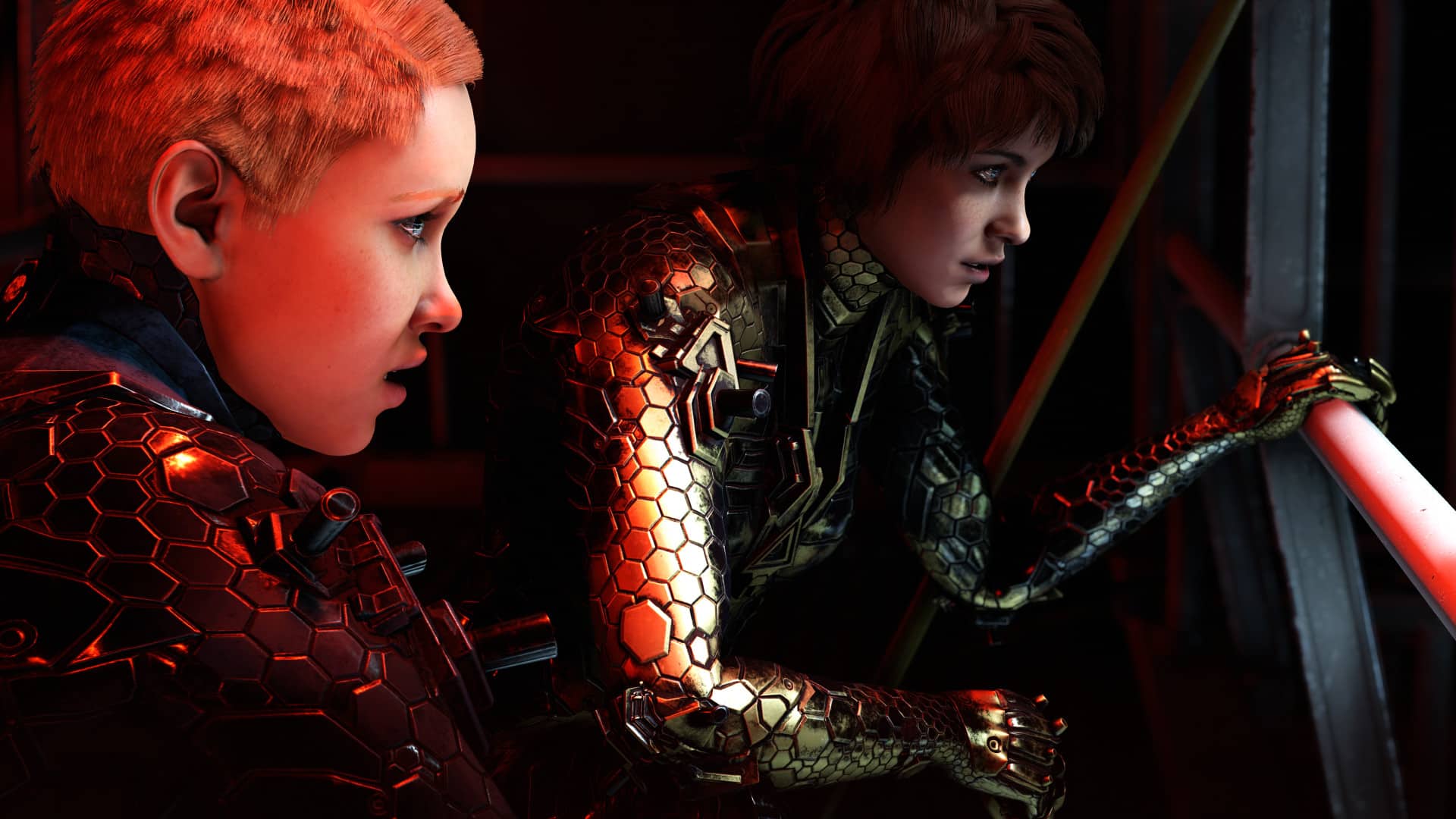 The vast array of guns are very enjoyable to use and handle differently, using two types of ammo that are more effective on some enemies than others. While I actually liked the fact that you often had to swap between guns to combat certain classes of enemies, I didn't like that it slowed down the fast paced action the illustrious franchise is known for, especially when it wasn't every now and then but literally every like second enemy. Its get repetitive, real quick.
As you mow your way through enemies you can collect coins, the in-game currency and level up to obtain ability points. I actually enjoyed the RPG elements, as the game wasn't that stingy at supplying coins or missions to obtain them. These can be used to buy camos and attachments for guns and to upgrade Soph or Jess with health boosts, dual wielding and other such abilities. While there is no micro-transactions yet, you can feel it in the air. This sucks because this game really doesn't need it.
While some have complained about the AI, I found throughout my play-through it was quite competent at working with me to complete missions and often stuck to me like glue. The most entertainment value however is from playing with a friend, where you can communicate how you will tackle the objectives. I found connecting other players from my friends list and to other servers seamless with my partners dropping in easily mid-game, though I did play on Xbox and not notoriously on PC.

Now, for my biggest, most unforgivable gripe. There is rarely a game now a days that can get a way without checkpoints or saves. You would not believe the resent, dejectedness, and rage I felt after spending 45 mins in a main mission, having the A.I. die in an impossible spot, thus failing the mission. Oh wait, it gets better. Like a kick to the groin, you will very quickly discover as the loading screen clears, that you are back at the front of your headquarters, with less ammo to boot. Literally, right back at the start. I think I broke my controller on stream, I was that mad.
Thankfully, the visuals are beautiful, gritty and full of detail. Paris is oozing with character and the many buildings are scattered with little design elements that makes the world feel like it was once lived in. The enemy mechs, dogs and even footmen are so meticulously designed and are at times, terrifying to come up against. The music is another highlight with those 80's sync/retro vibe upping the enjoyment of battles, while rarely present, every time I felt like I needed to crack open the hairspray and fluoro legwarmers. The voice acting is pretty ordinary surprisingly, with the sisters at times just so cringe-worthy, that they are actually way more like-able when they are silent.
I wanted this game to be a 5/5 so much, to slot into the Wolfenstein Franchise effortlessly. It just doesn't. It's a shame really because at times I had a right old laugh playing with the boss, but it just doesn't feel like the innovative Wolfenstein, we all know and love. It is the base of a what could be a decent shooter, but lacks both soul or spirit. Let's hope this is not truly canon, right guys… guys.. guys…? Dear god.
The Good
Interesting enough story-line
Easy connectivity to Co-Op
Fun variety of guns but not new
At times an explosion of fun, gameplay wise
The detailed atmospheric graphics
Interesting and cool looking enemies
80's retro/syncwave music
Game share with the deluxe edition
The Bad
Slow rollout of story and gameplay
Can be repetitive
Non-existent check pointing and saves is inexcusable
Cringe worthy dialogue from characters that could be so well developed
Slow down of action having to change guns all the time