To help with seasonal preparations we have compiled a one-stop Holiday Look Book to showcase all the best and most popular laptops, desktops, accessories and more. All noted prices are in AUD.
Whether you're shopping for the tech-obsessed, an avid gamer or just someone you believe deserves awesome tech for work and play, Dell and Alienware have something for everyone.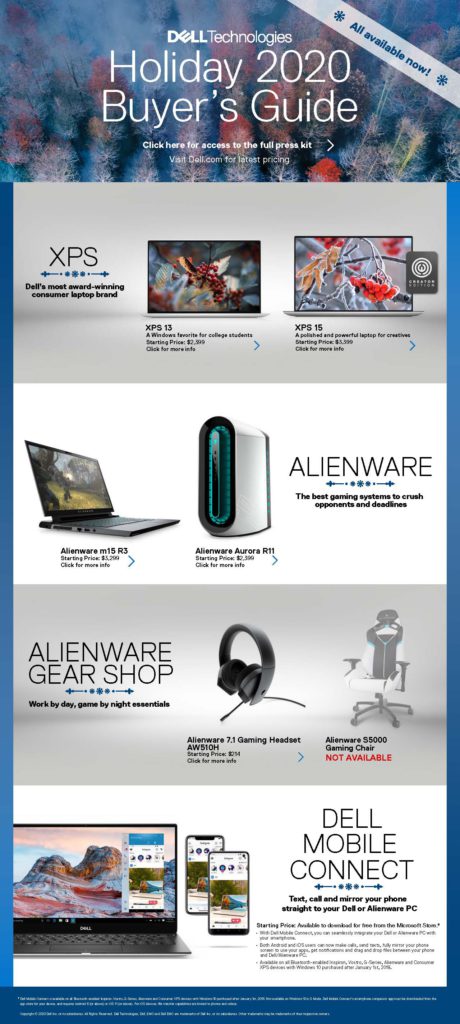 No matter who you're shopping for these holidays, we've handpicked a selection of gaming and personal computers that will give them an unforgettable experience for Christmas – an experience that will last long after you've packed up the tree.
· Dell XPS 13 | Prices: starting from AUD $2,399 | From university students to professionals, Dell's most award-winning laptop – the XPS 13 is the perfect gift for those who seek performance and portability, all with a wide and beautiful display.
· Alienware m15 R3 | Prices: starting from AUD $3,299 | Whether a serious gamer or a dabbler, the Alienware m15 R3 laptop offers superior performance encased in Alienware's iconic designs.
· Alienware Aurora R11 | Prices: starting from AUD $2,399 | For the serious player, the Alienware Aurora R11 desktop offers the ultimate gaming experience, with best-in-class high-resolution audio and noise isolation.
Alienware Aurora R11 Spec Sheet
· Alienware 7.1 Gaming Headset AW510H | Prices: starting from AUD $214 | Images | Whether one is after the perfect accessory to their gaming needs, or simply seeks quality sound, Alienware's 7.1 Gaming Headset lets the user battle games, or even a task, with comfort and ease.