Here I am again with the next episodic review of 3 out of 10, with Episode 3 titled 'Pivot Like A Champion'. Before I dive into the next chapter of this narrative powered game created by the talented Terrible Posture Games, you can read my thoughts on episode 1 and 2 at the links below:
Episode 1: https://www.mkaugaming.com/all-review-list/3-out-of-10-ep-1-welcome-to-shovelworks-review/
Episode 2: https://www.mkaugaming.com/all-review-list/3-out-of-10-ep-2-foundation-101-review/
Continuing on with the antics of our interesting group of video game developers at Shovelworks Studios, our lead protagonist Midge is yet again mixed up in some workplace misadventures. Things at Shovelworks once again turn to disarray when their shoe-less, hipster boss proposes the next big thing in games… is a Battle Royale. I can feel you realistically rolling your eyes too as the big honcho announces that he wants this aspect implemented into their latest game in development; 'Surfing with Sharks', but the rest of the development team has better ideas to pivot towards.
When a team is torn like this, a decision HAS to be made, and how else to settle it? The office getting into a full swing battle royale of their own, of course. Yet again, the absurd humour is present along with a few winks at the games we all have played, especially the Battle Royale genre.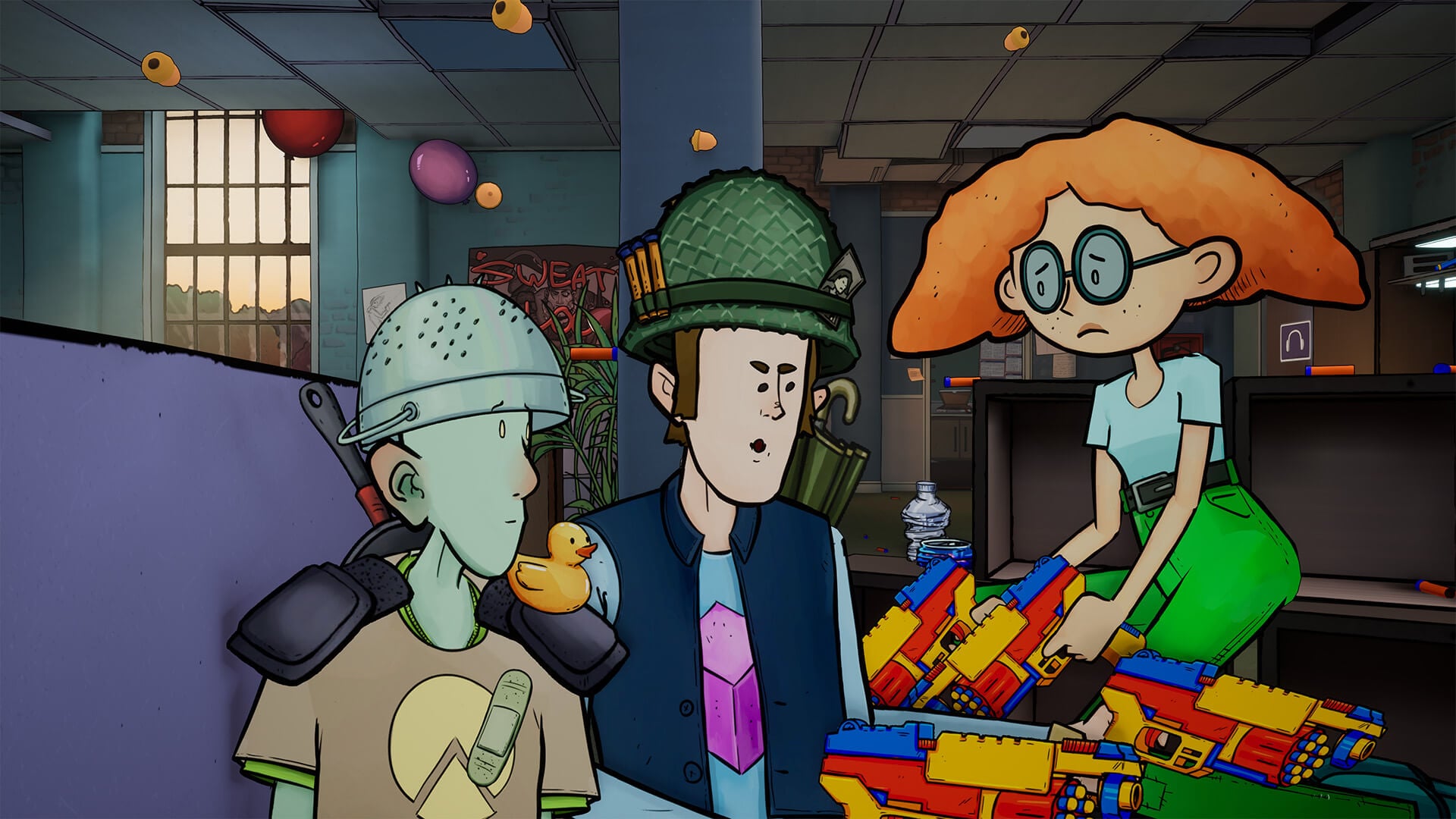 The mini games are also present still and are a nice mix up from the previous episodes. A cool skydiving mini game and a pun intended boss battle, were a nice inclusion. One thing I have noticed so far is that all the mini games have not doubled up and have always been a different style of game, with the only constant element being the series characters.
Saying that, there never is any real pressure to be good at the mini games but are just for pure enjoyment. I, myself, have been focused on the story line but in this episode the mini games shined more for me as it does feel more of a filler episode than one that continues the main plot. Don't get me wrong, the humor and small pokes at the battle royale genre was nice and it is good to see someone making fun of types of games, that now are just so over done.
Overall, Episode 3: Pivot Like A Champion keeps the ball rolling from episode 2 enjoyably and I'd like to see more stabs at the video game genres and the industry, as sometimes the best humor are the jokes we all know are there but no one really wants to touch on. Again, I look forward to the next episode and the highly energetic and quirky characters at Shovelwork Studios. Till next week's episode.
The Good
Absurd Humour
Interesting narrative
Animations
Voice acting
Simple controls and mini game
Enjoyable characters
The Bad
Episodic (have to wait for the next episode)