Alex Kidd returns to the gaming fold with this new remake of the original Alex Kidd in Miracle World, which was released in 1986. While Alex Kidd was a SEGA character for many years, the remake is made by Merge Games and Jankenteam and is out now on Play Station 4|5, Xbox One, Series X|S, Switch, and PC.
Alex Kidd was part of my early childhood, and rewinding to Christmas Eve of 1992, my parents stayed up till the early hours of the morning playing Alex Kidd in Miracle World on the Sega Master System, all so that on Christmas day they were able to help me and my siblings when we got stuck.
The plot for Miracle World is that Alex Kidd has trained to become a martial artist, learning of a villain that has turned villagers to stone and kidnapped Prince Egle and his fiancée, Princess Lora. As he sets off to save the day, Alex discovers he is the long-lost son of King Thunder, so his quest becomes personal as he aims to save his brother and future sister-in-law while protecting his family's kingdom.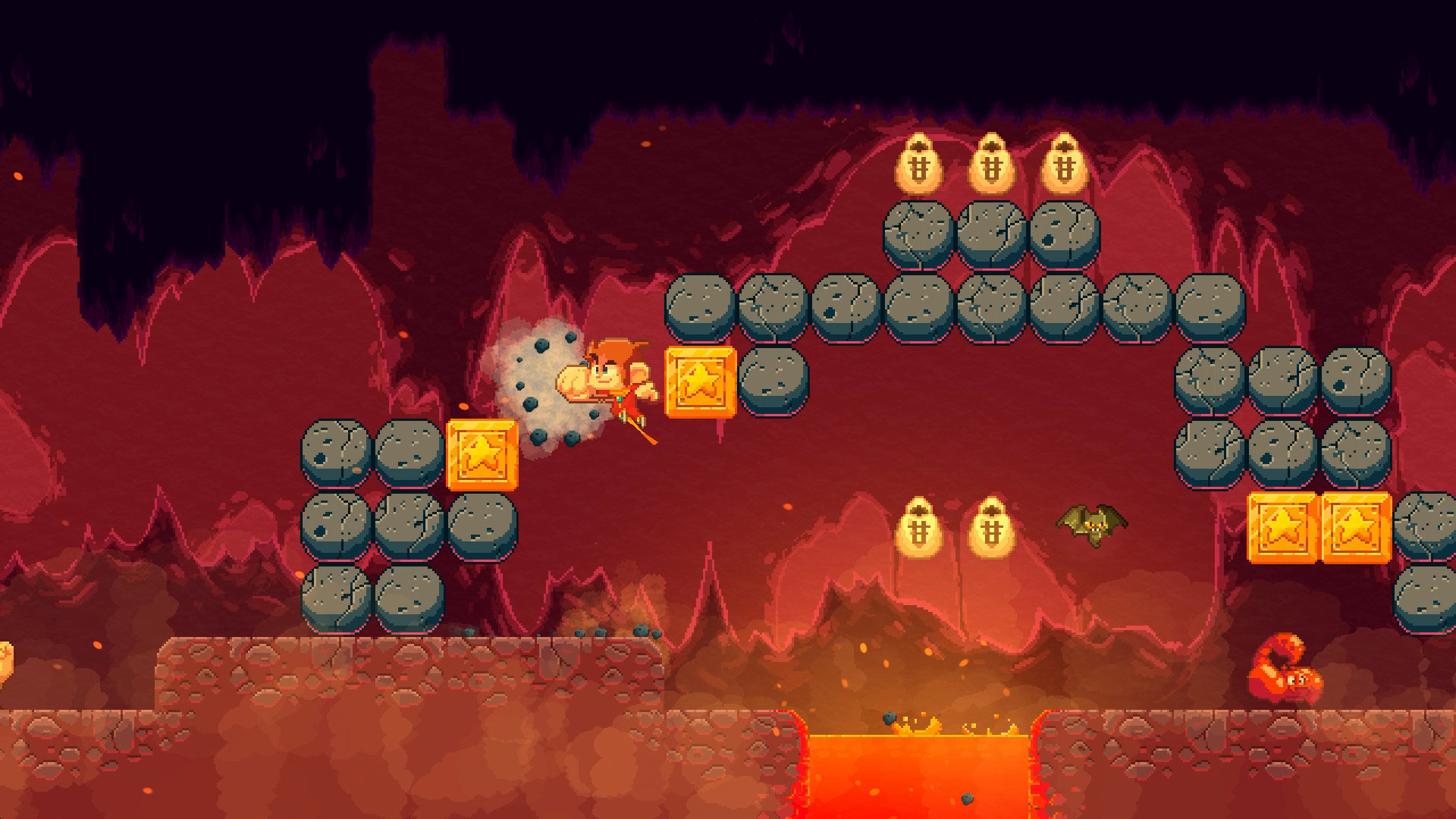 Alex Kidd was a single-player 2D platform game, and this remake keeps true to what the game used to play like, but with new updated models, and an easier controller layout for using power-ups that Alex can acquire on his quest. When players finish the game, they will unlock Boss Rush mode, where you have the chance to fight each boss again, only without lives or having to take on the whole level again. There is also Classic mode, where you get to experience the original version of Alex Kidd in Miracle World from the Sega Master System era.
The controls are that of any side-scrolling game with one added extra. If the player hits the trigger it will change the graphics to an older 8-bit input, which I honestly found easier for certain platforming parts as some hitboxes felt off. Using power-ups has been made a lot easier in the remake version as they can be swapped and used in-game without having to pause as you did in the original Miracle World worked.
Alex has always had one flaw with his martial arts and it still holds true, even in the remake. He can't attack up or down, yet there are many moments you need to jump and punch blocks to progress. The majority of mini-boss fights still feature a game of scissors, paper, and rock as a minigame. If you try and make a choice early enough, you can basically read your opponent's mind and switch out at the last moment to score the win.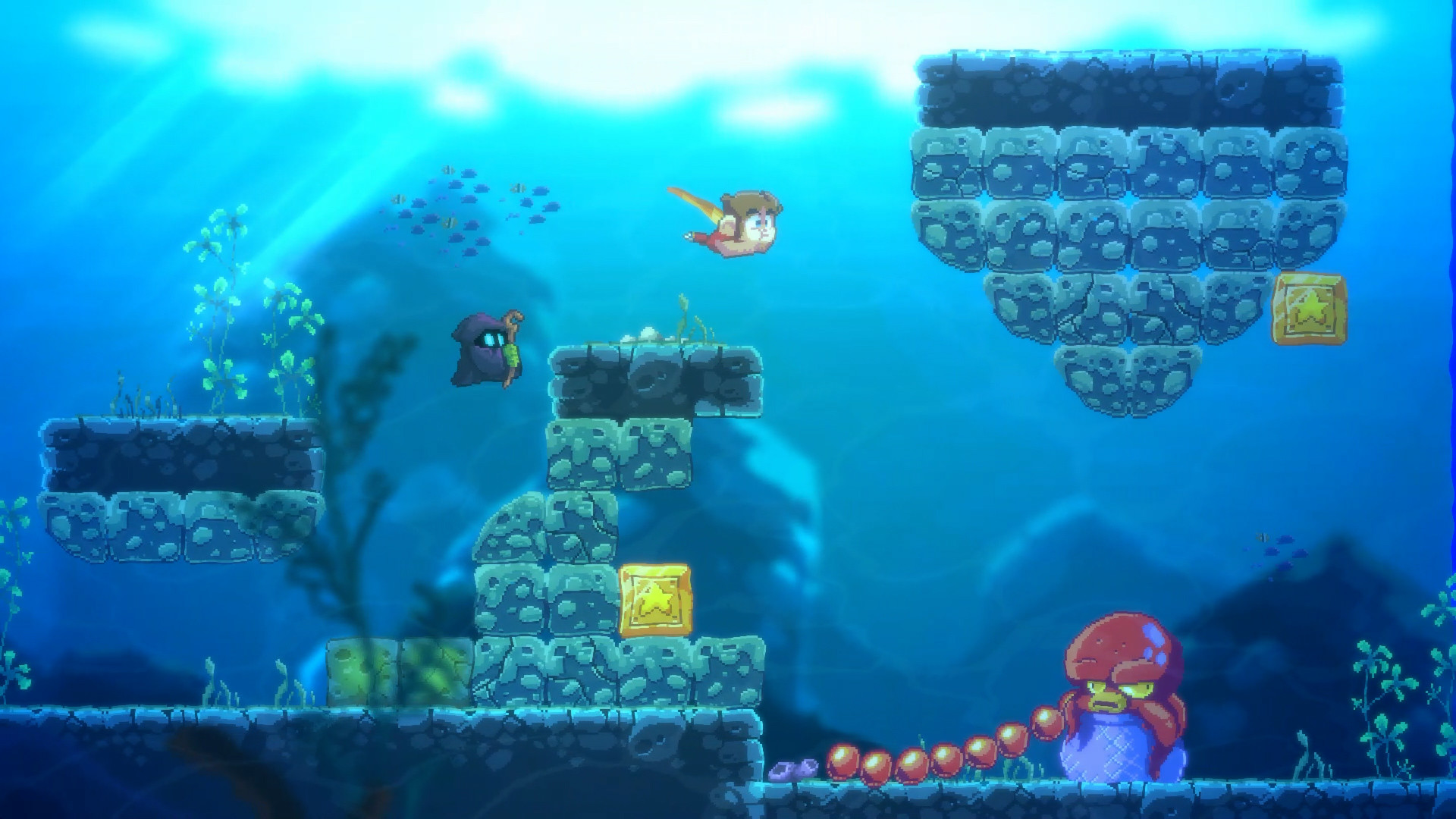 The facelift for Alex Kidd, his enemies, friends, and the world is a nice touch, adding backgrounds to the worlds where they were once blank, or giving the characters some extra details are a welcomed change. Alex himself was a little brighter than his environment, so for the most part he is easy to keep track of, but in worlds with brighter backgrounds, it was quite easy to lose him. Thankfully they didn't change much in terms of the sound effects.
The original games always had a tune that would get stuck in my head and it was great to hear them again. There are new additions to the tunes that do add some extra melody to them, but the base track has not changed at all.
As a bit of a fun fact back to close things off, in 1984 Alex Kidd in Miracle World was originally being developed as a tie-in game based on the Dragon Ball manga series. Unfortunately during development, the Dragon Ball license expired and the SEGA CEO ordered the game to be started over. If it wasn't for licensing issues, Alex Kidd would have actually been Goku.
The Good
Kept true to a lot from the original
Newly updated music tunes
Being able to swap to classic graphics
Having the classic mode is an extra wi
The Bad
A few hitbox issues with enemies and platforms