Big Ant Studios are an Australian crew who have published and developed games such as Ashes Cricket, AO Tennis and they've even made a mobile game for BBL, and ever since their mobile BBL game I've craved a console version.
So what's Big Bash Boom? It's the coolest damn cricket game out!!!! T20 cricket was created due to the declining numbers of fans going to 5 Day Test matches and One Day games. T20 games are fast paced and highly entertaining games to watch. For those that don't know, it's where both teams bat for 20 overs each. T20 is not only played at an international level but domestic cricket supports T20 so much so that Cricket Australia created what's known as the Big Bash League Tournament, shortened to BBL or WBBL for the women's tournament.
All 8 teams from the BBL/WBBL made the cut and those teams for people who have never seen the tournament are Sydney Sixers, Sydney Thunder, Perth Scorchers, Hobart Hurricanes, Melbourne Stars, Melbourne Renegades, Adelaide Strikers and the team I support, Brisbane Heat. Along with all teams also means all players who play the 18/19 season for both genders made the cut as well. The grounds you'll play at are also the real deal, Brisbane's The Gabba, SCG,MSG there are 8 in total.
Now, even though this is a game based from BBL (T20) you can play T20 matches or play with less overs per side if it's 10 or 5 overs.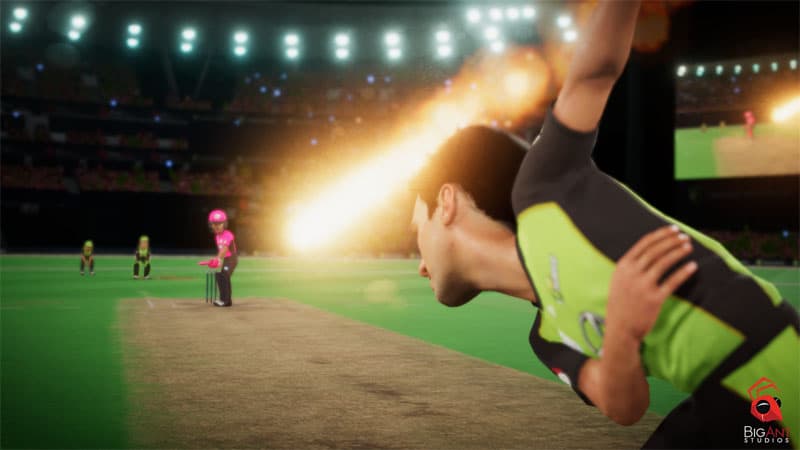 The game gives you the option of three modes, they are:-
Casual
This is for players who don't want to play online or if you don't want to play for a long time competing in a BBL tournament. Casual allows 5, 10 or 20 over games and you can play at any location as well as choosing both teams. You can also change the line up or batting order and a number of other changeable things.
Tournament
Tournament follows the real calendar of BBL matches for the 18/19 season. You'll pick your team and play all their matches, there are 14 rounds and some rounds you'll skip due to byes. It's all about reaching the finals and becoming the 18/19 BBL/WBBL champions. Now, there's one exception that's allowed in the Big Bash Boom Tournament and that's the fact you don't have to play games of 20/20, again just like casual matches you can play 5 or 10 over games.
Online
Big Bash Boom is fun playing alone versing AI but multiplayer is also available either local or online, be it a friend or a total stranger. Now, I was hoping this would be in good working order but I'm ashamed to say that matchmaking doesn't seem to be all that good, and that's just not cricket, but if you manage to find a game there is ranked matches or custom matches.
I reviewed on the PS4, and it was mostly a good experience. My only issues with gameplay were things like hitting a ball clearly seeing it fly over the rope to only being called as a 4 instead of a 6. Another issue was when batting, the batsman can run radically between wickets causing unnecessary run outs.
Big Bash Boom doesn't claim to be a realistic cricket game, unlike Ashes Cricket so players all have over-sized heads and you can do some outlandish celebrations as a batsman, bowler or fielder. You can customize every player from their bats, hats or helmets. Than you can go one extra and play a game of cricket with a normal ball or a potato, pie, cherry, gobstopper or a tennis ball.
When facing AI you can play on either easy, medium or hard difficulty. Prior to a game starting the game randomly spins both teams logo which ever it lands on then chooses if they would like to bat or bowl first. Power ups are specials for either the batter or the bowler/fielders to use, such as having the ability to jump high in the air to catch balls, or setting the pitch on fire which prevents both batsman's from running forcing them to attempt 4's and 6's every ball until the power up is finished. When activating a power up the players will do a short intro to let everyone know that ones in play and what it'll exactly do.
Did I mention that customizing players is a fun thing to do, as are the celebrations? What I failed to tell you was that some are rewards randomly given out for just playing the game, all the rest are going to cost you, and some require you to grind them out. Money is earned from getting runs, using good footwork and getting people out.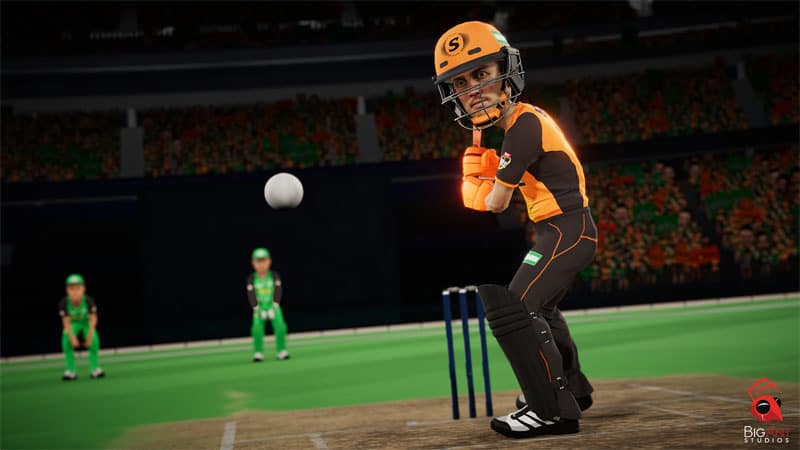 This is intended to be fun to play, so controls are fairly basic. As a batsman moving your left stick which on the mini map there's a yellow area and that's where you're going to hit towards. You'll have four hit choices, loft, attacking, defensive or advanced. You can also hit off your front foot or back foot but you'll need to choose your shots carefully. You as a batsman can move around the pitch to some extent and power ups for both batsman and bowler are activated using both triggers. As for bowling, you'll have pace, leg spin and off spin, each type of bowler has their own style of deliveries. You'll see where the ball will land on the pitch and you can dictate where that'll be. After this you'll select your delivery and as you approach the pitch you'll choose a pace for the ball. When it comes to fielding for the most part sometimes a ball can be caught by a fielder automatically, but mostly the camera cuts to the possible catcher, and time slows down and you'll move your stick into the circle and press X (On PS4) but if you're too slow you'll drop the ball. Button prompts will come on screen for most things, but what won't display are the prompts to do celebrations, besides the icon that appears of screen letting you know you can do one. You'll have to look in the celebrations option in the main menu and remember the ones you want to use in the future.
Big Bash Boom is a great looking title when it comes to gameplay, but the main menu is fairly average. It's just large squares with a picture and the name of that option below it, though you'll hear music while at the main menu, it just seems to be missing something, like if David Boon was without his iconic mustache.
Visually speaking Big Bash Boom hits it out of the SCG. Players for the most part look like they do in real life, minus the over sized heads. The crowds can be seen and heard when you flog a six off the meat of the bat. The crowd will be a mix of two colours which depends on both teams who are playing the match, they'll hold signs up on every 4 or 6. The crowds cause a great realistic atmosphere they'll cheer and just before a ball is played they'll become fairly quiet.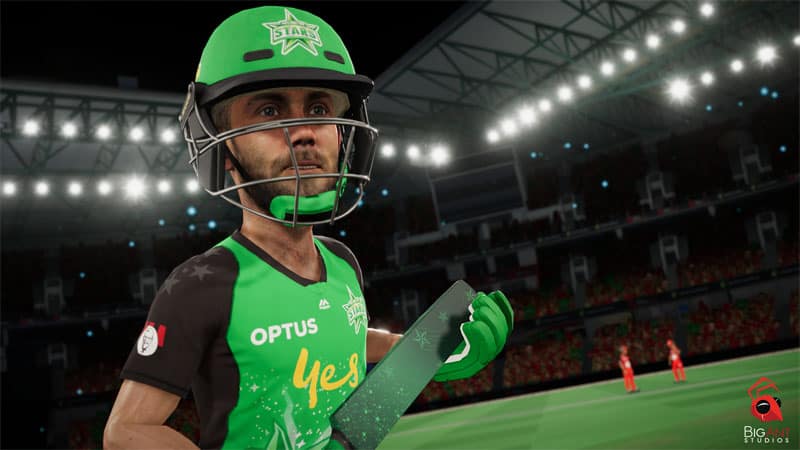 When you hit a ball and that sucker goes high and far it'll transform into a comet like ball with a long colored trail, the colour it is and the sound it makes will depends on the team hitting the ball.
Professional sports are a sponsors dream, but it's not just players who show sponsorship. The stadiums you'll play in will show Weet-Bix signage and the BBL's biggest sponsor is KFC, as for the WBBL Rebel sponsors them and those two are seen quiet frequent when playing this game. I can agree that the sound for the most part is good, but there is a starc reminder that commentary is as bad as a wide ball, oh how is that so? Well it's as bad as listening to Kerry O'Keeffe commentate on Fox Cricket. There are times the one and only voice misses cues or calls plays before the umpire has made his decision. He only says so much before he's repeating himself.
The HUD isn't the exact same as on television, but one sides for the batting and the other is for the bowling team. You'll see the bowlers balls as they are bowled, and the batsman's runs displayed under their names. The top middle of the screen is the field map so a batsman knows where the fielders are and either side of the mini map is each team's power up bar that'll slowly fill up. The bottom left shows a picture of the wickets not really there for any reason but next to that is your gamertag and the amount of money you are either earning or have earned.
Being an avid cricket fan I didn't want to just say you must get this game! It's good for the most part, but glitchy at times. You can tell where they spent the most time on and where they hadn't. Playing Big Bash Boom I really enjoyed it, but $90 is a high asking price for what the game offers.
The Good
A fun BBL game
Players look to their likeness for most players
The whole 18/19 roster of players for BBL & WBBL
The Bad
Poor online matchmaking
Game can be glitchy
Questionable price for such a game