Originally released back in 2014 on PC, then 2015 on iOS and Android devices, Door Kickers is a strategy game developed and published by KillHouse Games with the player taking control of a squad of elite special forces. It is now available on Nintendo Switch and this time published by QubicGames.
This indie game takes a very different and unique approach to the tactical shooter genre. Instead of a first-person view, it has a bird's eye view similar to classic Grand Theft Auto games. Also, instead of a whole city, each stage is focused on a single building with a number of rooms, various obstacles to factor in, enemies to take down, bombs to defuse, and possibly even hostages to rescue.
There are more than 80 missions available in the game. Tutorials will help explain the game's mechanics and more tutorials will appear in later missions to teach players even more mechanics that will become vital for the more challenging missions. A mission brief will also appear at the start of each stage detailing the objective, bonuses, and their conditions.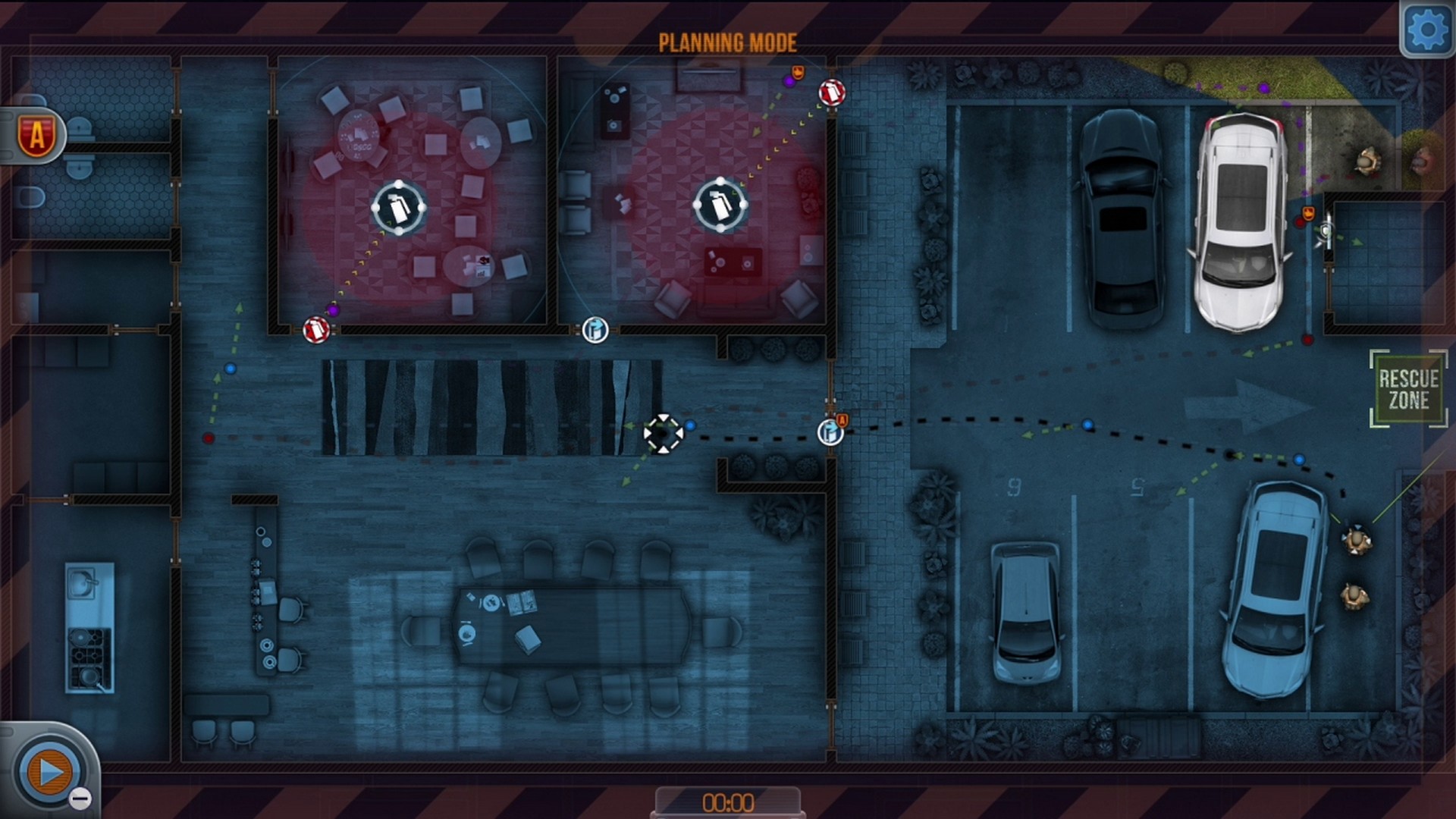 Instead of players controlling a single operative, running through the rooms, and shooting any enemy in sight, they'll need to strategise and work out the best plan of attack with a team of operatives. At first, they'll only have a layout of the building and where each room is without knowing the enemies' positions. A certain number of operatives will be available depending on the mission. Each operative can be selected individually and have their route planned out through the building. They can either have the same route planned out and stick together as a group or completely different routes and go solo or smaller separate groups.
Players can also choose to plan out smaller routes, for example, they can plan a route that ends at the first room to make sure it is cleared out, then plan the next route for the next area. This gives players the option of clearing out a building bit by bit or plan an entire route from start to finish to gain the best tactical advantage. The mission will be successful after every enemy has been taken out.
Few weapons will be available and more can be unlocked as the player progresses through the game. More operatives can also be unlocked, each with their own unique weapons and abilities, which will definitely aid the player for later missions. Enemies will also become progressively harder going from small-time criminals to terrorist level threats who come equipped with more powerful weapons.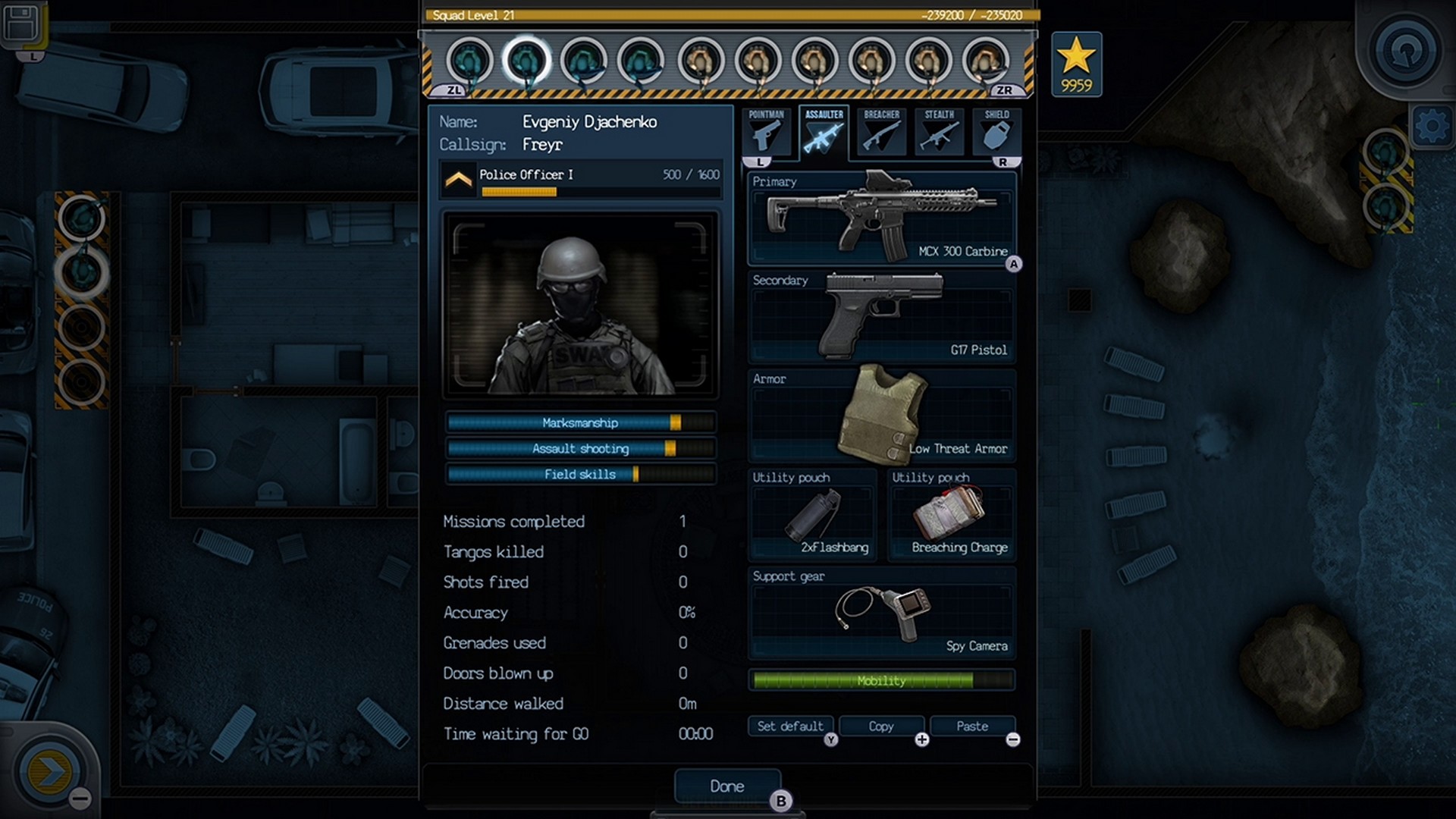 The later levels will surely provide a really challenging experience for players to test their skills. Each level can also be restarted instantly so players can achieve higher scores, bonuses, or try out different strategies. Replays can also be saved so players can relive their favourite moments.
The 2D graphics are simple, but really well done to perfectly illustrate the intensity and grittiness of these life-threatening missions. The sound effects of guns firing, flashbangs exploding, doors being kicked in (hence the game's title) and even the communication between operatives also compliments the gameplay and adds to the experience.
Door Kickers definitely takes a very unique approach to the tactical shooter genre and the Switch version allows the game to be played with a controller in docked mode or handheld mode which offers both controller and touch screen options much like the iOS and Android devices. The game could even be used as a tool to teach new upcoming operatives how to enter and clear out a hostile building as safely and efficiently as possible. Even though the enemy A.I. can act a little odd at times, Door Kickers is still a thrilling and satisfying experience and gives players a good insight into the work of special forces. Perhaps, the sequel Door Kickers 2 may also become available on Nintendo Switch soon.
The Good
Over 80 missions available
Unique take on the tactical shooter genre
Thrilling and satisfying experience
Can be used as a tool to teach new upcoming operatives
Lots of replayability
The Bad
Enemy AI can act odd at times