It is fabulous to see the Nintendo Switch build a solid line up of games at a rapid rate since its release 2 years ago. While this console seems like it was made for platformers and arcade style games, it is pleasant to see some titles with some longevity and plot driven action, just like this little gem.
Masquerada: Songs and Shadows is a renaissance inspired, third person RPG by Witching Hour Studios. This single player game is available on the Nintendo Switch May 9th and after pumping several hours into it, can honestly say this game is definitely a black sheep.
You step into the shoes of the exiled Cicero Gavar, who after 5 years is back in the city of Ombre reluctantly returning to this land of magic and mystery. In this town ruled by politics, warring guilds and diplomats fighting for power, you are tasked with finding a missing ambassador who may have uncovered the secrets of the 'Fey', magical creatures that have suddenly turned very hostile. Wielding the magic of the Venetian style masks known as 'The Mascherines' will Cicero be able to uncover the truth to all the turmoil before it is too late?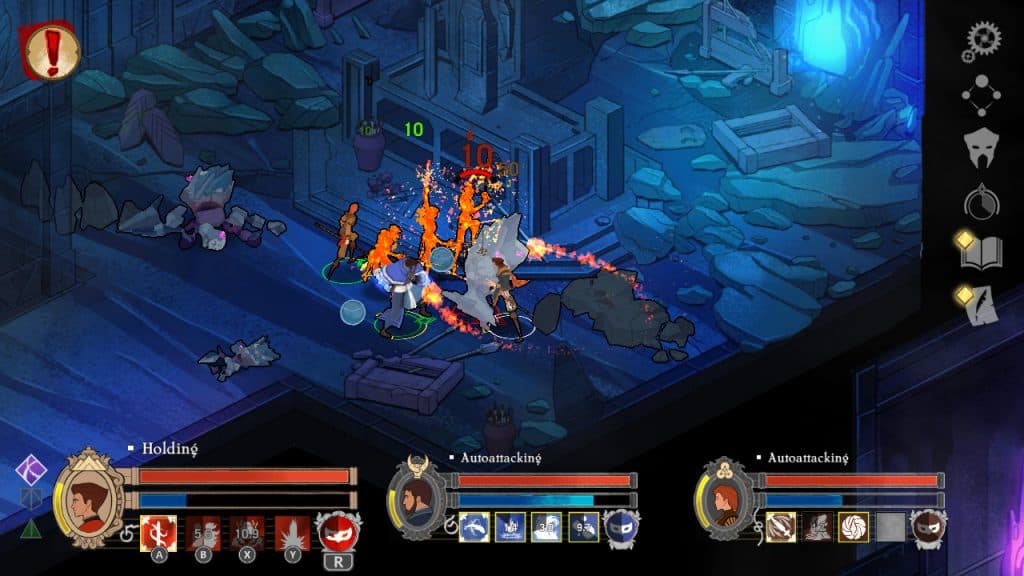 The plot is a lot to take in at the beginning and requires a lot of reading through codex that are scattered throughout the world. Once you get over the overwhelming amount there is to read and the French motifs, the tale is very charming, deep and intricate, albeit a complicated one.
Gameplay is very reminiscent of a Diablo game, probably a reason why I couldn't put it down. Combat is a combination of free roaming, tactical deployment of skills and strategic pausing to decide what enemies are the most important to take down first. Fighting enemies gives you skill points and these can be used to unlock, and upgrade passive and aggressive attacks mapped out to your buttons. Each of these attacks are based on elemental influences and combos such as fire, ice, earth etc. As you progress through fights with enemies an ultimate attack charges, especially good for finishing off those tougher enemies.
As you progress you build a trusty band of allies that you can switch to in the fight, create a formation and upgrade with their own set of skill points and upgradable powers. This made the combat way more intricate as you take certain stances which some characters specialize in and develop the ability to flank your foes.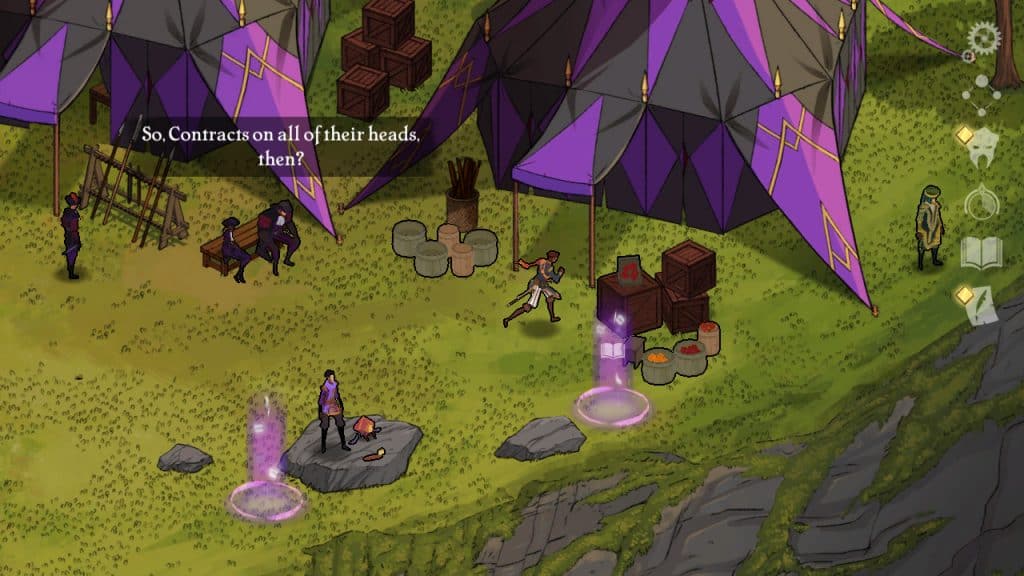 The environments are very linear despite the openness and detail of them, which can be disappointing. You don't get many chances to go off the beaten track and even then they are pretty empty despite the many caves and cities appearing quite elaborate. This is due to the gorgeous artwork by the developers. The hand drawn animations and environments are brightly colored and boldly outlined making it pop throughout, even utilizing colour in a way to distinguish the guilds is effective and well planned out. Each mini cut-scene despite being so simple is strikingly lively.
The voice acting is also top notch and you would expect that with the roster that this game has employed. With the likes of Matt Mercer and Rick Wasserman you can't help but hang off every word. In saying this, while the title screen opera can be a bit cheesy with the already historical style, however the music throughout and environmental effects really set the scene in-between exploring and combat sequences.
Overall this charming RPG was a decent trip from start to finish. It has enjoyable combat, deploys a good use of an ally system and is gorgeous to look at. With a strong French flair, this is one game that oozes with character.
The Good
Unique tale that has you pushing to find out more
Comprehensive and fun combat systems
Extensive and customisable combat approaches
Interesting use of allies in combat
Gorgeous artwork and animations
Superb voice acting and environmental tracks
The Bad
Complicated storyline
Large quantity of codex to read
Very linear game play
At times, cringe worthy music