The Modern Combat series has been around since 2009 and most have only ever made it to mobile devices, but that stops with Modern Combat 5: Blackout. The only difference is the console version doesn't include the number 5 in its title.
Launching on Nintendo Switch mid-February 2019 and coming to Xbox One & PlayStation 4 one month later, this game is something the Nintendo Switch needs more of because there aren't any of the latest Battlefield or Call of Duty style games on this console. I had high hopes for Modern Combat Blackout, then I started playing it and was heavily disappointed.
The best aspect of playing Modern Combat Blackout right now was the campaign. You play as Clayton Phoenix, this guy knows how to use just about anything while putting his ass on the line going up against a terrorist group called The World Liberation Army.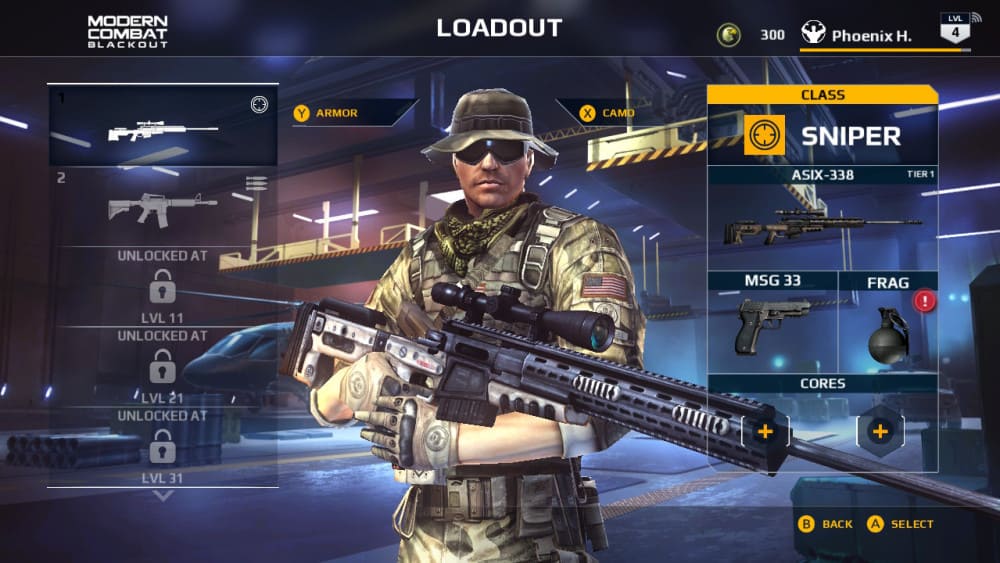 I'm quite capable of shooting things at least in the virtual world, though besides playing Wolfenstein 2 on Switch, this game is just my second first person shooter and well, I was a little out of my depth. Playing this in handheld mode was difficult for me as I'm use to the longer sticks on both Xbox and PS4 controllers. The joycon sticks just don't feel right playing these sorts of games. I just couldn't aim without feeling drunk. Thankfully I could just kick the stand on my console and pull out my pro controller and I found this to be much more precise.
Playing MCB felt like any other shooter except I was playing on a Switch instead. You can automatically climb through windows, aim down sights, and shoot and throw Grenades. There are a decent number of weapons, 14 to be exact. That includes a shield and turret, while the others are a mix of SMG, pistols, assault rifles, sniper rifles and shotguns.
The campaign was great, local multiplayer also great, but all the game needs is more players for playing online
Whilst playing you'll complete challenges without even trying, but you can check what these are and attempt to do the ones that you do not get by chance. Challenges reset every 24 hours & once completing them, you will earn amounts of in game currency to spend on combat packs and limited time items in the black market. The black market is something that also resets every 24 hours. Combat packs cost 400 credits for 1, or 3200 credits for 10. Each will give you 1 of each of the following body armor, kill sign, weapon camo, mask and a weapon trinket.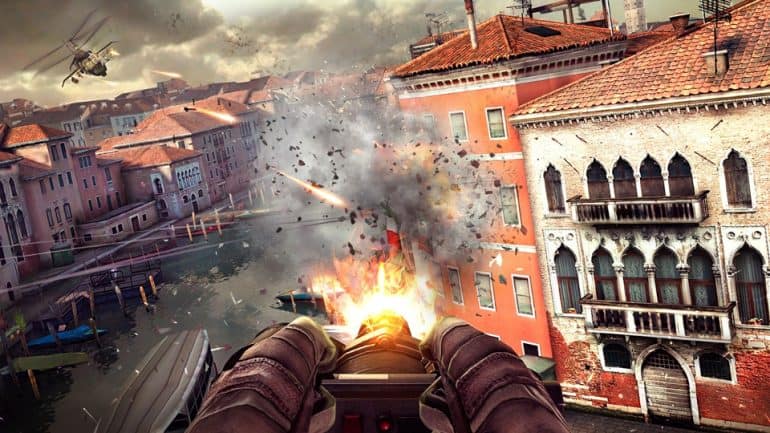 Games that have a strong online community tend to give you a choice to make a clan to join you and your friends together in a show of strength, in Modern Combat Blackout you can create or join other players squads and play together, but you need more than just yourself to make this worth your while.
The games main menu gives you options for the campaign and online/local modes as well as the store. But going into the profile section will show your player stats, weapons, medals earned and your kill sign.
Multiplayer would expand the game so much after players have finished the single player campaign. But it's only just come to the Switch store and its online community has either all died out or everyone forgot to show up. Online multiplayer is in three forms. A competitive ranked mode, non-ranked and local. The multiplayer only has two modes, Team deathmatch and free for all. The game has a total of 9 maps that consist of indoor and outdoor areas to run and gun.
When searching for a non-ranked game it turned up zero results every time. Creating a game also had no one ever joining me. I thought when I found a game in the competitive mode that my luck had changed but it was short lived with it finding sometimes full lobbies, while other times I'd be lucky to find three other players. This isn't too bad if it's a free for all game, but these maps aren't exactly small, and you need to run around like crazy just to find another player to shoot, and nine times out of ten I was outgunned.
The competitive mode does have a league system that moving up the many ranks will give you rewards, but if hardly anyone plays, it seems pointless. Sometimes the game would randomly show a window saying it had lost its connection to its server and had me clicking on reconnect.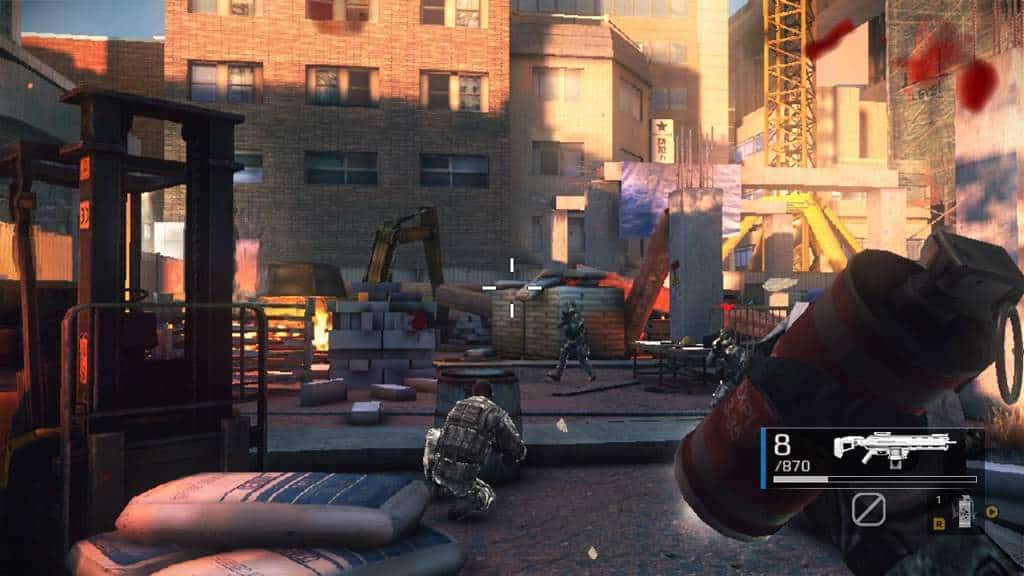 Games made by Nintendo for the Switch generally always look on point graphically, while third party games can sometimes have visuals that are a little sub-par. I initially played this first in handheld mode, the game put me right into the campaign and I was pleasantly surprised on how good the game appeared to be. It was quite sharp and when compared to the only other FPS game I've played on the Switch, it was some of the best looking visuals for the switch for such a "realistic looking shooter" that is a third-party title.
The HUD shows you weapons you can use in the bottom right, the minimap for online play is at the top left & the top middle shows the person with the highest number of kills and under their name is you.
Acoustically, it is fairly standard. The NPC's you interact with in the campaign do speak to you and the rest of the game's audio is peppered with gunfire, things crashing and exploding, and that's about it apart from the standard sort of music soundtrack in-game and in the menus.
The campaign was great, local multiplayer also great, but all the game needs is more players for playing online. It was such a hit and miss with finding enough players for a game, I at least found three other players, and other times it was only full lobbies. The Switch does lack online shooters, and if the player count increased this would be a great success for the console.
The Good
Solid single player campaign
Great visuals unlike any other FPS on the Nintendo Switch
More players are all that's needed to make the game better
The Bad
Poor matchmaking
Unbalanced gunfights when playing online matches
In the state the game is currently in its only worth for the single player content