You just want to sleep, I feel that more than anyone and I can totally understand that driving someone to a mass spree of murder. "Party Hard 2" is just that, one person's journey into madness as the party scene destroys his life. I have never played the first ''Party Hard' but I love going into a sequel blind and with a clean slate. Published by TinyBuild, I was excited to live out my 'Hitman' urges in a 80's slasher wrapper.
You play as the "Party Hard Killer" aka Darius, as he mows his way through the party scene across the city. Even his therapist can't reform his teen slashing ways after he is driven into a deranged sanity, one sleepless night. Ironically, Darius' journey as the 'Party Hard Killer' isn't a fruitless one, as he takes on a ring of bikers, drug dealers and even any alien conspiracy to take over.
Let's admit it, as if we haven't wanted to throw a glass at a few obnoxious teens spilling their drinks on you in a club.. Just me, ok. The story is meticulously told with cutscenes between the levels with stand out animations, fabulously narrated too, I could have sat there and watched it all together like an episode of a series. The story is one subtle complexity despite its manic and mayhem gameplay, I dig it.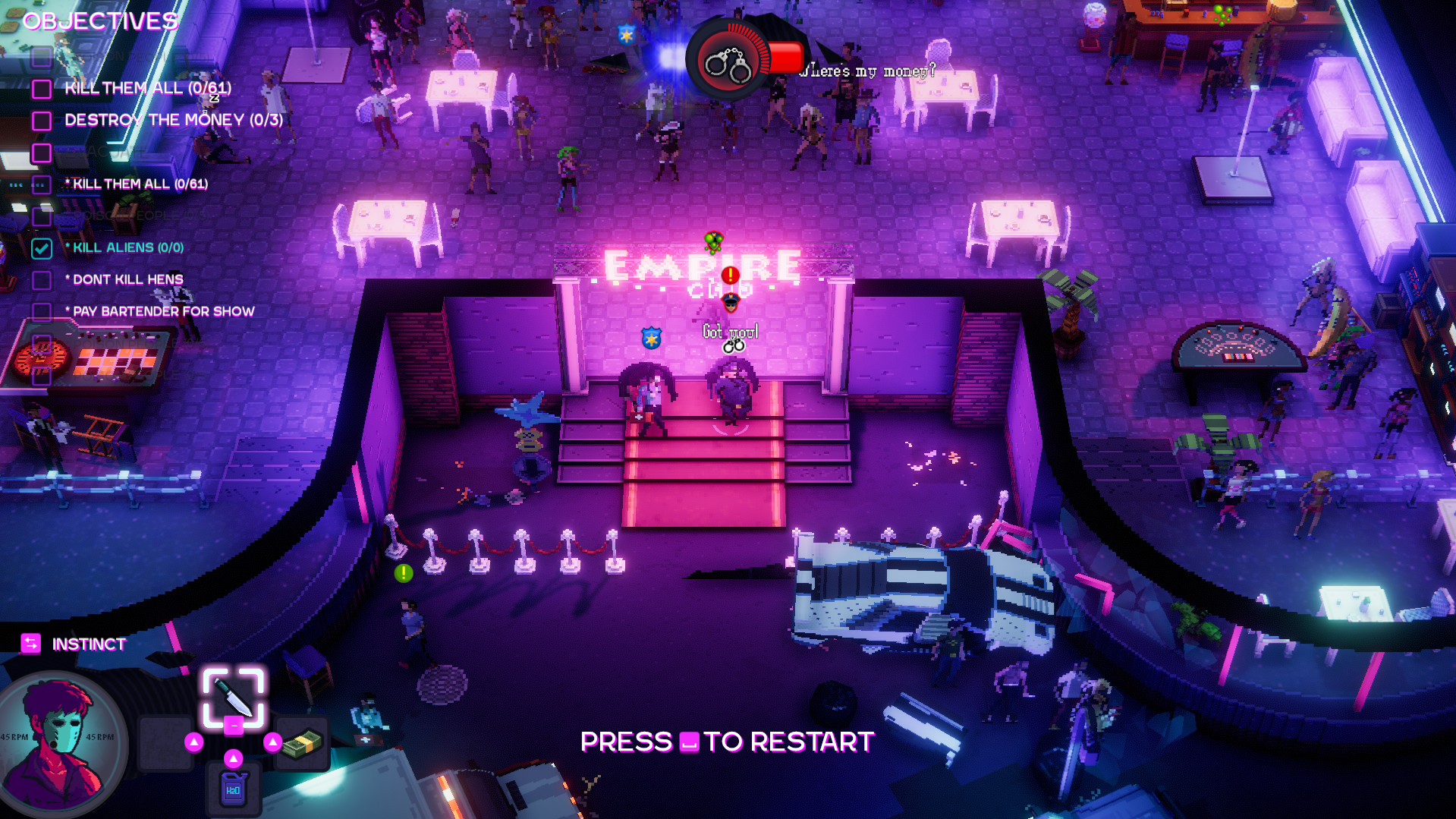 The game opens with you being able to choose from 4 characters, each with their own unique characteristics, abilities, weapons and skills. You then proceed to set up an endless chain of scenarios to kill certain targets very much in the Hitman-style, just more rudimentary. You are pretty much thrown into the first level without a tutorial, something that is very hit and miss depending on the game, but despite the premise being very easy to pick up, it would have been nice to have been told what certain items do.
This game is a lot of trial and error to progress, as each level has a series of objectives to complete before you move on, some needing the up-most concentration and mental strategic approach. Some are just luck, pure luck. I am very okay with that. This game reminds me very muchly of "Hotline Miami" just slowed down immensely, and more directed; I like that about the game style. Whether you are taking out a guard by stunning him, pulling the brake up from a car to roll over unsuspecting potheads or spilling water on a boombox to electrocute ravers, you have the time to chain a combo of events using your instinct sight. This ability gives you the skill to see all the triggers that can be used to set up some crazy scenarios of death and destruction.
My only flaw with the gameplay is the lack of options for YOU to hide. You can hide bodies easily, sure, but I found evading capture myself can be a slippery slope, my friend, often causing me to restart over, and over, and over again. Some levels you will have to restart a lot. Frustrating, but each time you carve a new and improved path so the pain melts away quickly.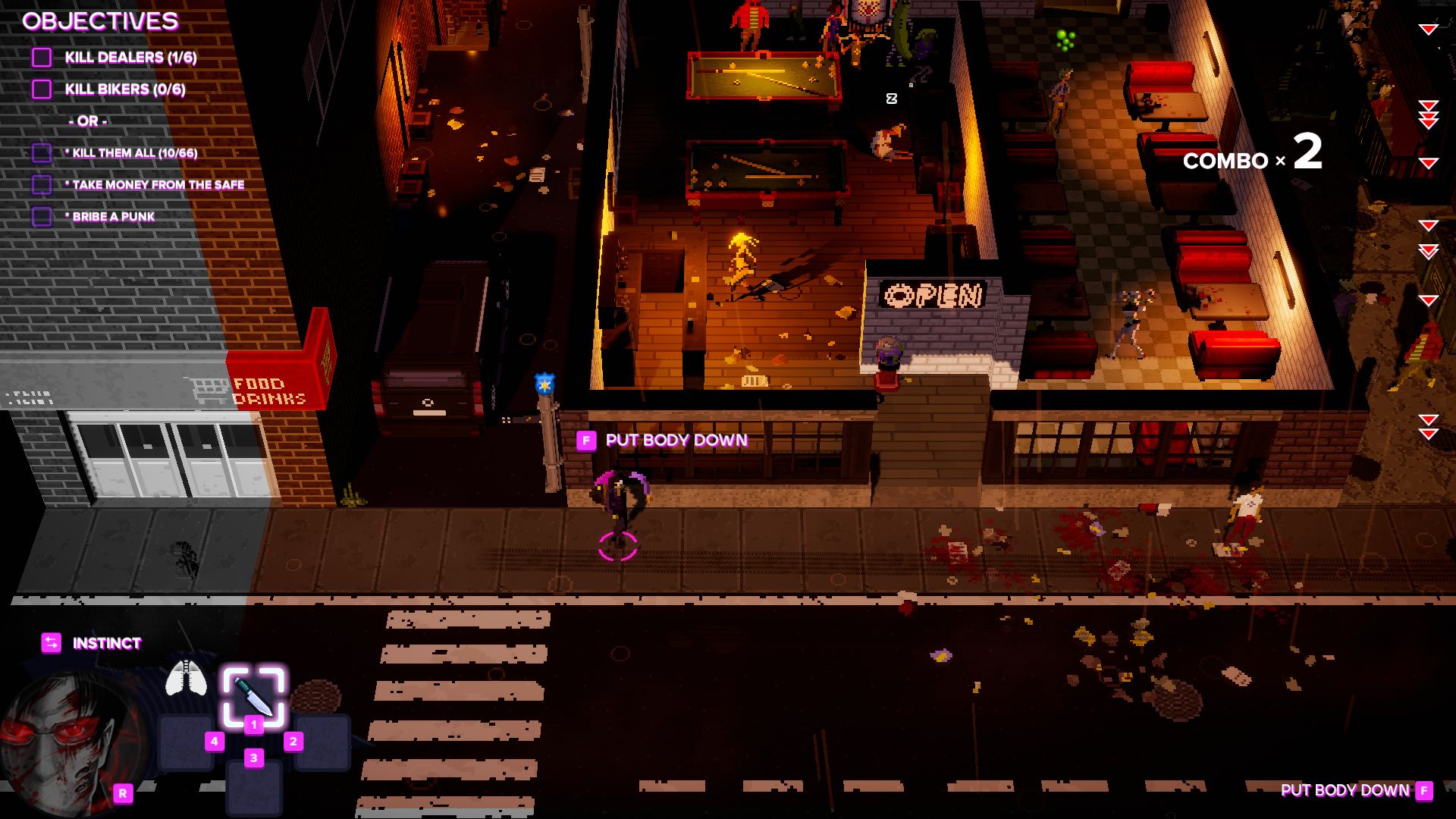 Visually, Party Hard 2 rocks a pixelated 32-bit style of graphics, however with a modern upscaled look. It is very retro in feel but crisp and clear. With neon, bright, 80's aesthetics even down to the electronic flared music that compliments each level, there isn't much not to love about how visually appealing it is to all the senses.
The game is littered with many quirky little nods, Easter eggs if you will, to 80's vibes and even modern day pop culture icons. A little pixelated Margot Robbie's Harley Quinn, the cleaner from Family Guy with her Lemon Pledge and even The Terminator will make an appearance around the levels for you to kill, if you deem it necessary. Flashes of nostalgia can even be seen when you interact with the posters, scattered around each environment.
Party Hard 2 is a crazy ride into causing chaos and destruction as fast or meticulously as you want. This game lets you be strategic and creative, definitely a deadly combination. While the repetitiveness of restarting many times can feel tedious, the fact it feels like a fresh direction to your end goal each new time will keep me coming back to end those partying a bit too hard perhaps….Party on Wayne.
The Good
Interesting as hell narrative in between the chaos
Easy controls and simple game play.
Lots objectives
It feels like a new experience every time you die ( and it will be a lot)
Gorgeous 32 bit graphics
80's vibes throughout, colour and music
Subtle Easter eggs
The Bad
Lack of tutorial to help with items
Not many options for you to escape yourself.