First released on the PS4 and PC in July 2015, Rocket League finally makes its port to the Nintendo switch. Rocket league if you haven't heard of it, is a soccer game with a twist, you use cars, not people.
The main menu when you first boot it up is very easy to navigate with all aspects easy to understand. When you start the game, you can choose either online, local play or create your own private match. Just note that this is an online game only. There isn't a story or campaign mode.
The multiplayer screen gives you many options you can queue up for, 3v3, 2v2, 1v1 or 4v4 Chaos mode, with each match going for about 5 mins. If scores are tied, then you will have overtime. In addition to the previous game modes, you have more options you can choose from below those as well. There is also a competitive play tab you can select however, you can only play here once you have been ranked. The online match-making I found to be really good and you're not waiting very long to join a match. It also does a good job of matching you with other players at your skill level.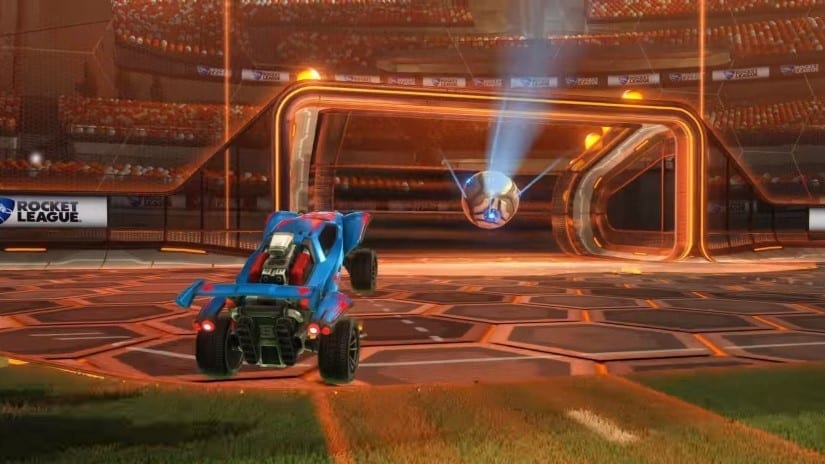 When you start the game, you can customise your car and as you progress, you can earn extra car bodies. There are some awesome decals and accessories you can pick up to make your car unique. There are many pre-sets where you can name them and pick them when you start a match, depending on what car you feel like using at the time. If you feel like spending a little bit of money you can also purchase car packs from the Nintendo store. You have other options such as Training, Career where you can view your stats.
The controls are well suited to the Nintendo switch being a portable console however, you do need an active internet connection to play it. Although I found that using the Nintendo switch controller is much more fun to use. In typical racing control fashion, you accelerate with the ZR trigger and break/reverse with the ZL trigger. You also have a boost feature where you use nitrous and a flip button for when you are upside down.
The controls are responsive and sometimes and they need to be when defending your goal. For each game you win or lose you will be given XP, your level is displayed on the bottom left hand corner of the screen. You will also gain decals car bodies and themes the more you progress up your levels.
Graphicly, it runs smoothly when you're just using the switch tablet screen at 720P, although I found that even if you run it docked mode doesn't seem to make much difference to the graphic output. But I'm guessing that will also depend on the type of monitor or TV you are using as well. The colours are vibrant and crisp and easy on the eyes. Adding to the atmosphere is the soundtrack from the engines, explosions and the crowd. They can get you into the game as it sounds almost like a real soccer match with their chants and cheers. The stadiums you play in are also really well done and there are a few of them you can play in.
Overall this is a fun game to play and is mildly addictive.
The Good
Addictive Gameplay
So Much Fun