I never thought I would be saying "Give me my husband back", but here we are on a wife's quest to get her hubby back from those rascally monster girls…
Wife Quest, developed by Pippin Games, is a 2D retro-style platformer where you play as the cute and charismatic former warrior, Mia, living alongside her husband Fernando, a farmer. She is an overly jealous type of person with maybe a little anger problem, but that's to be expected when a bunch of monster girls show up and kidnap your hubby. Let's rescue Mia's hubby, teach these monster girls a lesson, and bring back happiness.
Engage in battle and converse with Morganna's minions, and by converse, I mean a lot of sass and kind of vulgar things get thrown back and forth in anger and jealousy, then vanquish your enemies in combat to get closer to your goal of getting your hubby back. Combat is quite simple with a limited variety in moves – slashing downwards with your sword, blocking and deflecting with your shield, and upgrading to make them a little bit stronger.
Some boss fights felt a little challenging at times due to a lack of moves and abilities compared to their onslaught of attacks, but going back and collecting coins to buy upgrades helped with this. Much like a few things in life, and most scenarios in games, going in better equipped is always helpful. Fortunately, after killing bosses, you gain more abilities to help you in your future endeavours.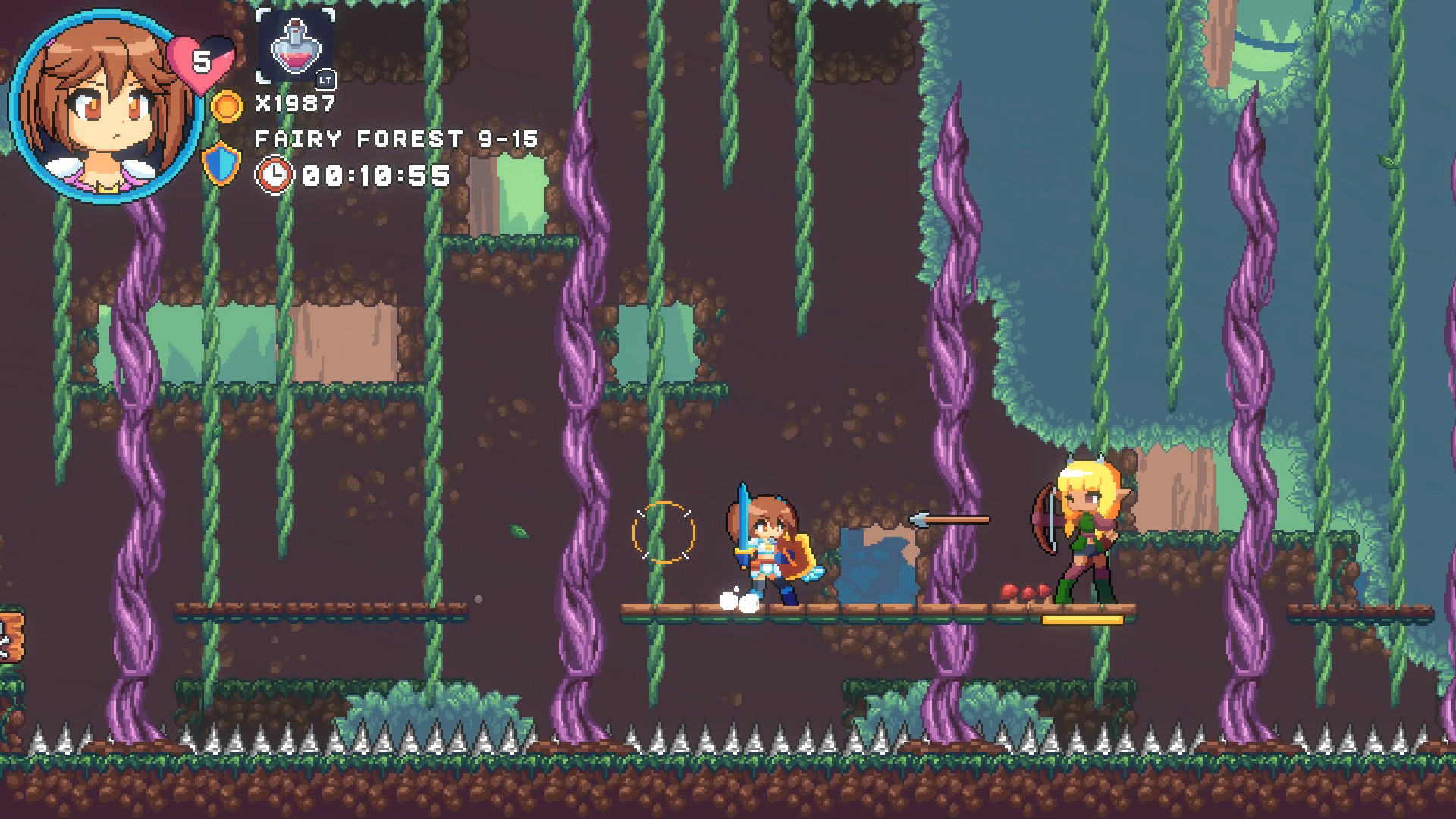 Platform your way through various locations, including caves, forests, snow, and more, killing anything or anyone that gets in your way. Explore to find more loot and complete simple puzzles, all while chilling out to the nice soundtrack. Collect kill animations and photos of characters in the game by completing specific challenges, like finishing the level in under-par time, or killing every enemy on the level, which you can later check out in the main menu.
Dialogue in Wife Quest was a fun change, I wasn't expecting Mia to have such a mouth on her, swearing and saying some kind of questionable things. I guess when you're angry it makes sense – you're not always in control, and having everyone flirt with your husband with no remorse, you will understand.
It's a neat little game with a bunch of platforming, a nice variation in levels, and some fun dialogue if you enjoy a bit of swearing. It would be nice if there were more combat options for the sword, instead of just a downward slash.
The Good
Retro-syle is always enjoyable to go back to
Fun Dialogue
Good variation in levels
The Bad
Lack of attack moves with the sword
Bosses seemed a little overpowered