While we are still putting together our all-in-one gift guide, we figured we'd share some of the shiny new hardware Dell has to offer in the meantime. Dell have some very awesome deals going at the moment also!
If I could sell my soul for cash, I would have already added the Alienware AW5520QF OLED 4K Gaming Monitor to my cart, clicked the purchase button and then sit with baited breath at the front door waiting for the courier! Ever since spending time with it during my review, it has been on my wish list!
Should you do happen to pick one up, I'd love it if you could throw a pic of your setup on our FB or Twitter feeds. It would be cool to checkout some of the different setups everyone has.
Tech Tips for a Happy Holiday Season

Dell have also put together a blog detailing the top tips in safely navigating online shopping as well as getting the most out of older tech gear.
Tech Tips for a Happy Holiday Season – Dell Technologies
On to the Deals
Dell XPS 13 (9310) – RRP $3,498.98
The stunningly small and masterfully designed XPS 13 delivers unrivalled performance and up to 14 hours battery life on a Full HD+ model, which allows you to take it to class or do work from anywhere without being tethered to an outlet. The compact 13-inch laptop design includes a 4-sided InfinityEdge display so you can view more in a smaller footprint. Now, the XPS 13 comes with an optional OLED touch display.
---
Dell XPS 15 (9510) – RRP $2,898.99
A polished yet powerful laptop for creatives, the redesigned XPS 15 strikes a balance between power and portability to fuel content creation on the go. The XPS 15 delivers a larger best-in-class display and new up-firing speakers for an immersive audio-visual experience.
---
Dell Inspiron 14 2-in-1 – RRP $1,448.98
Whether you're typing a friend a quick message in laptop mode or checking out a how-to video in tent mode, the 360° hinge allows you to seamlessly shift between four different modes, providing the flexibility to stay connected throughout.
The thin design of the Dell Inspiron 14 2-in-1 makes it easy to slide in and out of bags so you don't have to compromise function for portability while staying connected to your world. When you've been going all day on the extended battery life but need a quick charge, select ExpressCharge™ to reduce the time you spend tethered to a wall.
---
Dell Inspiron 16 Plus – RRP $3,198.99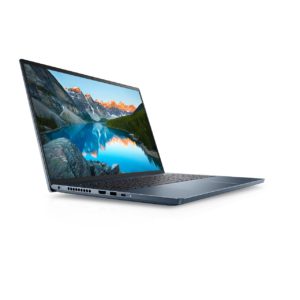 This isn't the Inspiron your parents remember – it's made to handle everything from connecting with friends and family for virtual happy hour, keeping up with current events in online forums to editing your latest blog entry and binging your favourite show.
The Inspiron 16 Plus offers a new 16.0-inch form factor, with a nearly borderless display, expansive keyboard, larger keycaps and spacious touchpad making it easier for viewing and smoother to navigate your content. What makes it a Plus device? It's packed with performance to power all your big ideas — with the latest Intel® Core™ H-series processors, optional NVIDIA® GTX or RTX discrete graphics, and a robust thermal management system.
---
Alienware m15 Ryzen Edition R5 – RRP $2,699.00
For content creators and gamers that seek maximum performance, the Alienware m15 Ryzen Edition R5 offers a 360Hz display option, AMD Ryzen 5000 series processors and NVIDIA GeForce RTX 30 series graphics to deliver an unrivalled visual gaming experience on a 15-inch. The Alienware m15 Ryzen Edition R5 also incorporates more air flow and larger fan blades for temperature control and optimal cooling across all core components.
---
Alienware x15/x17 – RRP $4,698.99 and $4,498.99 respectively
The new Alienware X-Series is the brand's thinnest and lightest 15– and 17-inch gaming laptops to date and introduce a new purposeful design and several Alienware-firsts to deliver best-in-class thermals with excellent display quality. With up to a 4K UHD HDR400 display option, Intel 11th Gen Core processors and NVIDIA's 2nd gen GeForce RTX graphics, this laptop delivers the ultimate performance for gaming and content creation.
The Alienware X-Series newly evolved cooling technology and Hyper-Efficient Voltage Regulation integrates new thermal materials for even more cooling and air flow for optimal temperature control across all core components even in extended gaming sessions. MKAU x17 Review Here.
---
S2722DGM/S3222DGM Dell Gaming Displays – RRP $598.99 and $699 respectively
Designed for immersive gaming at an affordable price point, the Dell 27/32 Curved Gaming Monitors draw you in with a QHD curved VA panel display for quality viewing and gaming sessions. Support for 99% sRGB with a 165Hz refresh rate and 2ms (GtG) response time, these monitors deliver rich colours ideal for gamers who value speed and immersion. Both monitors feature AMD FreeSyncTM Premium technology.
---
 Dell Ultrasharp Webcam – RRP $379!
 Shoot 4K video direct to your PC with the Dell Ultrasharp Webcam (WB7022). It's a top webcam choice for both work and play with the best image quality in its class, intelligent features, and the most seamless mounting solution. This beautifully designed 4K webcam is set to redefine your video conferencing experience.
---
 Alienware 7.1 Gaming Headset | AW510H – RRP $214.01!
The AW510H is built for hardcore gaming, yet also doubles as a high-quality headset for taking conference calls and virtual hangouts with friends.